Jessamyn West on an Author's Responsibility to Her Readers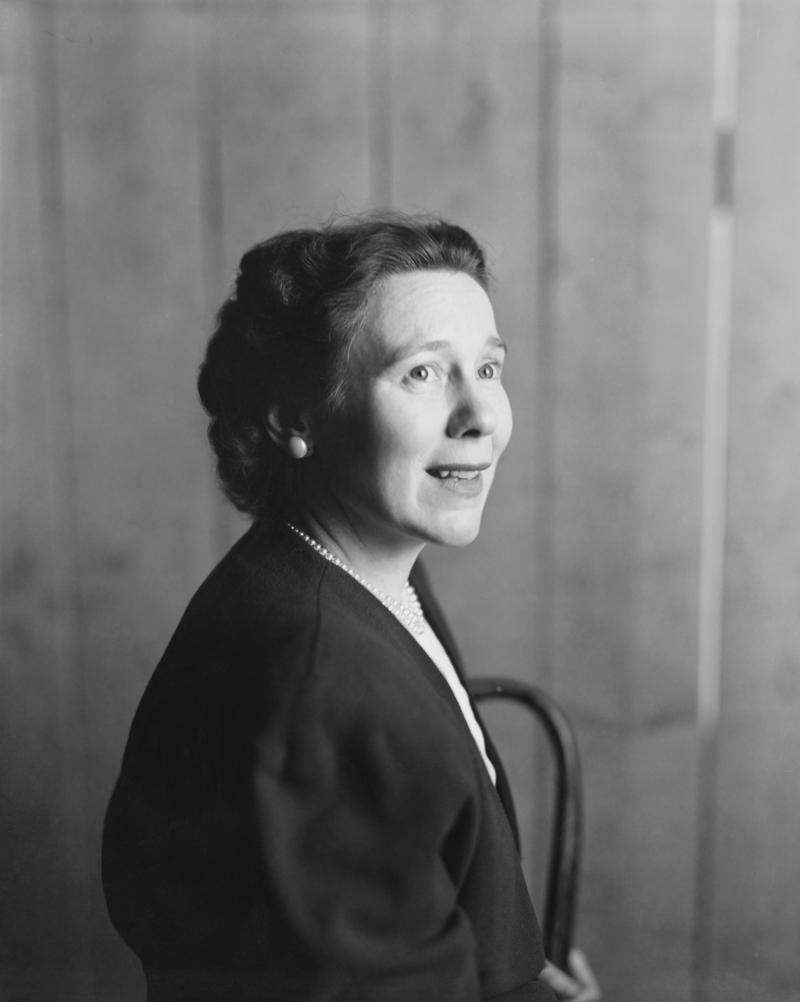 "Dear Reader," Jessamyn West pointedly addresses her audience at this 1960 Book and Authors Luncheon. She then goes on to explore the relationship between an author and her reading public, noting how Victorian novelists felt no qualms in responding to the emotional needs and moral judgments of their audience, whereas today's writers barely acknowledge the reader. 
Indeed, it is only the Beatniks, "those brave bearded boys," who are willing to admit out loud how "dear" their readers are to them
.
She goes on to recount a speech she gave in defense of popularity as an aesthetic aim and how Archibald MacLeish, also speaking that day, accused her of portraying the artist as "a verbal prostitute" whose only aim was to satisfy the reader's desires. MacLeish's view, she argues, is "romantic and false…to suggest …that the writers are gods who create in their own image without being influenced by the tastes, good and bad, of the age with which they hope to communicate."
She then veers somewhat unexpectedly into an anecdote about how at the age of 19 she walked four miles to hear the glamorous writer Kathleen Norris, only to be bitterly disappointed when the popular romance author spoke exclusively on the dangers of alcohol consumption. This in turn leads to an amusing tale of her father's vehement denunciation of root beer. She finally returns to her main subject, reminding readers that they too have responsibilities, asking "Dear Readers, do not encourage your writers to stop…short of whatever their individual limitations are."  
West was born in Indiana in 1902. Her family moved to California when she was 6. A Quaker (former president Richard M. Nixon was a second cousin), West attended Whittier College. A summary of the next part of her life gives a picture of the difficulties facing an aspiring female writer of the time. After her marriage, The Yorba Linda Star reports:
...the couple moved to Hemet and operated an apricot orchard. West worked as a school secretary for a while in Hemet, and at one time taught in a country school where she handled all eight grades in one room.
Eventually, West was able to resume her education, spending a semester in England at Oxford University before enrolling in a Ph.D. program at the University of California at Berkeley. Before she could attain her degree, however, she learned she had terminal tuberculosis. Sent home to die, she was nursed back to health by her mother. During what she described later as the "10 horizontal years" that followed, she began to produce short stories, many dealing with her Quaker ancestors in Illinois. These appeared in national magazines and were collected in The Friendly Persuasion (1945). This book proved so popular it was the basis for a 1956 movie starring Gary Cooper. West wrote about her experiences working on this film in To See the Dream (1959).
West remained a West Coast writer, although continuing to write a great deal about her beloved "Hoosiers," as well as the California of her youth. The Encyclopedia Britannica calls her "a master of the short story and an accomplished novelist, who wrote with particular sensitivity about mother-daughter relationships." Reviewing South of the Angels, the novel she is promoting at the time of this talk, Orville Prescott, in The New York Times, complains a bit about all the "love and sex" its characters engage in, but praises how:
Birth and death, childhood and old age, happiness and unhappiness, work and play and the barren beauty of the brown hills…these too are part of her intricate story and add their import to it. They may not get much attention compared to the rapture of love, but they get some, and many a dogged reader will be thankful for that.
Jessamyn West published a sequel to The Friendly Persuasion, Except for Thee and Me, in 1969. Portions of it were used in a TV movie remake of the earlier film, this time starring Richard Kiley, extending both the characters and story.
West died in 1984; she was 81.
Audio courtesy of the NYC Municipal Archives WNYC Collection.