Monologist Cornelia Otis Skinner: Two Scintillating Performances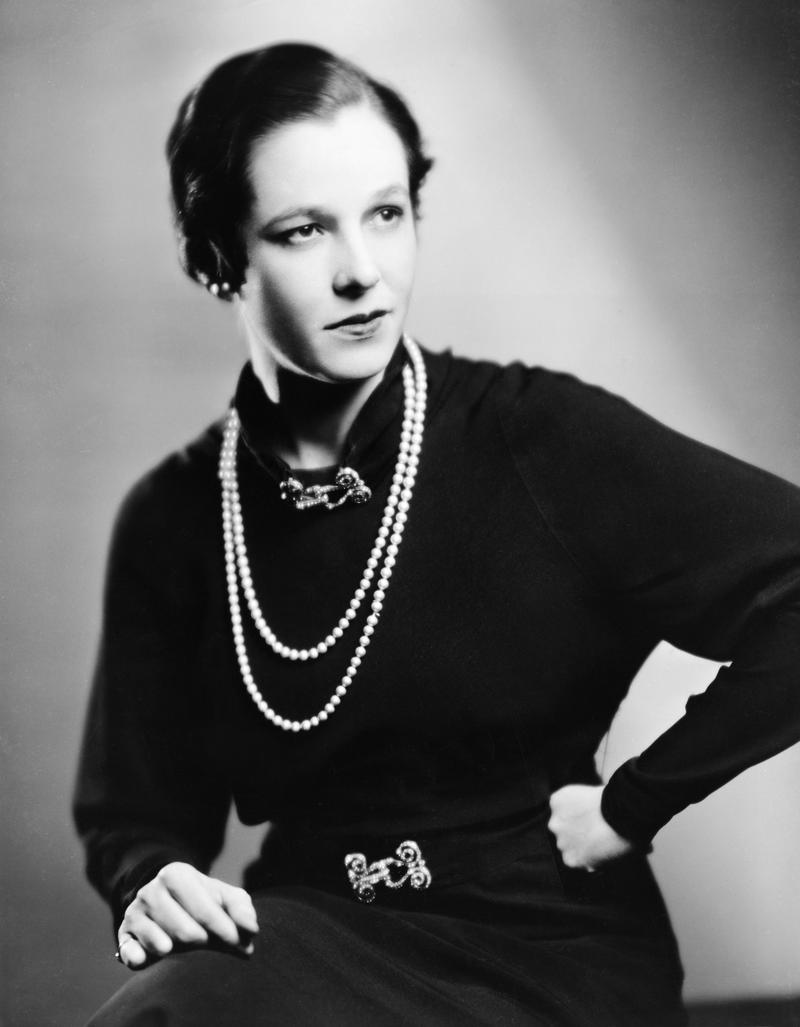 One of the few practitioners of monology, Cornelia Otis Skinner does not give a customary sales pitch at this 1951 Books and Authors Luncheon, instead reproducing "what goes on in the mind of the subscriber to the Friday symphony who goes to the concert by herself."
Playing to an audience of ladies who do, indeed, "lunch," the skit takes on a strange poignancy as its unnamed heroine, exhausted from shopping, kicks off her shoes, calls her fellow subscribers "silly old hens," and then, between bouts of somewhat forced music appreciation for "glorious" Beethoven, begins to dwell upon such subjects as her husband's suspected dalliance with a fellow member of the country club, her own frustrations ("I bet I could 'ping' a triangle"), and a recent flirtation of her own. All through this she returns to the music, going into ecstasies over "that familiar part that's so familiar," as the tone gradually darkens to include fantasies about losing her mind and running onstage to kiss the conductor and brooding over her son, whom she recently found crying in bed. Her husband said it was just "growing pains," at which she wonders, "When do growing pains stop, for any of us?" At the end, as she frantically searches for one of her shoes, which seems to have wandered off on its own, she realizes she's been listening this whole time not to Beethoven, but Brahms.
Another of Skinner's monologues broadcast over WNYC, "Times Square at the Theater Hour" (below), is "a group portrait," starting with a chewing gum vendor and wending its way across the entire social spectrum of the Great White Way, from working-class girls with Brooklyn accents, to drawling aristocratic ladies, to a Southern belle ("I just think these electric lights are the cutest thing"), all interspersed with snippets of Gershwin's "Rhapsody in Blue." Finally we come full circle, hearing a desperate  junkie being arrested by a policeman before the doleful cry of the chewing gum vendor resumes its plea. Then, extending her already impressive range even further, Skinner concludes with an emotional recitation of the Belgian poet Emile Verhaeren's "Le Vent," in French.
Born in 1899, Skinner was a child of the theater. Her father, Otis Skinner, was a well-known matinee idol. Her mother, Maud Durbin, was an actress as well. Skinner began her career writing "Captain Fury" (1925), a play for her father. Able to procure only small parts in theater herself, she then concentrated on writing monologues, which she performed with increasing success. As the Gale Encyclopedia of Biography reports:
Skinner enthralled her audiences with her uncanny ability to switch characters with only a simple prop or a slight change in posture. Although many of her monodramas were set in places foreign to her audiences, Skinner enjoyed touring the United States, performing in small towns for people seldom exposed to the theater. Her sharp wit and insightful humor into the everyday occurrences in life appealed to a wide audience. It was this insight that made Skinner a monologist unmatched in her day.
Eventually, Skinner's career as a stage actress prospered as well. She was a mainstay of Broadway for over three decades, appearing in such successes as "Candida" (1939), "Theater" (1941), and "The Pleasure of His Company" (1958), which she also co-wrote. At the same time she wrote light verse and humor for, among other magazines, The New Yorker, as well as essays, biographies, and novels. One of her most successful productions was produced in collaboration with Emily Kimbrough. Our Hearts Were Young and Gay (1942) is the record of a European tour taken by two Bryn Mawr girls in the 1920s. It was a best-seller, later turned into a film and also dramatized onstage. Other books include a collection of her humorous pieces, That's Me All Over (1941), as well as a well-received biography of Sarah Bernhardt, Madame Sarah (1967). 
But it was for her monologues that Skinner was most appreciated. More than mere impersonation, they are sly social commentary, yet also exercises in sympathy. Skinner was, in addition to being a well-known writer and performer, a suburban housewife and mother. The laughter from the "live" section of this performance is not cruel or nervous, but knowing. As The New York Times reported in Skinner's obituary, she was an artist:
…whose humor masked her often acerbic observations on customs and times, [who] wrote and delivered her own material for the theater, providing laughter that was also a balm for her barbs. This talent made her one of the favorite stage personalities of devoted audiences for more than 35 years.
How she managed to balance such competing lives is an intriguing question. However, as her gift for taking on other personae suggests, she was not a "tell all" kind of artist. As she herself once put it, "One learns in life to keep silent and draw one's own confusions."
Skinner died in 1979 at age  78.
Audio courtesy of the NYC Municipal Archives WNYC Collection.