The Benny Goodman Sextet Fields Requests on 'America in Swingtime'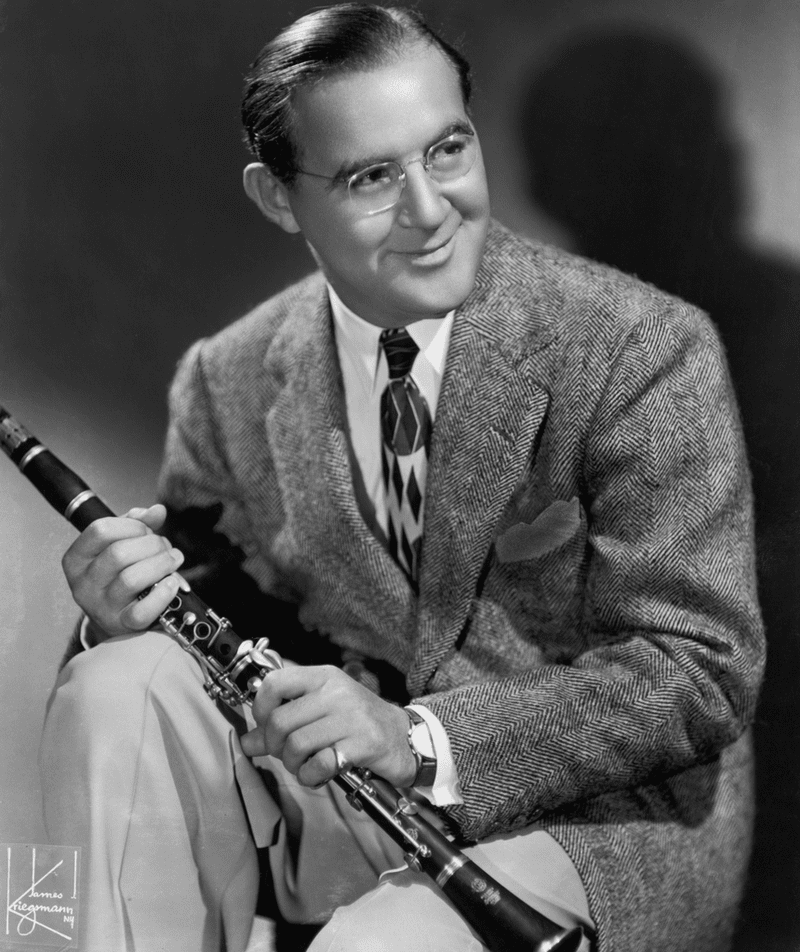 This WNYC American Music Festival program from February 19, 1941 captures the Benny Goodman Sextet in a rare and wonderful moment. 
This sextet represents Goodman pretty close to his prime, featuring the brief, golden collaboration with Charlie Christian. What's even more valuable is that it documents Cootie Williams's time with the band. Williams had just left Duke Ellington and within the year would start his own group. The rest of the band consists of George Auld (saxophone), Artie Bernstein (bass), Johnny Guarnieri (piano), and Dave Tough (drums). 
We come upon the band just as they're finishing a rendition of "Rose Room." The host, Ralph Burton, prompts Benny to play something "from the old days." He obliges with "Flying Home," featuring Charlie Christian's innovative electric guitar. There's a little awkward interplay as Burton requests "a blues," but is tongue-tied when Goodman wants to know in what key.  Williams then launches into one of his great growling solos. Next, Burton requests "a pop tune" and the band plays "The Sheik of Araby." Then Goodman  announces, "Georgy Auld wants to play a little bit of 'Body and Soul' all by himself." Burton praises Swing as "the folk music of America's cities." Finally, the sextet takes us home with a rousing version of "Gone With What Wind?" As the outro music swells, Burton thanks the King of Swing for dropping by and pronounces his group "the real McCoy." 
Goodman was born in Chicago in 1909. The ninth of 12 children, his musical talents were recognized early. By the 1930s he had his own band. However, their "hot arrangements" (many the work of Fletcher Henderson) did not immediately catch on with audiences expecting more tame, tepid dance music. This all changed at a famous West Coast concert. As the website bennygoodman.com recounts:
After six months of broadcasting coast to coast the band was ready for a cross-country tour. The band was ready but the country was not. The tour was a disaster until its last date in August 1935, at the Palomar Ballroom in Los Angeles. …The kids in Los Angeles had been listening, and thousands of them turned out to hear the band in person at the Palomar. They hadn't even come to dance; instead they crowded around the bandstand just to listen. It was a new kind of music with a new kind of audience, and their meeting at the Palomar made national headlines. When the band headed east again, after nearly two months at the Palomar, they were famous.
"Swing," as it was soon known, became all the rage among the younger generation. Its official crowning as the dominant form of popular music was confirmed a few tears later, when, as the Gale Encyclopedia of Biography reports:
…impresario John Hammond rented that bastion of classical music, Carnegie Hall, for a concert that was to win respectability for the music. The night of January 16, 1938, is now legendary; responding to the electric expectancy of the overflow audience, the band outdid itself, improving on recorded favorites like "King Porter Stomp," "Bugle Call Rag," "Down South Camp Meeting," and "Don't Be That Way." It capped off the evening with a lengthy, classic version of "Sing, Sing, Sing" which featured some brilliant solo work by trumpeter Harry James, pianist Jess Stacy, and Benny himself.
Goodman combined technical mastery of his instrument with a deep musical knowledge and — an almost equally important skill in the Big Band era — the discipline and organizational skills to assemble and hold together disparate groups of musicians. This last quality led to his acquiring the reputation of being an unfeeling taskmaster, famous for The Ray, a glare he would direct at any band member who muffed a note. However, it must also be noted that he unhesitatingly hired and showcased black musicians, a great rarity for the time. The website allaboutjazz.com lauds him for being:
…colorblind when it came to racial segregation and prejudice. Pianist Teddy Wilson, an African-American, first appeared in the Benny Goodman Trio at the Congress Hotel in 1935. Benny added Lionel Hampton, who would later form his own band, to his Benny Goodman Quartet the next year. While these groups were not the first bands to feature both white and black musicians, Benny's national popularity helped to make racially mixed groups more accepted in the mainstream. Benny once said, "If a guy's got it, let him give it. I'm selling music, not prejudice."
Swing's heyday lasted until the early 1940s. The American Society of Composers, Authors, and Publishers' fight with the music publishers (a battle jokingly referred to in this program) and repeated musician strikes resulted in popular music shifting in emphasis from composer/performers to singers. As for jazz, Goodman initially embraced bebop, but quickly grew to loathe it.  The sextet Goodman features here was the first of many smaller groups he would lead over the coming decades. He also retrained himself as a classical clarinetist, playing with many orchestras and commissioning classical works. A 1962 State Department-sponsored tour of the Soviet Union is credited with sparking jazz interest in that country. But it will always be as the King of Swing that Goodman will be remembered. As the New Grove Dictionary of Jazz put it:
As a jazz clarinetist, Goodman had no peer. His flawless solo improvisations set standards of excellence for jazz performance. He founded and directed the most important musical organization of the swing era and helped to open a new epoch in American popular music. He was the first white bandleader to adopt and popularize an uncompromising jazz style. He was also among the first to feature black jazz players, an action that might have compromised his own career at a time when racial integration was not a popular concept. His concerts brought a new audience and a new level of recognition to jazz. 
Goodman died in 1986, at the age of 77.
Audio courtesy of the NYC Municipal Archives WNYC Collection.
Note: Some poor audio quality due to condition of original recording.