Random House Founder Bennett Cerf, as Skillful Storyteller and Humorist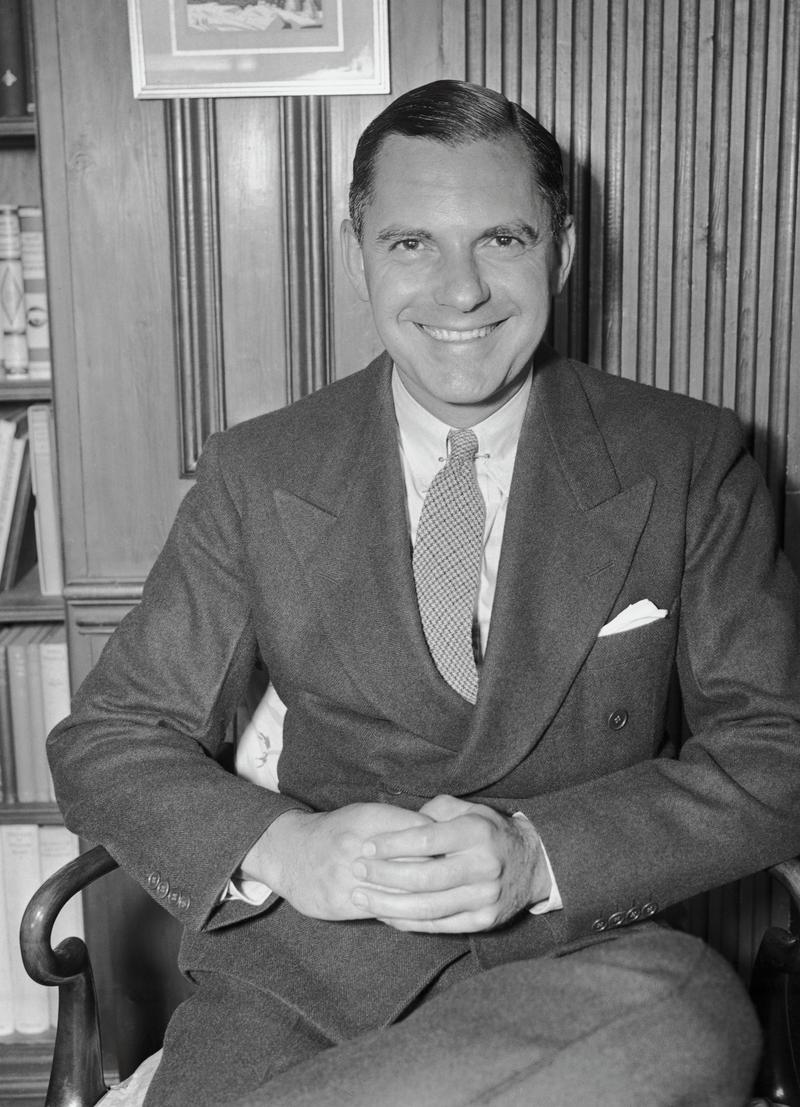 Alongside his meteoric rise as a publisher, Bennett Cerf pursued his natural talent for writing humor. 
Good For a Laugh is the apt title of the collection by publisher and humorist Bennett Cerf at this 1952 Books and Authors Luncheon. After clearing up some misconceptions in Irita Van Doren's introduction as to why he was once fired from The Herald-Tribune's financial page, he launches into anecdote after anecdote (about a Russian rabbi and his driver, about the famous hostess Perle Mesta, and the senior senator from Wyoming) until he pauses to comment on the state of publishing. He scoffs at publishers for being such a gloomy bunch ("They've been crying over conditions for the last 75 years") and recounts the many threats that experts, over the course of history, have predicted would lead to the end of reading: trolley car parties, bicycles, cheap automobiles, movies, radio, and now…television. And yet "each year, more and more good books are sold."
This optimism is somewhat undercut by the next section of his talk, which deals exclusively with his new-found career as a panelist on the television show "What's My Line?" No longer, Cerf laments, is he asked by people, "What is William Faulkner like?" or, "What about Eugene O'Neill's plays?" Instead he is questioned solely about his fellow "What's My Line?" "experts" and if the show is "on the level." After giving a fair amount of backstage gossip, he returns to the book he is promoting by telling a slightly risqué anecdote one of the contestants gave him about pregnancy in Great Britain's newly socialized medical system. He then concludes by recommending several other humorous books of the season, including the just-published Charlotte's Web and Dennis the Menace. In a final bit of playful subversion, he concludes by suggesting the audience size up the next speaker, Robert Moses, as a possible New York City mayoral candidate. 
Cerf's first job in publishing was working for Boni & Liveright and then, in 1925, combining forces with a friend, Donald S. Klopfer, to buy  the Modern Library imprint. Reissuing classic texts in inexpensive and attractive editions proved to be highly profitable, enabling Cerf and Klopfer to expand. As the Gale Encyclopedia of Biography recounts:
The Cerf-Klopfer publishing combine soon was expanding beyond Modern Library. In 1927, Cerf became the American agent for England's Nonesuch Press. However, Cerf and Klopfer also wanted to publish their own books. Cerf came up with a name for their new enterprise. Discussing the prospective venture with his partner and artist [Rockwell] Kent, he said: "I've got the name for our publishing house. We just said we were going to publish a few books on the side at random. Let's call it Random House." The Random House imprint made an impressive debut in 1928 with a beautifully bound edition of Candide by Voltaire. In the wake of the collapse of the stock market only a year later, Random House began focusing on trade publishing, the market for fine editions having all but vanished. Random's Modern Library imprint, with books selling at less than one dollar each, helped the company to survive the Depression.
Eventually, Random House developed a distinguished list of authors, including William Faulkner, John O'Hara, Eugene O'Neill, Truman Capote, and Dr. Seuss. But by the time of this 1952 appearance, Cerf had become much more than a widely respected publisher. His humor books, starting with Try and Stop Me (1944), were much in demand. (The one he is publicizing in this talk, Good For a Laugh (1952), is arranged alphabetically by subject to provide handy reference for after-dinner speakers.) He was also a familiar presence on radio and TV, as well as the writer of several columns. This balancing act between stewardship and showmanship is emblematic of the inherent tensions whenever art and commerce meet. As The New York Times described in its obituary:
With a flair for commerce and advertising promotion, Mr. Cerf was something of a blithe spirit in the book world — a man quite different from the staid, tweed gentlemen-publishers who dominated American book houses prior to the 1920s. Whereas such publishers tended to insist that all their books contain literary merit, Mr. Cerf had a keen eye for the sales chart and the balance sheet. Thus it was that he published Plato and Franz Kafka and Eugene O'Neill, along with many writers who catered to more transient public whims.
Nowhere is this contradiction more apparent than in Cerf's decision to publish James Joyce's Ulysses. The seizure of the book by U.S. Customs agents and its subsequent defense in court have become publishing legend. But the truth, as reported in The Writer's Almanac, is somewhat more revealing:
…Cerf devised a test case, a legal battle that would result in the removal of the ban on the book. He arranged for a copy of Ulysses to be sent from Paris, and he told customs officials working at the docks to make sure to seize it. But when the ship arrived, the people at customs enforcement did not want to bother seizing it since, they said, everybody brought that book. Cerf had to convince them to seize a copy of the book so that he could have a court battle. 
But even then, the government attorney who was assigned to prosecute the case did not want to have to do the prosecuting — he himself felt that Joyce's book was "a literary masterpiece" even if it was obscene according the language of the law. Eventually, he brought an unenthusiastic lawsuit in district court in New York.
Without such carefully crafted publicity it's unclear if Ulysses would have become such a cause célèbre and "must read" best-seller. 
Cerf sold Random House to RCA in 1966 but continued to be highly visible in New York society, entertaining either at his Manhattan town house or his 42-acre estate in Mount Kisko, epitomizing what many now see as the long-lost glamor of the publishing world. 
Bennett Cerf died in 1971. He was 73.
Audio courtesy of the NYC Municipal Archives WNYC Collection.