The Extemporaneous Sir Alec Guinness: Shorter Than You Thought, and to the Point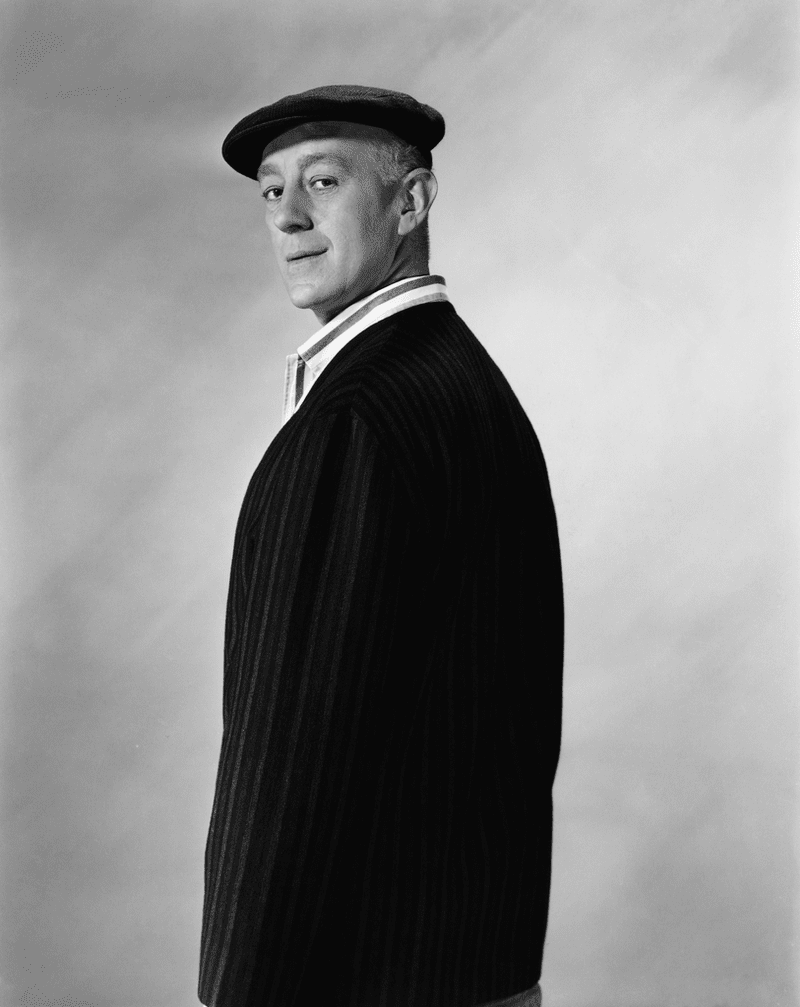 "The Actor and Clichés In the Theater," is the subject Sir Alec Guinness chooses for this impromptu 1964 performance before the Overseas Press Club. 
Appearing on Broadway in Dylan (a play about Dylan Thomas for which he would receive a Tony award), Guinness recounts some of the more tiresome questions an actor must face. "Are you Alec Guinness? You're shorter than I thought you were." Or, "You're taller than I thought you were." (These two posed to him within minutes of each other.) "Does it worry you to be bald?" "Which is your favorite part?" To which he now answers that he can't say because "all the other characters I've played will be jealous."
He then offers a toast to the speedy recovery of "a blazing genius and very dear friend, Peter Sellers" who had just suffered a series of heart attacks. During the brief question segment he describes his very inartistic way of preparing for a performance (he slaps some putty on his face and listens to theater gossip), discusses the differences between the West End and Broadway (not many), and tells a story about hearing a eel-monger in London, while batting one her eels back down into its bucket, yell, "Down, wanton, down!" which is word-for-word from King Lear, the fool saying, "Cry to it,nuncle, as the cockney did to the eels." Then, in response to a request, he closes the proceedings by reciting  Thomas's "In My Craft or Sullen Art." Guinness comes across as impeccably suave, witty and unpretentious, yet a professional to his fingertips, extending a theatrical tradition that goes back to Shakespeare himself. 
Guinness was born in 1914. He was an illegitimate child and never knew, nor showed much interest in, his father's identity. From an early age the boy was obsessed by the theater and made rapid progress, appearing as Osric at age 22 in John Gielgud's 1936 production of Hamlet. Two years later he was appearing in the title role himself. After commanding a landing craft during the invasion of Sicily during World War II, Guinness returned to London where he became a mainstay of the British theater. At the same time, he carved out an equally successful career in films, starring in classics like "Kind Hearts and Coronets" (1949), "The Lavender Hill Mob" (1951), "The Man in the White Suit" (1951), "Bridge on the River Kwai" (1957) for which he won an Academy Award, and "Our Man In Havana" (1959). The extreme variability of these parts is a testament to what the website biography.com calls:
…his ability to disappear into a role, thus belying the dictum that actors without a consistent screen persona are not likely to become stars. Fellow actor Peter Ustinov once called Guinness "the outstanding poet of anonymity," in reference to Guinness's ability to create complex characterizations without incorporating his own recognizable personal traits and mannerisms. Guinness's characters ranged from meek to malevolent, from timid bank clerks to fiery military officers, and all were noted for their depth and credibility, even those that called for him to wear layers of heavy makeup and prosthetics.
But nothing in Guinness's illustrious career could have prepared for the freakish success of George Lucas's "Star Wars" (1977). Although his portrayal of Obi-Wan Kenobi made him a rich man, the series so exasperated the actor that he lobbied Lucas to have his character killed off. He argued for this development on dramatic grounds, but Guinness later admitted:
What I didn't tell him was that I just couldn't go on speaking those bloody awful, banal lines. I'd had enough of the mumbo jumbo.
A final triumph was his portrayal of George Smiley, the unobtrusive master spy, in the television series "Tinker, Tailor, Soldier, Spy" (1979) and "Smiley's People" (1982). In contrast to the James Bond template of the secret agent as sexy action hero, Guinness deliberately underplayed the role. Mike Hale, writing in The New York Times, notes:
It's conventional wisdom that Guinness's performance is a landmark in TV history, and you won't get an argument here, though if you're watching it for the first time, you may wonder at the start what all the fuss is about. But then you start to notice…how Guinness builds the character. Much of what we know about Smiley accumulates through his reactions to the lies and sad truths that he hears, in slight movements of the eyes and in his capacity for surprise, an analogue for the idealism, or perhaps just devotion to his craft, that drives him.
The same devotion to craft could be applied to Guinness, as well. In 1985 he published the first of three volumes of autobiography, some of them in journal form, in which his engaging personality and strong spiritual nature (he had once considered becoming an Anglican priest, although eventually he converted to Roman Catholicism) are for the first time presented without any intervening "character." Looking back on this feat, Tom Sutcliffe of The Guardian  wrote:
In his unpretentious and beautifully written book, he exorcised a long-suppressed anxiety about his origins. He was, he made clear, illegitimate -- his name a mystery, his father probably called Geddes, the circumstances of his conception, vague. For the rest, Guinness told the tale of his life obliquely, its focus firmly on loved ones and friends rather than on himself. He was there, as it were, in reflection.
Guinness died in 2000 at the age of 86.
Audio courtesy of the NYC Municipal Archives WNYC Collection.