Svetlana Alliluyeva's Graceful Defection from the Soviet Union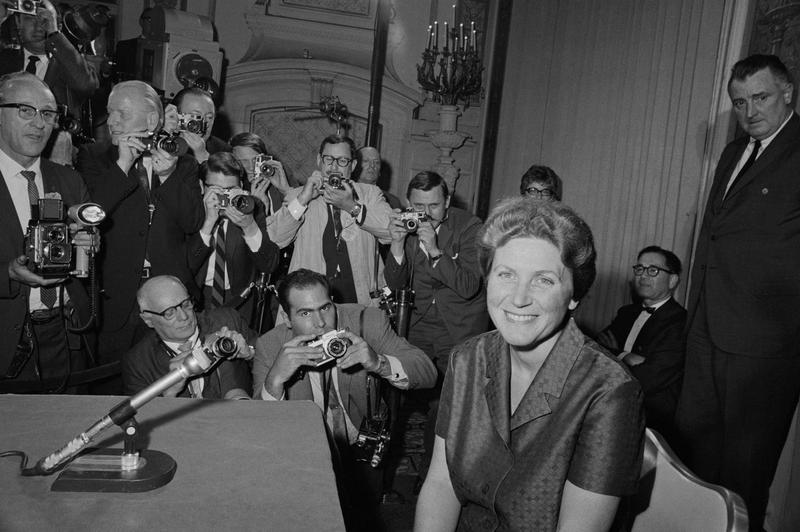 In this recording from April 26, 1967, Svetlana Alliluyeva, the daughter of Joseph Stalin, fields a variety of questions from the New York press after leaving her homeland. "I feel like Valentina Tereshkova at her first flight into space," she confesses, referring to the first female cosmonaut.

Alliluyeva adroitly sidesteps the more charged invitations to denounce her homeland. "I have no political philosophy," she contends, casting her need to leave Russia more in personal and religious terms. She announces she had been baptized five years earlier in the Russian Orthodox Church, although she admits a great interest in Hinduism, Roman Catholicism, and Christian Science, as well. She does say that the recent trials of Andrei Sinyavsky and Yuli Daniel have had a chilling effect on the literary community. But several times during the press conference, she cites the treatment of her longtime companion Brijesh Singh, an Indian Communist, "when he was denied the main human rights," and says that was the main motivating force behind her decision to leave.
For more detailed answers to the reporters' questions she refers them to her soon-to-be released memoir, Twenty Letters To a Friend (1967). Concerning that book's much-rumored advance, the journalist Oriana Fallaci asks, "How do you feel about becoming a wealthy woman?" Alliluyeva replies that she intends to use the money to establish a foundation to help the peasants in Singh's village, in India. Responding to other queries, she names Hemingway and Salinger as two of her favorite American writers, says she hopes that Pasternak's "time will come" and that Doctor Zhivago will be published in Russia, expresses doubts about whether religion and Communism are compatible, and says she does not think her father was assassinated. She is understandably guarded about her initial impressions of America. While admitting that the country has more freedom, she says, "I will see later what is your life like." 
Born in 1926, Svetlana Alliluyeva led a life of unwanted publicity almost from birth. Her father, Joseph Stalin, wielded unquestioned authority within the Soviet Union. Alliluyeva was used by the Soviet propaganda machine as a Communist darling, the Russian equivalent of Shirley Temple. Thousands of babies were named after her, as was a brand of perfume. Life in the Stalin household was, however, anything but idyllic. Svetlana'a mother committed suicide when she was 6. During World War II, her brother Yakov was captured by the Nazis. Stalin refused to exchange him for a German general and Yakov was killed. Although her father doted on her, Svetlana later recalled: 
He was a very simple man. Very rude. Very cruel. There was nothing in him that was complicated. He was very simple with us. He loved me and he wanted me to be with him and become an educated Marxist.
After two unhappy marriages, both ending in divorce, Alliluyeva (she had adopted her mother's name) met and fell in love with Singh. Soviet authorities did not allow them to marry, though, and Singh died shortly thereafter. Alliluyeva, who nevertheless considered Singh her husband, used the obligation of returning his ashes to India as a pretext for her eventual defection. Her appearance at the U.S. embassy in New Delhi seeking political asylum was as big a news story as Nureyev's defection in 1961. India, afraid of angering the Soviet Union, requested she leave the country as soon as possible. She was flown to Rome where, The New York Times reported:
The United States quickly dispatched a C.I.A. officer to help her travel through Italy to neutral Switzerland, but American officials worried that accepting her into the United States could damage its improving relations with Moscow. Finally, President Lyndon B. Johnson, on humanitarian grounds, agreed to admit her but asked that there be as little fanfare as possible. 
Alliluyeva's memoir, Twenty Letters To a Friend, is in the form of letters addressed to an unnamed confidante. Reviewing it in The Atlantic, the historian Arthur Schlesinger Jr. called it:
On the surface a romantic memoir, saturated with a wistful lyricism and by no means always clear or unambiguous in its testimony. But its nostalgia masks a clarity and even savagery of memory and judgment — a daughter's wounded judgment of a father, of an epoch, and of great hopes betrayed.
Alliluyeva's subsequent journey in the United States and elsewhere was not a happy one. After another marriage, to William Wesley Peters, she changed her name to Lana Peters. She gave lectures and broadcasts on Voice of America. That last marriage failed, and she and her daughter moved to England and then, in 1984, back to the Soviet Union, where she renounced her time in the West. This return, however, only lasted a year, after which she returned to the United States. Her later life was spent battling poverty and, according to some, mental illness. She became increasingly reclusive, attempting to evade the spotlight that had trailed her almost nonstop for so many years. Each side, she felt, had used her for its own purposes, with little regard to her own feelings. Or, as she put it:
People say, 'Stalin's daughter, Stalin's daughter,' meaning I'm supposed to walk around with a rifle and shoot the Americans. Or they say, 'No, she came here. She is an American citizen.' That means I'm with a bomb against the others. No, I'm neither one. I'm somewhere in between.
Lana Peters, as she was then known, died in 2011 at 85.
 Audio courtesy of the NYC Municipal Archives WNYC Collection.