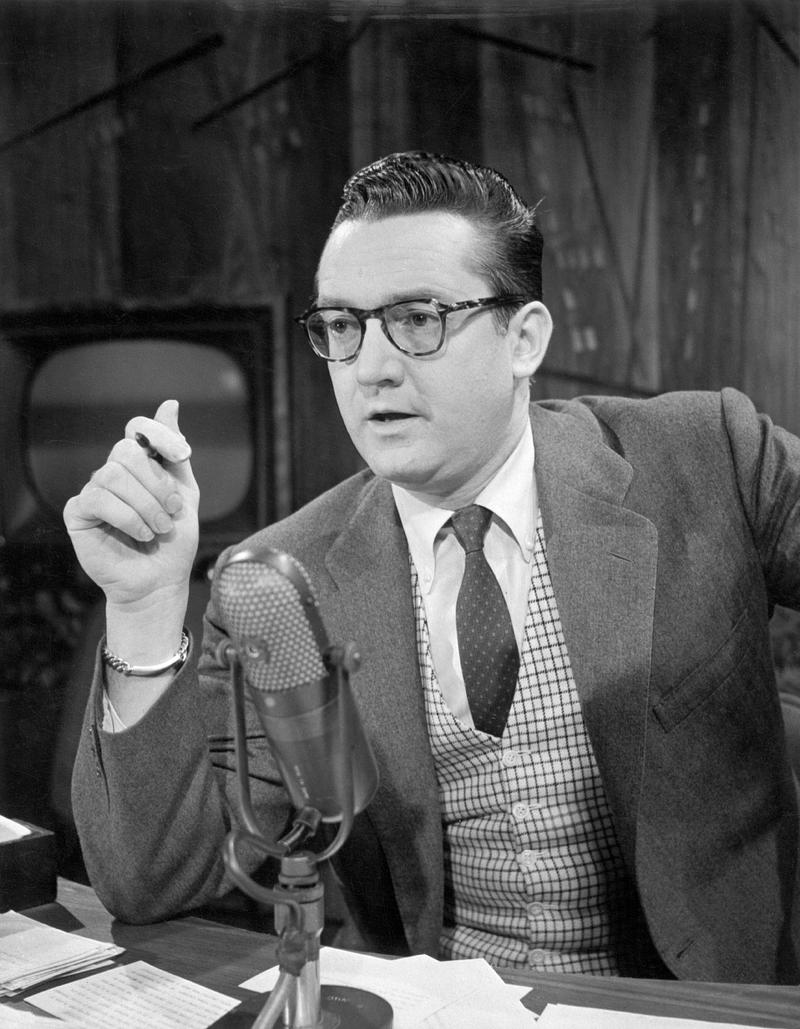 Steve Allen's short story collection Fourteen for Tonight is the ostensible reason for his appearance at this 1956 Books and Authors Luncheon, where the "Tonight Show" host treated assembled guests more as a television audience, relying on his stand-up comedy technique and a few book-oriented jokes. Television itself, still a novelty, provided much of the material.
 In contrast to most speakers in this series, and perhaps as a sign of things to come, Allen plays to the crowd, eschewing any central argument or anecdote of more than a few minutes' length. He ribs his fellow speaker on the dais, Grover Whalen, who orchestrated many of the city's ticker tape parades. After a few observations about the peculiarities of the book business, he reads recent best-seller titles with joke names attached as their authors, including You Can't Go Home Again by Juan Peron, Of Time and the River by Willie Sutton, and The Bad Seed by Luther Burbank.  "It's nice to speak to such a large audience who can't turn me off," he cracks, and then concludes by inviting audience members down to watch the next broadcast of his show.
Steve Allen was born in 1921. His parents, Billy Allen and Belle Montrose, were part of a comedy team. His father died when he was 18 months old, but his mother continued to perform and was considered by many to be the funniest woman in vaudeville. Allen got his start in radio as a DJ but soon gravitated to television. His role as the star of the late-night talk show and variety hour "The Steve Allen Show" gave him critical recognition often incommensurate with his ratings. One reason for this was that he did not come across as the typical television comic or late-night host. As the Gale Encyclopedia of Biography states:
Allen's stint as the first host of "The Tonight Show," a late-night TV institution, paved the way for his well-known successors, including Jack Paar, Johnny Carson, and Jay Leno. But Allen was far more than just a witty, wise cracking television personality. For decades he captivated radio and television audiences with his unique blend of humor -- sometimes sophisticated and subtle and other times bordering on the slapstick. However, this somewhat superficial comic facade masked a complex man of many parts. He was an accomplished pianist who loved jazz; a composer of note; an activist who championed many causes; an actor; and a thoughtful author.
Allen's later career in Hollywood included revivals of both his talk show and the comedy hour, as well as the quiz show "I've Got a Secret." As a composer, he wrote over 10,000 songs, most famously "This Could Be the Start of Something Big" and "The Gravy Waltz," a jazz composition that won a Grammy. He also wrote more than 50 books, ranging from joke books to social criticism. Indeed, he became well-known for his views on such diverse topics as rock music and organized religion (both of which he opposed). In its obituary, The New York Times noted:
Mr. Allen was keenly interested in social justice and wrote pamphlets on a variety of issues, including the problems facing migrant workers, as well as capital punishment and nuclear proliferation… He once considered running for Congress from California, calling his politics ''middle-of-the-road radicalism,'' which was his way of describing mid-century liberalism.
The impression one gets is of abundant talent which supersedes genre and medium. The short stories in this collection, for example, are in no way "gags" or short humorous pieces, and received respectful reviews. The critic Gilbert Millstein wrote:
These short stories are completely professional in every respect. A number of them are highly perceptive; others display a fine irony, a becoming warmth, a knowledge of their milieu, and a great seriousness of purpose.
One can sense in this Books and Authors Luncheon performance Allen running away from any attempt to be taken seriously as an author or to be tainted with the accusation of being "highbrow." His combination of appearing as an intellectual in popular media and a simple comic in more serious venues leaves his achievements in a unique but sometimes hard to evaluate no-man's-land. His most lasting legacy seems to have come from his early days in television. Almost all current late-night hosts refer to him as a source of inspiration.  As Jay Leno recalled: "He never played dumb. Rather, he played to his intellect. And he was as comfortable talking to the man on the street as with world leaders."
Steve Allen died in 2000, at age 78.
Audio courtesy of the NYC Municipal Archives WNYC Collection.