'The Birds Fall Down' and More: Rebecca West's Lamentations, 1966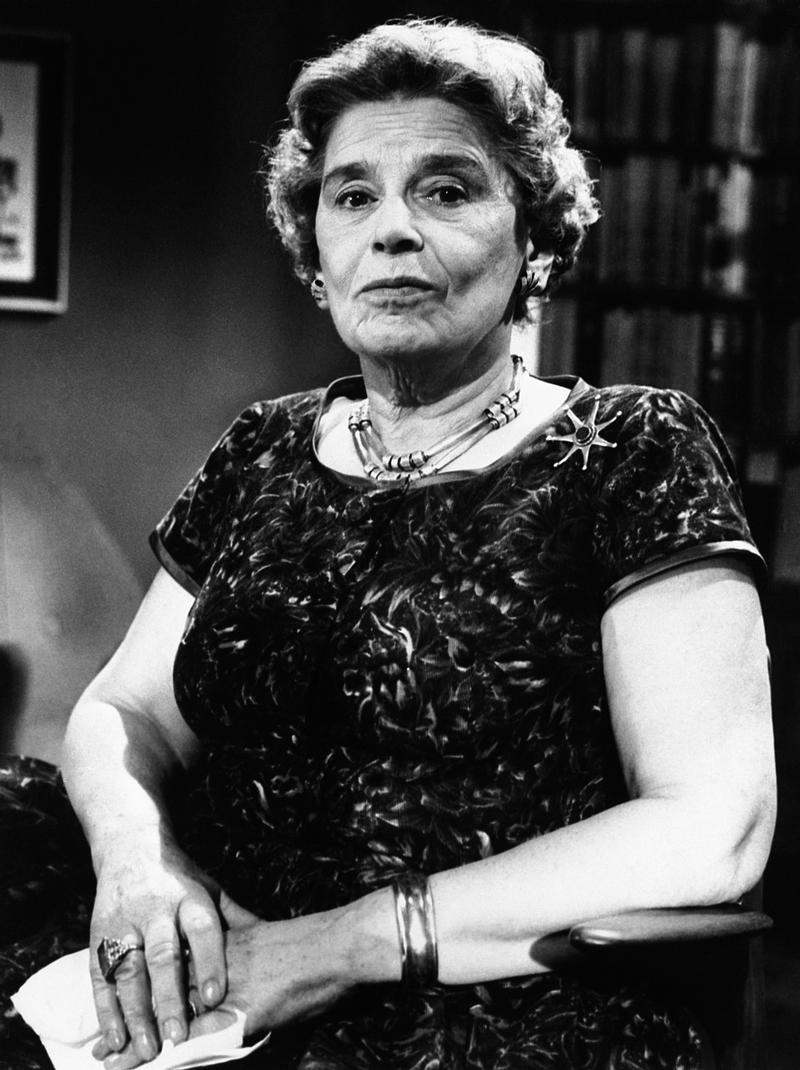 A funereal air hangs over the proceedings at Rebecca West's 1966 Book and Author's Luncheon appearance.
The famous novelist, essayist, literary critic, and travel writer devotes much of her talk not to plugging her current effort, The Birds Fall Down, but to lamenting the imminent demise of the series sponsor, The New York Herald-Tribune (which was about to close) and, more personally, admits to being "devastated" by the absence of the luncheon's redoubtable mistress of ceremonies, Irita Van Doren (who would die later that year.) West had once been employed by the Herald-Tribune and tells stories about covering the 1948 political conventions for the paper. She also fondly recalls its best misprint, an explorer photographed with all his jungle gear accompanied by the caption that he was off to "look for a large, ruined cutie." When she finally gets down to discussing her book, a portrait of Czarist Russia at the time of the Revolution, she recalls hearing stories of pogroms as a child and thinking she must remember this because "such things will never happen when I grow up." Alas, they have, she implies. Her book, she says, "is really about how you can grin and bear it." She devotes the rest of her talk to a complaint about bureaucrats in general and the British tax authorities in particular. In the end she laments once more the closing of the Herald-Tribune, praising it as having "made my life very easy and very happy."
West was born Cicely Isabel Fairfield in 1892. She took her stage- and subsequent pen-name from the rebellious heroine of Henrik Ibsen's play "Rosmersholm." The connection with the nascent feminist movement was no accident. Throughout her long literary career West was routinely seen as a trailblazer for women's rights in both the social arena and the world of arts. After a brief career on the stage, she became a widely read journalist and critic before scoring a critical success with her novel The Return of the Soldier (1918), which describes a shell-shocked serviceman attempting to rejoin society after World War I. During this same period she embarked on a then-scandalous affair with the married novelist H.G. Wells. They had a son -- the novelist Anthony West -- in 1914. The relationship deteriorated, however, with Wells, and later West himself, becoming objects of her much publicized scorn. Indeed, it is interesting to contrast West's somewhat "ladylike" performance at this staid, Waldorf-Astoria luncheon, with the more sharp-edged views she expressed in other venues. When asked by the Paris Review, for example, if any men had ever helped her, she replied:
WEST

The men near you always hinder you because they always want you to do the traditional female things and they take a lot of time. My mother helped me to work because she always talked to me as if I were grown-up.

INTERVIEWER

Do you feel men did not want to help you as a writer?

WEST

Oh, yes! So many men hate you. When my husband was dying I had some very strange dialogues. People were very rude just because they'd heard I was a woman writer. That kind of rudeness is as bad as ever.

INTERVIEWER

Would it have been easier to have been a man?

WEST

It certainly would have been.

INTERVIEWER

Are there any advantages at all in being a woman and a writer?

WEST

None whatsoever. You could have a good time as a woman, but you'd have a much better time as a man. If in the course of some process, people turn up a card with a man's name on it and then a card with a woman's, they feel much softer toward the man, even though he might be a convicted criminal. They'd treat the man's card with greater tenderness. 
Despite what she viewed as blanket discrimination, West shrewdly played up her feminist and socialist views to create a considerable media personality. In some ways this notoriety obscured her truly ground-breaking creative achievements, notably the travel book Black Lamb and Grey Falcon (1941). Ostensibly about Yugoslavia, the book becomes a vivid self-portrait as well as capturing the mood and spirit of Europe on the verge of World War II. Katherine Woods, reviewing it for The New York Times, wrote:
…it is safe to say that as a travel book it is unique. In two almost incredibly full-packed volumes one of the most gifted and searching of modern English novelists and critics has produced not only the magnification and intensification of the travel book form, but, one may say, its apotheosis. Rebecca West's "Journey Through Yugoslavia" is carried out with tireless percipience, nourished from almost bewildering erudition, chronicled with a thoughtfulness itself fervent and poetic; and it explores the many-faceted being of Yugoslavia -- its cities and villages, its history and ancient custom, its people and its soul, its meaning in our world.
West balanced her topical reporting (she covered the Nuremberg Trials, the above-mentioned U.S. conventions, was a prolific reviewer and commentator) with novels. The most of successful of the latter was The Fountain Overflows (1956), a best-selling semi-autobiographical rendering of her childhood. The novelist Elizabeth Janeway called the book:
A real Dickensian Christmas pudding of a book -- full of incident, full of family delights, full of parties and partings, strange bits of London, the lobby of the House of Commons, a classic murder with portraits of the murderer, the murderee and a couple of innocent bystanders, bill collectors, kitchen fires, good food, and a considerable quota of ghosts. West's is a world that is a delight to enter and to live in, warm and vital, and constantly entertaining.
West remained an outspoken figure in the literary world for many years. She was "rediscovered" when the Women's Movement rose to prominence in the 1970s and '80s, although her relationship to such an all-encompassing term was problematic. More than anything she come across as a ferocious individual, making her way alone in what she perceived as a largely hostile world. As for feminism, she is famously remembered for saying:
"I myself have never been able to find out precisely what feminism is: I only know that people call me a feminist whenever I express sentiments that differentiate me from a doormat."
West died in 1983 at the age of 90.
Audio courtesy of the NYC Municipal Archives WNYC Collection.