John Gunther, Author of 'Inside' Travel Guides, Offers Glimpse of African Continent, 1955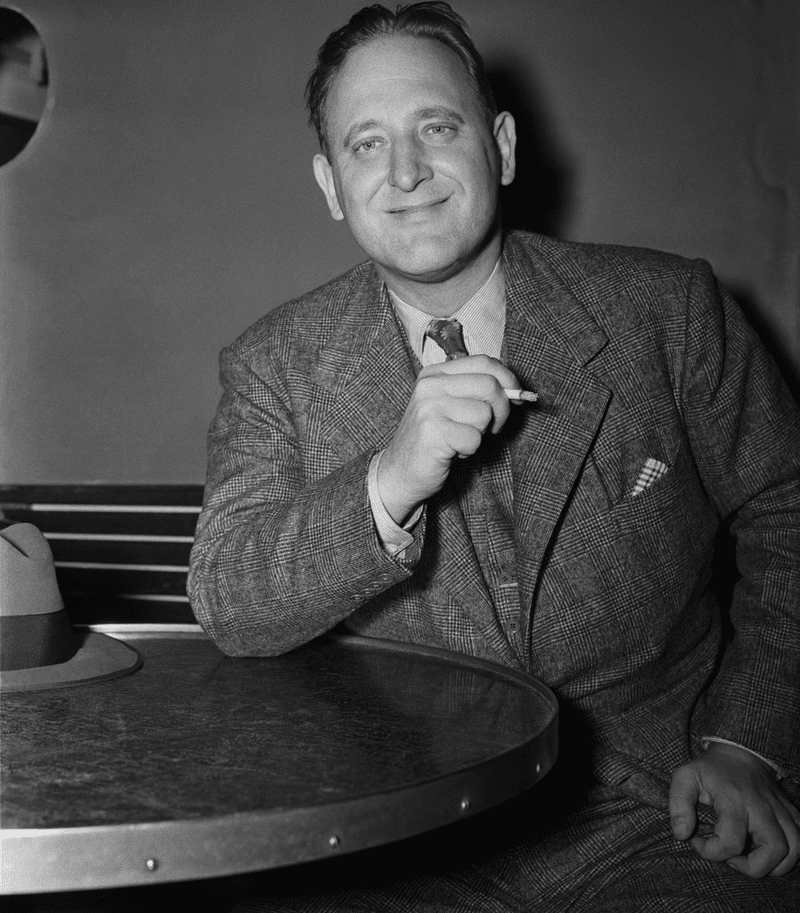 Formerly a foreign war correspondent, Chicagoan John Gunther drew on his background to write the 'Inside' travel series, which included Inside Europe (1936), Inside Asia (1939), Inside Latin America (1941), and here, Inside Africa.
Gunther's travel writing illustrates both extraordinary and ordinary people whose lives were caught up in great events in far-flung parts of the world, and his prose strikes a balance between reportage and armchair travel literature. 
The author first describes the "mixed-up-ness" of the continent, perhaps illustrating his own benightedness more than that of his subject by recounting how he and his wife, "after we had been en route four or five months, suddenly reflect[ed] upon the odd fact that we hadn't once seen a truly naked savage!" This was quickly remedied by a letter to the governor of the Congo, who sent them on a private plane to an area of "incredible primitiveness" where naked dancers cavorted around "pots…in which obviously missionaries had been boiled only the day before." The punchline, such as it is, of this story is that between dances what did the savages drink but…Coca-Cola!
On surer footing, Gunther then describes the many animals he saw in the vast game reserves. "The parks are zoos in reverse," he explains, the cage being one's automobile and lions being the curious visitors who come up and gawk. Politics is only briefly touched upon, as he tells an anecdote about the treatment of a potential subversive in Uganda which clearly illustrates the superiority of British rule over that of the other colonial powers. In closing, he does make a plea that the 5 million whites give the 198 million blacks "a little better deal than they have so far" and that the United States take a more positive role as well, otherwise, "we will have lost Africa as we have so unfortunately lost so much of Asia." 
John Gunther was born in 1901. A newspaperman, he was the European correspondent for The Chicago Daily News from 1924 to 1936. His extensive travels over the continent in that fraught time leading up to World War II became the basis for Inside Europe (1936), which painted portraits of both movers and shakers and ordinary people whose lives were caught up in great events. A cross between reportage and armchair travel literature, the book benefited from its timeliness as well as its unique approach and became a bestseller, spawning a series of "Inside" books for which Gunther would travel the length and breadth a continent—Inside Asia (1939), Inside Latin America (1941) etc.— and condense the experience for his readers. Perhaps his most successful follow-up to the initial volume was Inside USA (1947.) Reviewing Inside U.S.A. on its 50th anniversary, Arthur Schlesinger Jr., writing in The Atlantic, calls it:
… an astonishing tour de force. It presents a shrewd, fast-moving, sparkling panorama of the United States at this historic moment of apparent triumph. Sinclair Lewis called it "the richest treasure-house of facts about America that has ever been published, and probably the most spirited and interesting." At the same time, in its preoccupations and insights Inside U.S.A. foresaw dilemmas and paradoxes that were to harass and frustrate Americans for the rest of the century. And in this age of collective journalism one is permitted to marvel that Inside U.S.A. is a one-man production.
Gunther's technique was to mix the personal and intimate with a reporter's hard-charging "big picture" project of capturing an entire continent.  He described what interested him as:
… not news, but appraisal. What I sought was to grasp the flavor of a man, his texture, his impact, what he stood for, what he believed in, what made him what he was and what color he gave to the fabric of his time.
This approach had its shortcomings, one of which was that, as the above-cited talk illustrates, it sometimes pandered to its audience's expectations, relying on cliches and stereotypes.  This, however, seems to have been partly intentional.  In summarizing his achievement, The New York Times reports:
To the critics' charges that the books were too slick and superficial, Mr. Gunther could reply with candor, "They're fun to write and people like them, but they indeed are superficial."
Gunther is chiefly remembered today for a quite different book, the wrenching memoir of his son Johnny, Death Be Not Proud (1949). Johnny, a talented and charismatic boy, died from a brain tumor at the age of 17. In the book he corresponds with Albert Einstein, advises his parents, and faces death with a stoic maturity. One reviewer wrote:
If courage is the antidote to pain and grief, the disease and the cure are both in this book.
Death Be Not Proud is still taught in many schools, and was made into an Emmy-nominated television movie in 1975.
In addition to the Inside series, Gunther wrote many biographies, novels, and an autobiography. He died in 1970; he was 68.
Audio courtesy of the NYC Municipal Archives WNYC Collection.