The Serious Stand-Up of S.J. Perelman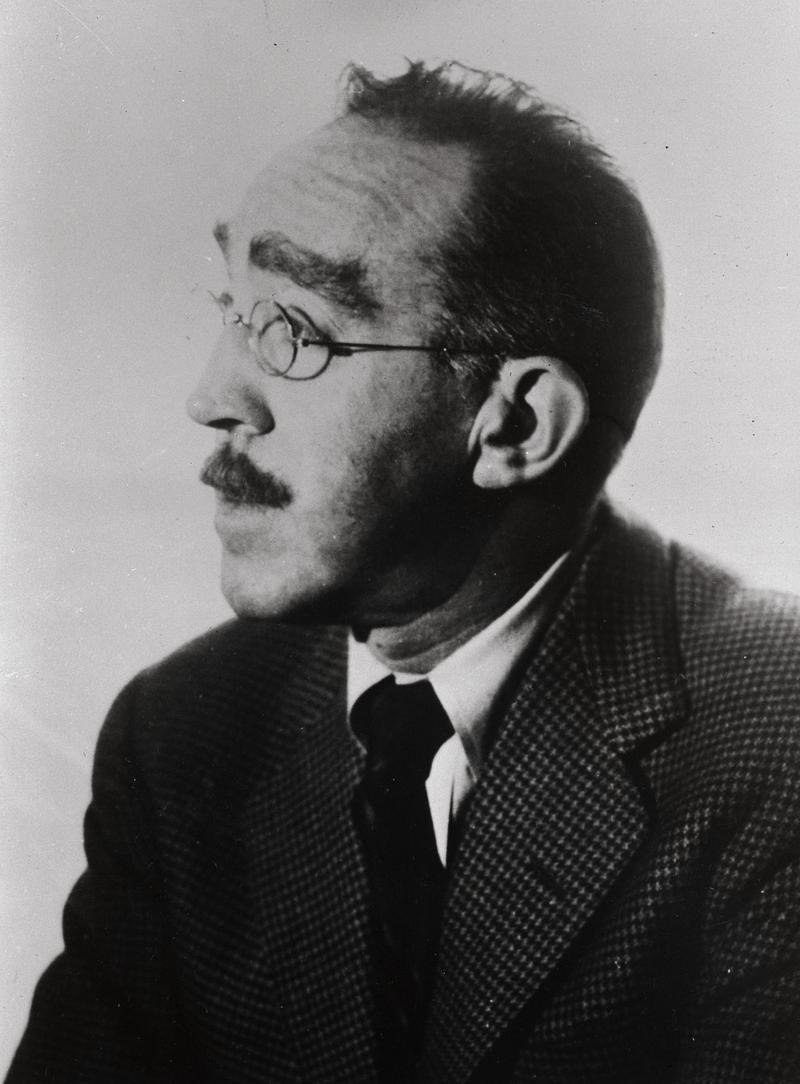 "Dehydrating in front of an audience," at this 1957 Books and Authors Luncheon, well-known dramatist and writer S. J. Perelman gives a chilling verbal portrait of the writer's life.
Lamenting that he is "too fragile to drive a brewery truck and too nervous to steal," the New Yorker essayist sees the creative process as "a cross between picking oakum and eating a banana underwater." After an opening reminiscence about previous speaking engagements (appearing in a school play titled "Pocahontas Get Your Gun" and a later debate against the students of Lizzie Borden High), he launches into a description of preparing for this appearance, which he mistakenly thought took place abroad, by outfitting himself with various safari gear and demanding his doctor inoculate him against attacks by the Giant Backslapper. As for writing, he admits it does allow one to sleep late in the morning, but so does the job of a night counterman at a cafeteria, a profession he wishes he'd gone into, "because that would allow me to bring home stale Danish pastries for the kiddies to eat." Perhaps the truest glimpse of how this artist came to produce such highly compressed, hysterically funny, and yet oddly disturbing prose comes in a description of his work space at the end of the day: "…the paint on the walls of my office is scratched as high as a man can reach [and] the floor is knee-deep in Benzedrine shavings."
Born in Brooklyn in 1904, Sidney Joseph Perelman's writing ranged from bizarre travel reporting to parodies of current theater and detective authors, to corrosive social satire, to self-lacerating autobiography. The disparate range of this work was united by an ornate, hyperkinetic, glittering style that was part borscht belt, part British drawing comedy, while at all times remaining unique and instantly recognizable. Richard Corliss, writing in Time magazine, calls him:
…a Charlie Parker on tenor Underwood, running bizarre and beautiful variations on the tritest themes. With a difference: Perelman's prose was improv with agony. He perspired platelets to make it read cucumber-cool.
Perelman was also active on Broadway, writing "One Touch of Venus" (1943) and "The Beauty Part" (1962).  He contributed to the screenplay for "Around the World in Eighty Days," which won an Academy Award in 1956. His most lasting contribution to drama, though, was probably his early work with the Marx Brothers. He co-authored the scripts for "Monkey Business" (1931) and "Horse Feathers" (1932). Readers of his essays and interviews cannot fail to notice a strong element of Groucho Marx's humor in Perelman, though it's unclear and a subject of some debate just who influenced whom.  
Perelman was also Nathanael West's brother-in-law, leading to additional speculation on the relationship (if any) between these two satirists, who both left biting portraits of American media in general and Hollywood in particular. 
But it was at The New Yorker where he was most appreciated and given the freedom to explore the more arcane aspects of his genius, as in his "Cloudland Revisited" series, in which he sat through private screenings of the old silent movies of his youth and reappraised them with an aging man's more jaundiced eye. These essays and others were brought together in such collections as Strictly From Hunger (1937), Crazy Like a Fox (1944), Westward Ha! (1948), and The Most of S.J. Perelman (1958).
When Perelman died in 1979, at age 75, the New Yorker editor William Shawn recalled:
He was utterly serious, but his medium simply was humor. … People were so enormously entertained by him that they sometimes overlooked his great originality and his literary brilliance.
As for Perelman's own take on straddling the line between "literature" and "humor," here is a telling exchange from a 1963 Paris Review interview:
INTERVIEWER

Have you ever considered a serious book?

PERELMAN
It may surprise you to hear me say…that I regard my comic writing as serious. For the past 34 years, I have been approached almost hourly by damp people with foreheads like Rocky Ford melons who urge me to knock off my frivolous career and get started on that novel I'm burning to write. I have no earthly intention of doing any such thing. I don't believe in the importance of scale; to me the muralist is no more valid than the miniature painter. In this very large country, where size is all and where Thomas Wolfe outranks Robert Benchley, I am content to stitch away at my embroidery hoop. I think the form I work can have its own distinction, and I would like to surpass what I have done in it.
Audio courtesy of the NYC Municipal Archives WNYC Collection.