Poetifully, Youngerly, Ogden Nash's Poetry Begs an Encore, Wonderfully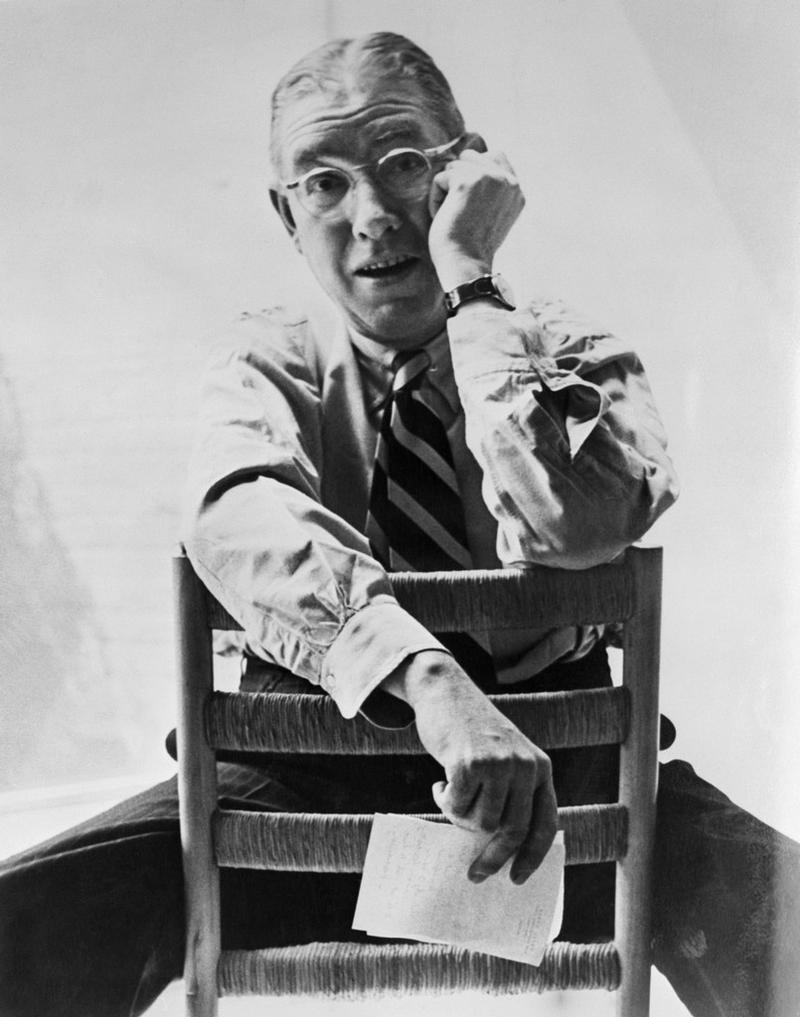 Promoting his collection Parents Keep Out, poems aimed primarily at teenagers, the poet Ogden Nash displays the well-known rhyming ability and whimsical attitude of his widely appreciated, inimitable light verse at this 1951 Books and Authors Luncheon.
"What is life?" the poet Ogden Nash asks the audience at this 1951 Book and Authors Luncheon, and then responds by reading his poem You and Me and P.B. Shelley, which includes the answer "…it is a concert with a trombone soloist filling in for Yehudi Menuhin." Promoting his just-published collection Parents Keep Out, a selection of poems aimed primarily at teenagers, Nash displays his well-known rhyming ability as well as the whimsical attitude that marked his particular type of widely appreciated, inimitable light verse. In a juxtaposition worthy of  one of his own couplets, he addresses the following speaker, Justice William O. Douglas, describing a recent visit to Yakima, Washington, where he was awarded "a hand-painted yellow tie flaunting a bowl of fruit and the words POET LAUREATE written on it." Called back to the dais by the Mistress of Ceremonies, Irita Van Doren, for a rare encore, he reads a short poem about a gander and his wife, ending with the query: "Is she happy? What's the use/of trying to psychoanalyze a goose?" 
Born in 1902, Frederic Ogden Nash came to poetry via the unlikely route of bond salesman and advertising copywriter. Some lines fished from a wastebasket and sent to The New Yorker led to a steady stream of appearances in many of the nation's magazines and his eventually attaining that most unlikely of all positions: a financially successful writer of verse. Albin Krebs, writing in Nash's 1971 New York Times obituary, quoted this initial effort ("I sit at an office at 244 Madison Avenue/And say to myself You have a respectable job, havenue?"), noting:
…the near rhyme and extended line which he [Nash] likened to "a horse running up to a hurdle but you don't know when it'll jump."
Nash worked briefly for The New Yorker but spent the rest of his career writing poetry and giving combination lecture/readings, like the one heard here. He also collaborated with S.J. Perelman, providing the lyrics to the Broadway musical "One Touch of Venus" (1943), which included the song "Speak Low." No poet of his time was as popular or as widely quoted, to the extent that, as the website eNotes claims, some of his works:
… have reached near-proverbial status. "Candy / Is dandy, / But liquor / Is quicker," and "If called by a panther, / Don't anther" are two Nash poems that are so familiar to the public that they are often attributed to "Anonymous." While the unconventional nature of his verse has denied him the status of a "serious" poet, Nash remains one of the most read and quoted poets of this century.
At the same time, Nash was able to retain a large readership among the literary establishment. In 2010, looking back at his continuing contributions to The New Yorker, Jenna Krajeski wrote:
In 1956, we ran his "Ring Out the Old, Ring in the New, but Don't Get Caught in Between," in the year's last issue, just in time to suggest that people take some time from their festivities to contemplate the growing pains of American innovation and the very odd feeling, as the clock shifts to midnight, of being between two years. As always, Nash's smarts are peeking from behind a curtain of wry silliness.
But nothing illustrates how Nash's interests coincided with that of mainstream America better than his enduring love for his local football team, the (then) Baltimore Colts. This reached its height in a 1968 Life magazine cover story featuring admiring poems paired with full-page photographs of the individual player eulogized, like one beginning "When hearing tales of Bubba Smith/You wonder is he man or myth?"
Audio courtesy of the NYC Municipal Archives WNYC Collection.