Marian Anderson Speaks on Empathy, Attainment, and Race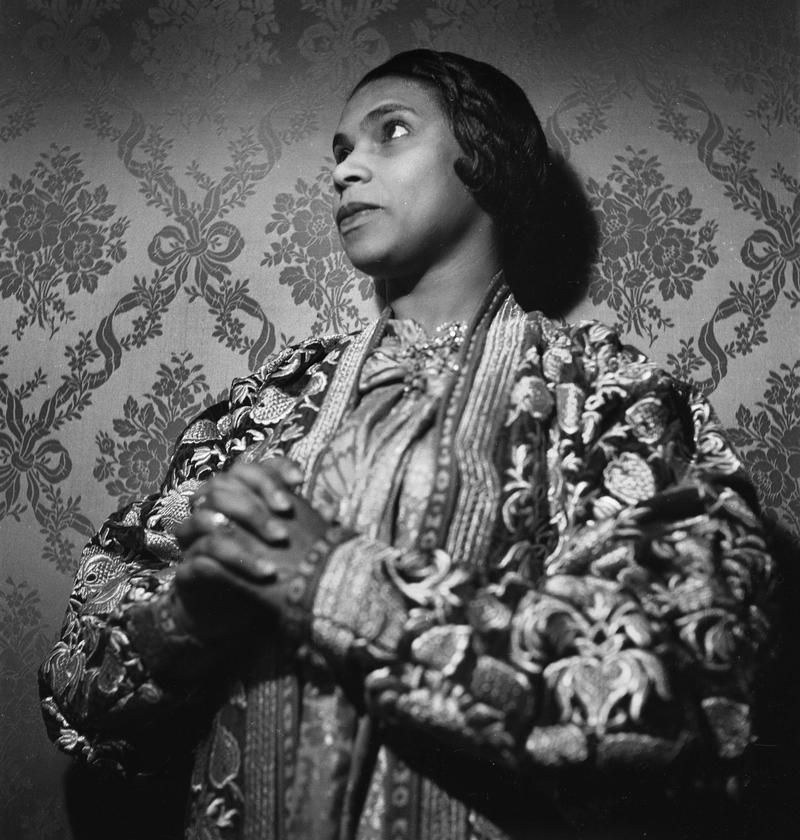 As eloquent in her speech as she is in her song, the contralto Marian Anderson addresses the issues of prejudice and segregation head-on in this 1957 Books and Authors Luncheon appearance.

After an unusually emotional introduction by the series hostess, Irita Van Doren, Anderson tells the story of a little African-American girl being asked in school what she wanted to be when she grew up. "A rich white lady," was her reply. What this meant, Anderson explains, "is that she knew she could not attain what she hoped to attain." Anderson goes on to argue for "knowledge of each other," which is not necessarily the same as close association but "intelligent thinking." She invokes her mother, the guiding light and true heroine of her just-published autobiography, My Lord, What a Morning (1956), who repeatedly taught her child, "You must be able to put yourself as nearly as possible into the place of the other fellow." Anderson extends this advice not just to race relations but all aspects of human society, urging people  to reach out to any "black sheep" relatives they have and try to understand them, for in so doing they may very well "save a soul." The aim in life, she says, is "not to be a party to a thing which, when the God Lord calls you, you won't have an answer."
In a brief question period, Anderson describes how it is not until she truly understands the words to a song that she is able to sing it effectively. Prompted by Van Doren, she then tells of receiving the Key to the City from Atlantic City's mayor, only to be denied a hotel room in that same town. She would "like to think that things are getting better," but then tells another story of a man blocking her way through the Whites Only waiting room of a train station. She speaks of feeling sorry for the man, "for he had nothing else to make him big."  
Anderson was born in Philadelphia in 1897. Her musical talents were recognized early but she was turned away from the Philadelphia Music Academy because of her race. However, private instruction enabled her to continue her studies and by 1925 she had debuted with the New York Philharmonic. The country was not ready to accept a black opera singer, though, as evidenced by this description in the Women In History website:
In the U.S., she was shifted to third- or fourth-class accommodations. In the South, she often stayed with friends. Simple tasks [such] as arranging for laundry, taking a train, or eating at a restaurant were often difficult. She would take meals in her room and traveled in drawing rooms on night trains. She said: "If I were inclined to be combative, I suppose I might insist on making an issue of these things. But that is not my nature, and I always bear in mind that my mission is to leave behind me the kind of impression that will make it easier for those who follow." Early on, she insisted on "vertical" seating in segregated cities; meaning black audience members would be allotted seats in all parts of the auditorium. Many times, it was the first time blacks would sit in the orchestra section.
By 1930, Anderson opted for extended tours of Europe, where her reception appears to have been the polar opposite of that in her native land. She was greeted by rapturous crowds and critical success. The Finnish composer Jean Sibelius was so enamored with her voice that he made a new arrangement of his song "Solitude" and dedicated it to Anderson. But when she returned to the United States she was met by an even more public rejection. As the PBS program "The American Experience" recounts:
…in 1939 when Marian's manager, Sol Hurok, and Howard University tried to secure a performance for her at Constitution Hall in Washington, D.C., the Daughters of the American Revolution, who owned the Hall, refused to accommodate Anderson. The rebuff was widely publicized when Eleanor Roosevelt, herself a member of the D.A.R., publicly resigned from the organization in protest. In her letter to the D.A.R., she wrote, "I am in complete disagreement with the attitude taken in refusing Constitution Hall to a great artist ... You had an opportunity to lead in an enlightened way and it seems to me that your organization has failed." Outraged, the "Marian Anderson Committee" formed to petition the D.A.R. and likened the organization's action to those of Hitler's racist regime. In response, Eleanor and the Committee arranged for Marian to give her concert on the steps of the Lincoln Memorial with the Mall of Washington as her auditorium. Symbolically, the concert took place on Easter Sunday, April 9, 1939. The sun was shining as 75,000 people of all races crowded together; the largest gathering to assemble there since Lindbergh's reception in 1927. Feeling the meaning of the occasion, Marian had tears in her eyes when she delivered "Nobody Knows the Trouble I've Seen" and "America" with heartbreaking pathos. The event was so momentous and inspiring that the D.A.R. finally invited Marian to sing at the Hall in 1943 for a war relief concert. At that event, both black and white concertgoers attended.
After this watershed moment, Anderson's career flourished, but only in a concert setting. She was still not asked to perform onstage with white singers. This did not occur until 1955, when at the age of 57, she made history by appearing at the Metropolitan Opera. This was considered a milestone both for opera and in the ongoing struggle for racial equality.
Considering her importance as a cultural icon, Anderson's musical qualities are sometimes overlooked. But as Allan Kozinn notes in Anderson's New York Times obituary:
Her recordings of standard concert works, most notably Schubert's "Ave Maria," were prized for the radiant beauty of her interpretations. But one of her real achievements was in emphasizing that spirituals deserved a place in the active repertory, something she demonstrated with sublime readings of "My Lord, What a Morning" and "Crucifixion," which were the centerpieces of many programs. "They are my own music," she once said. "But it is not for that reason that I love to sing them. I love them because they are truly spiritual in quality; they give forth the aura of faith, simplicity, humility and hope." 
Marian Anderson died in 1993; she was 96.
Audio courtesy of the NYC Municipal Archives WNYC Collection.