The 'Anatomy' of Fannie Hurst, Memoirist and Romance Novelist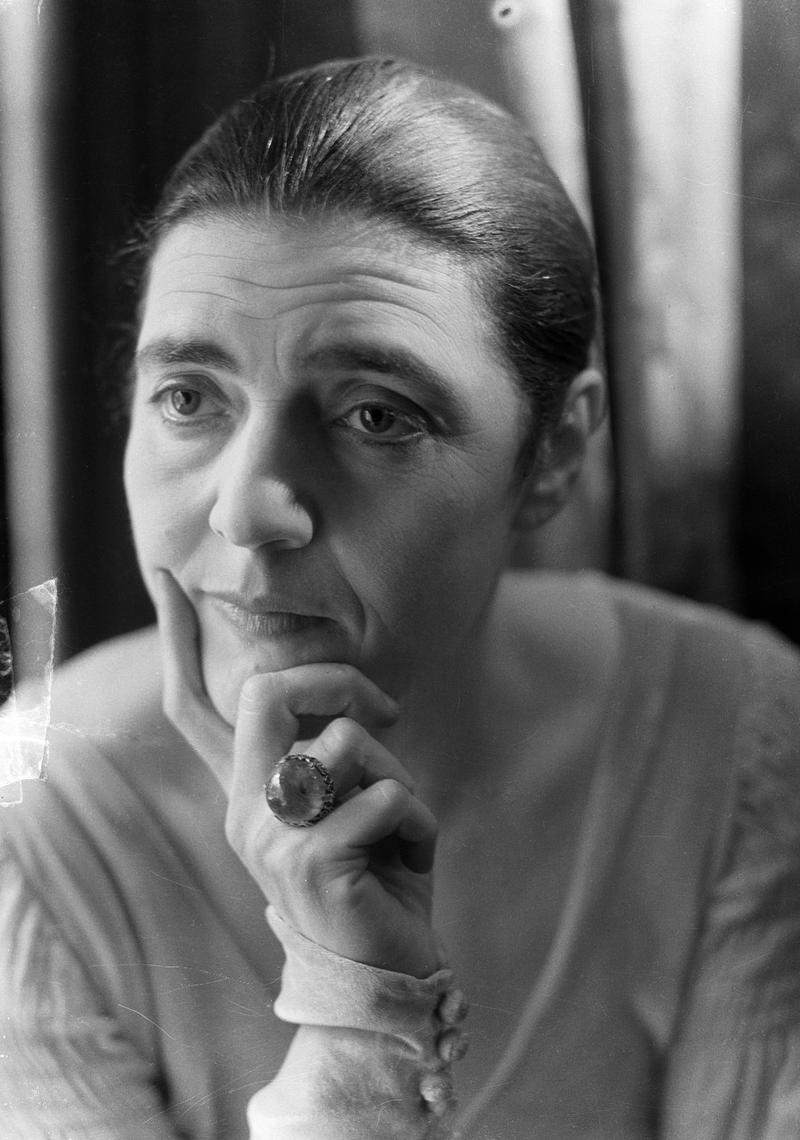 Largely forgotten today, Fannie Hurst was for many years one of the most highly paid and widely read novelists of her time. Anatomy of Me is Hurst's just-published autobiography, which she discusses at this 1958 Books and Authors Luncheon.
What the famous "Queen of the Sob Sisters" novelist had envisioned as "an egotistical splurge," an attempt to "open the labyrinth of my so-called mind and invite everybody in to see how it worked," instead seemed to be interesting readers more for its stories of the famous people she had known. Bowing to this curiosity, she recounts some of the more amusing anecdotes from the book. She tells of Theodore Dreiser becoming so engrossed in a conversation that he ended up flying to St. Louis with her just so he can keep on talking, and of an amusing trip to Paris where she represented the Authors Guild and ended up handing a French dignitary a slice of cold cooked turkey along with her card. Finally, she gives an exhaustive and revealing portrait of a day at the Roosevelt White House, ending sometime in the early morning when Eleanor Roosevelt appeared at the door of the Lincoln Suite in a bathing suit and asked if Hurst wanted to see her stand on her head!
An expert in giving her audience what they want, Hurst, after somewhat pointedly explaining that she conceived the book as "a wonderer in search of herself," resigns herself to amusing and beguiling these ladies who lunch, all while remaining something of a mystery.  
Born in 1889, Hurst spent her childhood in St. Louis before coming to New York, determined to write. After several years of rejection, she placed a story in The Saturday Evening Post, after which her work was in constant demand. Hurst's books are characterized by purple prose and questionable grammar, but manage to fuse the basic elements of what we now call romance novels with a progressive attitude toward the hot button social issues of the day. Hurst gained fame with such books as Back Street (1931), which deals with adultery, and Imitation of Life (1933), which focuses on race relations. These and several other of her books were made into successful Hollywood movies that  further broadened her appeal -- an appeal that crossed both geographical and class boundaries, as illustrated in this anecdote from the Jewish Women's Archive:
Best loved for the tearjerker Back Street, Hurst favored her most self-consciously social novel, Lummox [1923], which earned the praise of Vladimir Ilyich Lenin and Leon Trotsky. In fact, Trotsky entertained her with an impromptu recitation of the chapter "The Cathedral Under the Sea" when she visited him in the Soviet Union.
Hurst used her celebrity to promote many causes, some of which were quite progressive for their time. She advocated for women to keep their maiden names (in 1921); was a member of the Urban League, which promoted equality for blacks; and toward the end of her life used her television program, "Showcase," to explore the plight of homosexuals. This outspokenness extended to a defense of her unconventional personal life. As reported in the Jewish Virtual Library:
In 1915, she had secretly married pianist Jacques Danielson, and they each had their own residence. When their marriage was revealed in 1920, a New York Times editorial took them to task for having separate residences when there was a housing shortage. Hurst retaliated by stating that a married woman had the right to retain her own name, her own special life, and her own personal liberty. They remained happily married until his death in 1952. She was very sharp and to the point in vocalizing her views on the rights of women. When Justice Arthur Goldberg declared in 1962 "that it is time that we evaluated women on merit and fitness for a job," she snapped back, "Time, sir! You are a half-century too late."
At the same time, while holding views that many in mainstream America would have considered shocking, Hurst managed to retain both her popularity and her acceptance by the rich and powerful. As the story she tells in this talk illustrates, she was a good friend of the Roosevelts, and served on several New Deal committees. She also provided the subject for one of Roosevelt's best-known witticisms:
The novelist Fannie Hurst wanted to surprise FDR with the change in her appearance since she had been on a diet. She managed to slip unannounced into his office. The president looked up as she entered, then gestured for her to turn around in front of him. When she completed the turn, he commented, "The Hurst may have changed, but it's the same old fanny."
Hurst's good-natured puzzlement at people responding more to stories about her famous friends than musings on the wellsprings of her art is indicative of the tension in many a "popular" artist's makeup. The success they want is not always the success they get. Even her own editor, Kenneth McCormick, spoke of her as being, "…basically a fairly corny artist. We all know people who can write beautifully and can't tell a story worth a damn. She is really a wonderful storyteller."
Fannie Hurst died in 1968 at the age of 78. Among the many bequests in her will were endowments to create chairs in creative writing at two universities.
Audio courtesy of the NYC Municipal Archives WNYC Collection.
Note: Poor audio quality. Original transcription disc missing, transferred from derivative polyester tape copy made circa 1980.