We All Sag in the Middle: The Delightfully Indignant Edna Ferber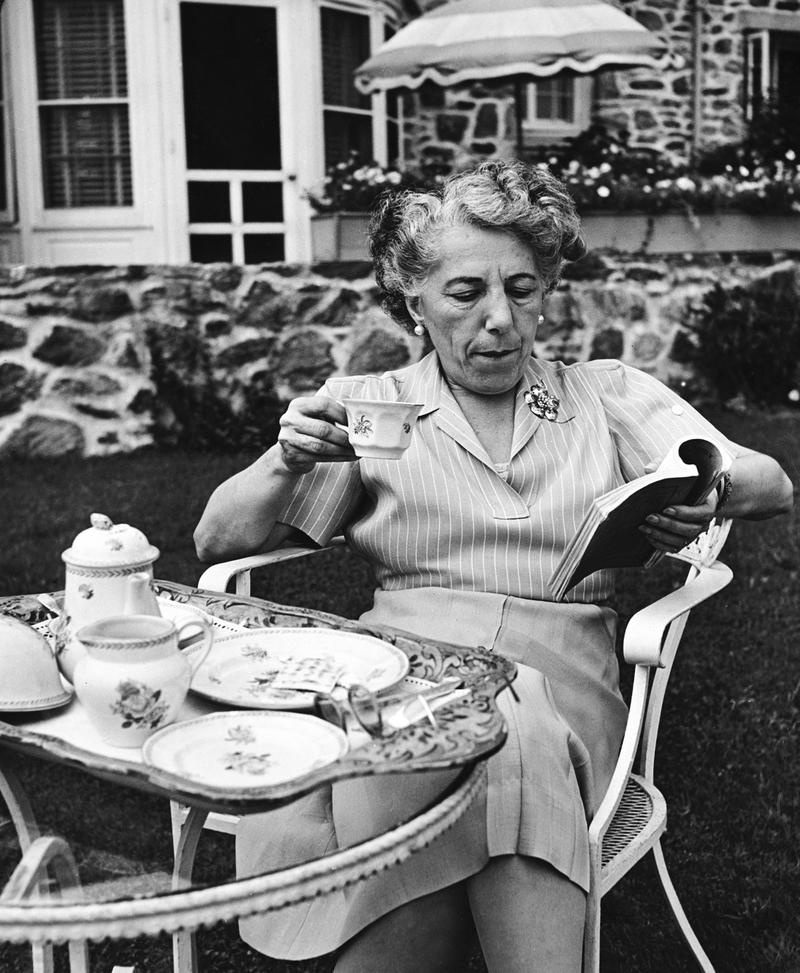 Popular best-sellers of the day, Edna Ferber's books also provided the stories for influential plays, musicals, and films. At this 1958 Books and Authors Luncheon, she talks about her new book, Ice Palace.
She announces that, "If we had been served for dessert that delectable confection known as Baked Alaska, I wouldn't have eaten a spoonful of it!" After four years of work on a novel about the northern territories (not yet a state) she declares, "I'm fed up!"
What, then, is she to talk about? In what sounds like a mix of free-association and stand-up comedy, the best-selling author portrays herself, in opposition to the then-fashionable Angry Young Men, as An Angry Old Woman. She rails, with various degrees of seriousness, against shabby politicians, automobiles "that look like [a] lion tamer's cages in a circus parade," flowers bred to be larger than they ought to be, flowers bred to be smaller than they ought to be, and the billions of dollars spent on the space race while schoolteachers "are the poorest paid professional people in the world." You are only old, she explains, "when you have lost the power of indignation and the gift of acting on that power." On the other hand, you are approaching old age "when you are over-cautious about getting out of the bathtub."  She concludes by describing her next novel, which will not be the many-peopled "broad canvas" she is so well known for, but a "simple, stark, red-hot love story about two people in a telephone booth." It will be titled, But Operator, I Did Drop My Dime! 
Born in 1885 in Kalamazoo, Mich., Edna Ferber rose from humble origins. After serving as a local reporter for the Appleton Daily Crescent and The Milwaukee Journal, Ferber captured the reading public's interest with her creation of the character Emma McChesney, a traveling underskirt saleswoman, featured in over 30 short stories. In 1925 her novel So Big, about a woman forced to make it on her own working a small farm outside of Chicago, won the Pulitzer Prize. Ferber then alternated between writing large novels that necessitated years of research and Broadway plays, many written in collaboration with the dramatist George S. Kaufman. In both areas she was strikingly successful. Her more famous collaborations with Kaufman include "Stage Door" (1926), "The Royal Family" (1927), and "Dinner At Eight" (1932.) Meanwhile, her novel Show Boat (1926) was the product of a novelist's imagination coupled with a reporter's determined investigative skills. She recalled:
I was hot on the trail of show boats. Here, I thought, was one of the most melodramatic and gorgeous bits of Americana that had ever come my way. It was not only the theater — it was the theater plus the glamour of the wandering drifting life, the drama of the river towns, the mystery and terror of the Mississippi itself . . . . I spent a year hunting down every available scrap of show-boat material; reading, interviewing, taking notes and making outlines.
Show Boat became the basis for the Jerome Kern-Oscar Hammerstein II production which is considered to have changed the course of American musical theater. 
Another of her novels, Saratoga Trunk (1941), became the classic 1945 movie starring Gary Cooper and Ingrid Bergman. 
Some of her other novels were more controversial. When Giant (1952), the result of several trips to Texas, was published, many residents of that state sent her angry letters. She reported: "Some are vicious. Some even suggest I deserve lynching or shooting. But not all." The novel is now remembered for its 1956 cinematic adaptation, which  featured the last performance by James Dean.
As the above-mentioned talk illustrates, Ferber was unafraid to speak her mind. In 1953, she created a stir when, during a shipboard interview, she complained of how dirty Manhattan seemed compared to the capitals of Europe. A New York Times reporter wrote:
Central Park she described as "unfit for a self-respecting goat." However she confessed that she still loved the city, which reminded her "of a once exquisitely beautiful woman who has declined into a dirty degraded blowzy person." 
Her opinions never seemed to be those of a grande dame, though, rather of a plain-speaking, shopkeeper's daughter from the Midwest who said what was on her mind. It was to this stratum of society that Ferber, who died in 1968 at age 82, remained true in her writing.  Her obituary noted:
Her stories concerned department store clerks and buyers, friends with whom she had grown up, madams seeking to become respectable. The conversation of a truck driver, she maintained, she always found more vigorous and stimulating than the conversation of a Cadillac owner. 
Audio courtesy of the NYC Municipal Archives WNYC Collection.