Backing a Democrat for the White House: Carmine DeSapio's Partisan Politics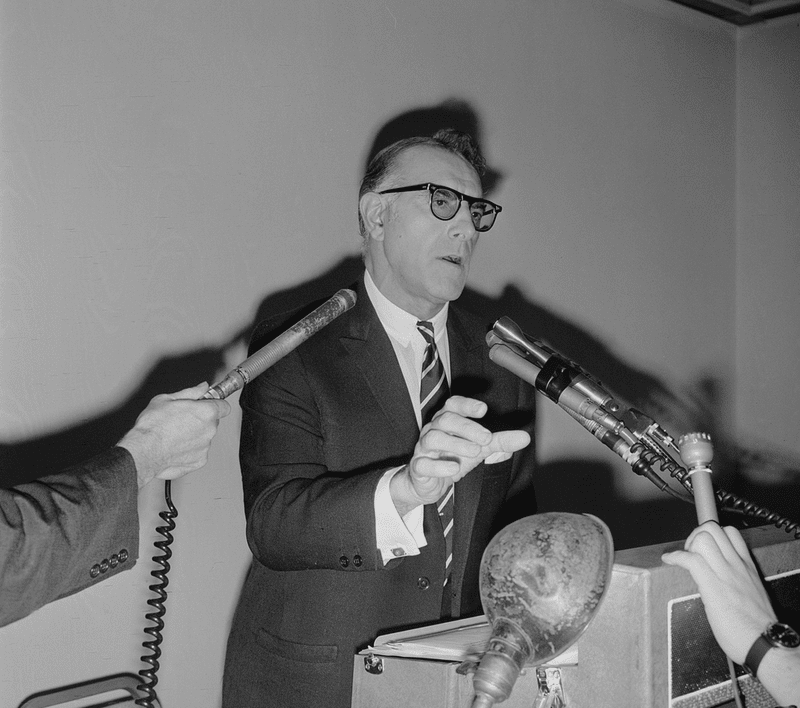 Carmine G. DeSapio rose through the ranks of Tammany Hall, the New York City Democratic machine, starting out as an errand boy and becoming "boss" in 1949. The upcoming presidential contest is very much on DeSapio's mind during this 1955 edition of Campus Press Conference.
Questioned by editors of local college newspapers, the New York secretary of state and Tammany Hall leader muses on the possibility of Gov. Averell Harriman's entering the convention as the delegation's favorite son. Similarly, DeSapio seems intrigued by the idea of New York City Mayor Robert F. Wagner Jr. as a potential vice-presidential candidate. When asked if having such northerners on the ticket would risk losing "the solid South" DeSapio answers, "I don't think in terms of North, South, East, or West. I just think in terms of Democrats." However, when asked about segregation and specifically about Adam Clayton Powell Jr.'s tactic of adding riders to various defense bills, DeSapio refuses to say more than this:  "Congressman Powell is reflecting the sentiment of the people of his Congressional area, as do all other congressmen."
DeSapio sounds more comfortable enumerating the reasons he thinks the Republicans will be defeated in 1956, listing the Taft-Hartley, the McCarran-Walter acts, housing, education, and the plight of the farmer as emblems of the party's failure. When it's pointed out that the nation has enjoyed relative peace and prosperity under President Dwight D. Eisenhower, a Republican, he qualifies that as being "prosperity for a privileged few."   
In a second Campus Press Conference appearance two years later (below), the emphasis is on local politics as Wagner runs for re-election. DeSapio touts the Wagner administration's achievements, notably getting 6,000 more patrolmen on the streets and installing "three-color lights" and walk signs.  When asked about crime and corruption in the present government he blithely dismisses such charges, responding, "No political party has a monopoly on vice or virtue." Asked about the 1956 presidential election, he characterizes charges that his organization offered only lukewarm support for Adlai Stevenson, the Democratic candidate, as "wholly false." He is just as certain as before, however, that, "…the next president in the White House will be a Democrat."
With DeSapio's rise to boss of Tammany Hall, he became the first Italian-American to head the organization, which had previously been dominated by Irish-Americans. DeSapio modernized Tammany, making it more responsive to voters' concerns and — for its time — more transparent. The issues he chose to focus on were also seen as more relevant. The British newspaper The Telegraph points out:
He lent support to the first Puerto Rican, Anthony Mendez, and first black, Hulan Jack, to be involved in Tammany, and helped Harold Stevens, who was also black, to become a Court of General Sessions judge. He endorsed rent control, argued for lowering the voting age to 18, and backed fair employment practices. In a final display of liberalism, while continuing the tradition of selling judicial nominations, he reduced the price. He did not, however, neglect the money-making side of his job, diverting city contracts for street lights, parking meters and the like to the Broadway Maintenance Corporation, later accused of cheating taxpayers out of millions of dollars.
During the time of these broadcasts, DeSapio was an acknowledged kingmaker. The New York Times paints of picture of him during his political heyday:
At his apogee in the 1950s, Mr. DeSapio was credited with handpicking Robert F. Wagner Jr. as mayor of New York City and W. Averell Harriman as governor of New York state. Pundits in Washington asserted that the Tammany boss had the muscle to name the Democratic candidate for president. Time magazine put Mr. DeSapio on its cover as a national political force to be feared and admired. And at fund-raising dinners, favor-seekers would push past Governor Harriman and Mayor Wagner to shake the hand of Mr. DeSapio, whom they viewed as the most powerful politician in the room.
But the election he speaks so confidently about in the first of these press conferences would sow the seeds of his downfall. DeSapio went to the convention backing Harriman. When Stevenson emerged as the nominee, DeSapio's organization — despite his denials in the second broadcast — was seen as sitting on its hands during the general election and so contributing to the Democrat's defeat. This angered the left wing of New York's Democratic party, led by Eleanor Roosevelt, who, as The Daily News recounts:
…fired up New York City's growing ranks of liberal, all-the-way-for-Adlai reformers. The Stevenson bunch was unlike anything DeSapio had ever encountered before. They were young, middle-class, suit-and-tie professionals, as concerned -- maybe more so -- with weighty matters such as policy toward Red China and battling Southern segregation as they were with keeping New York's streets clean.
DeSapio's power began to ebb as he was defeated by these reform elements within the Democratic Party. Meanwhile, his reputation, already damaged by revelations in the Kefauver hearings concerning his connection to the mobster Frank Costello, was finally destroyed in 1969 when he was convicted of conspiracy to bribe New York City's water commissioner. He served a two-year sentence  in prison  and never took an active role  in politics again. He remained, however, a popular man in the world he had once dominated. As James R. McManus, a latter-day Democratic leader recalled:
 He was one of the most astute politicians I ever met in my life. He represented people rather than interests. I became a district leader in 1963 and if I had a problem I'd talk to him. But he didn't tell me what to do. He'd lay out the whole picture — if I did one thing, something might happen, if I did another thing, something else might happen. I had to make up my mind what to do. All the years that I knew him, I never heard him say one bad word about the people who defeated him. And when he met them he was a gentleman.
Carmine DeSapio died in 2004, at age 95.
Audio courtesy of the NYC Municipal Archives WNYC Collection.