Heart Troubles: Monologist Ruth Draper Performs Three Generations of Women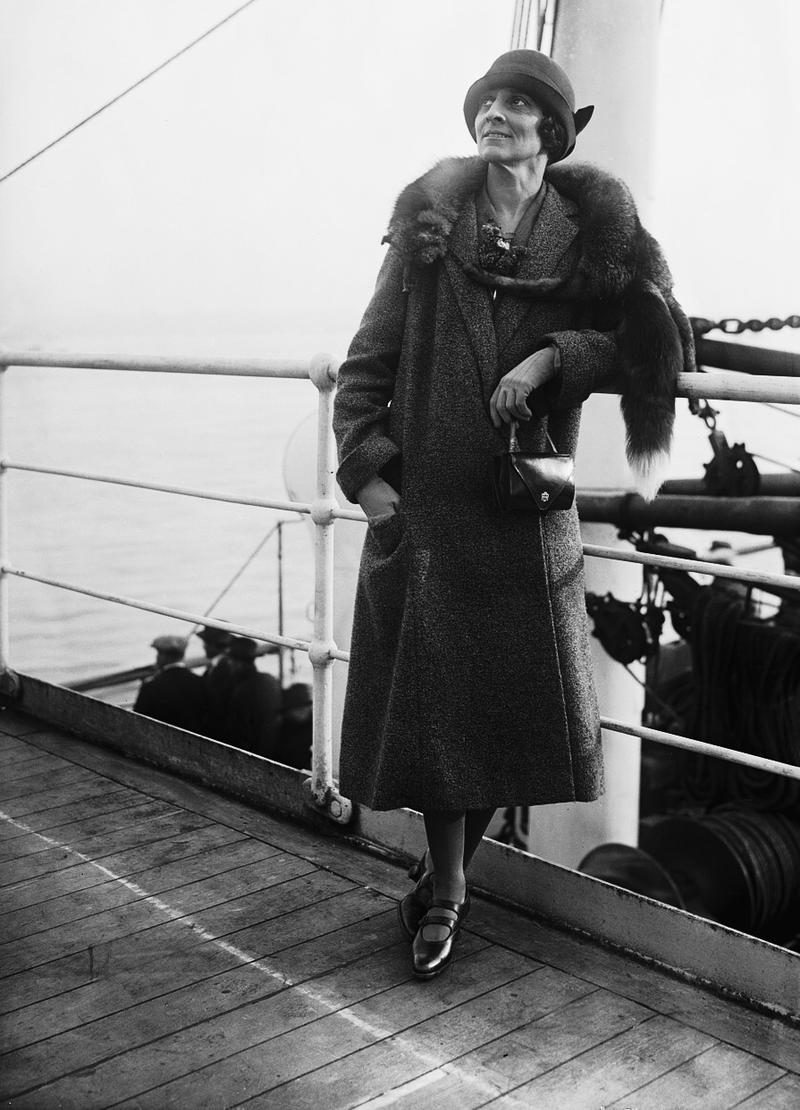 "Three Generations From the Court of Domestic Relations" is the title of this 1954 performance by the  monologist Ruth Draper. The setting is the Starlight Roof of the Waldorf Astoria, where Draper, the afternoon's entertainment, takes the stage.
Draper appears first as Anna Abrams, a 79-year-old woman living on the Lower East Side. Through her thick, Old World accent, she asks the judge to "tell my granddaughter she got to stay home and work. She must forget marriage." The old lady's widowed daughter has heart trouble. The granddaughter is their only source of income. The girl's prospective husband is no good. He doesn't work and he drinks. "I'm an old woman and I know what's right."
She is followed by Sadie Greenman, the daughter. In comparison to her mother, who spoke with lively indignation, Sadie sounds resigned. She describes how one son is sick in a sanitarium with tuberculosis and how the other ran away. She put her daughter through business school so she could get a good job as a stenographer. "She owes me something after all I have done for her." Her right arm is paralyzed. She can't work. Like her mother, she doesn't trust the boyfriend. The daughter wants to go out West but "she don't understand what is life."
Finally, Rosie, the granddaughter, testifies. She is perky, bubbly, not at all resentful of her mother and grandmother. At 19, she loves her job, her boss, and gets along fine with her family. But "my young man has a wonderful chance out in the West and I've got to go with him." Prodded by the judge, she describes the home she has found for the older women, describing the pictures hanging on the wall, one of which shows flowers growing out of the ground, just what she imagines the countryside is like. She then explains how her fiancé's uncle (whom he has never met) wrote a letter inviting them to live with him out on his ranch. She doesn't know quite where it is or what they'll do out there. Just as our picture of her future happiness seems to be darkening…the recording is cut off, leaving us to wonder, What will happen to Rosie, to Sadie, to Anna? 
Ruth Draper was born in 1884. Although she did appear, early on, in one stage play, the rest of her career consisted of performing original monologues in which she embodied a wide range of characters, not just performing acts of mimicry or satire but providing uncanny glimpses into an imaginary person's psyche. Her success was immediate and wide-ranging. She was much beloved in England and performed throughout Europe (speaking in a half-dozen languages) as well. Jesse Kornbluth, writing in The Huffington Post, describes one her signature monologues:
In a grand 1920s home, a New York society matron's Italian lesson is just beginning.

"Midway along the pathway of our life," she recites with a trill, "I found myself in a forest dark -- we say: a dark forest, don't we? -- because the direct way was lost."

But her reading of her beloved Dante ("Dante and Shakespeare: they seemed to know everything") proceeds no further. First she calls a friend for a quick gossip. Then she consults with the cook, plays with a new puppy, gets her husband's golf clubs to him, disposes of symphony tickets, thrills to her lover's call. And so on for 28 minutes as Ruth Draper, the grande dame of the one-woman show, adjusts her voice for each caller and interloper so precisely that, by the end, we know almost everything about this woman — and her world.
The concept of the diseuse has been supplanted by the stand-up comic on one end of the spectrum and the performance artist on the other, but in Draper's heyday this form of entertainment was taken quite seriously. Henry James wrote her a monologue (which she never performed). King George VI made her an honorary member of the Order of the British Empire. As the Encyclopedia Britannica reports:
Draper's monologues and monodramas were delicately crafted works that revealed a deep understanding of human character, which she conveyed with great skill and deft suggestion. She used a minimum of stage props, no scenery, and little in the way of costume change, yet she could people the stage at will. Her repertory eventually grew to 39 pieces with such titles as "Three Generations at a Court of Domestic Relations," "At an English House Party," "The Miner's Wife," "A French Dressmaker," "Opening a Bazaar," "In County Kerry," "The Italian Lesson," "At an Art Exhibition," and "Vive La France." In them she conjured up some 58 principal characters, endowing each with full individuality. A command of languages and dialects played a large part in her characterizations as well.
Fortunately, Draper consented late in her life to record many of these monologues for RCA. They provided a surprising link future generations of artists, notably Lily Tomlin, who, on the website drapermonologues.com, recalled that after discovering Draper's recordings, "Suddenly, I had a standard, I had something to aspire to."
Anyone whose influence stretches from Henry James to Lily Tomlin deserves renewed attention.
Draper died in 1956, at 72.
Audio courtesy of the NYC Municipal Archives WNYC Collection.
Note: Some poor audio quality due to condition of transcription disc.