Last Chance Foods: The Tart Taste of Knotweed Revenge
Japanese knotweed is one of the country's most pervasive and hated invasive plants. The tender red-freckled shoot may look like an innocuous cross between asparagus and bamboo, but it is so powerful it can push through concrete and asphalt. Urban forager and writer Marie Viljoen called knotweed a "thug" and said that it indiscriminately invades agricultural land and backyards. She exacts her revenge in a visceral and delicious way: Viljoen eats it.
"When it's really small, up to about 8 inches, it's at its most tender and most delicious, but it becomes mammoth," said Viljoen, who recently wrote an article about knotweed for Edible Manhattan. 
"It can grow to about 5 or 6 feet. It grows inches in a day."
By late summer, not only is its growth seemingly unstoppable, but the stems become tough and fibrous. When the knotweed is about 3-feet tall, she peels and pickles it, or uses it in soup. 
Knotweed tastes astringent like sorrel and can often be used like rhubarb.
"It has that very tart, lemony flavor," said Viljoen, who recommends pairing the sour taste of knotweed with other fruit like apples and pears. She also roasts it along with lamb or chicken and has even made a curry from it. 
Viljoen (pictured below doing her best knotweed-inspired impression of "Wildman" Steve Brill in a photo by Vincent Mounier) is relatively careful when foraging for the invasive since toxic herbicides have been created specifically to combat it. She has her own means of determining whether herbicide has been sprayed on a patch of knotweed.
"My entirely unscientific way of assessing the risk factor is to see if there are stems from the previous year's knotweed," Viljoen said. "It's a very distinctive stem. It's very tall. It's hollow. It's dry. So if there are 5-foot stems from the previous year, I've decided unscientifically that no herbicide has been applied and I forage away."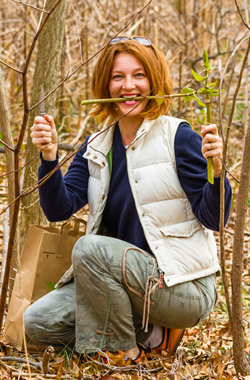 While it is illegal to take plants out of New York City parks, Viljoen admitted that she has no qualms about chopping off knotweed shoots wherever she sees them.
"Well, my vigilante justification is that this is a thug," she said.
Viljoen added that's she's careful not to stomp on anything precious and is helping to eradicate a pest that costs the parks department a huge amount of money and person power to control. 
Katerli Bounds, the deputy director of forest restoration for the parks department's Natural Resources Group, said that the knotweed invasions on public land are treated with a combination of herbicides and mechanical clearing. For smaller swaths, the parks department just digs up the knotweed.
The team needs to be particularly thorough in trying to eliminate all the pieces of knotweed though. Viljoen says that the plant spreads through its rhizomes, or underground stems, so any pieces of stem left behind will just take root and grow new shoots.
"Pulling up knotweed is arguably worse than any other method of controlling it," she said. 
Instead eating the tender young knotweed shoots may be an effective, herbicide-free means of getting rid of the pesky plant.
"Anecdotal evidence shows that if you keep picking off those very young shoots often enough year after year, the rhizome mass under the ground just gives up," explained Viljoen. "It has no more carbon reserves and that's the end of the knotweed."
That method of ending knotweed may well create the beginnings of many delicious meals at home.
"A weed is really just a cultural way of looking at a plant we don't want," pointed out Viljoen.
Rather than considering knotweed as a problem plant, perhaps now is the time to start seeing it as the source of a feast. Try Viljoen's Knotweed Soup recipe below.
Knotweed Soup
I used quite mature knotweed shoots for this, up to 3-feet tall, but not leafed out yet. The skin for larger stems is tough and must be peeled off, much the way you'd pull strings from rhubarb or celery. This exposes the pale, bright green, crisp and sour knotweed stem. I also discard the joints between segments, considering them too fibrous for the smooth puree that I wanted. When cooked in moist heat knotweed collapses into a lemony creaminess, for which bland potato is a perfect foil. —Marie Viljoen, 66 Square Feet
1 Tbsp butter
1/2 cup finely chopped shallots
4 cups peeled and sliced knotweed
2 small potatoes, peeled and sliced thinly
3 cups chicken stock
salt to taste
Heat a saucepan and when the butter in it is foaming, add the shallots. Cook gently till translucent. Add the knotweed and stir, cooking for a couple of minutes until it changes from fresh green to drab khaki (just like sorrel). Add the potato and the hot stock and cook until the potato slices are tender. Allow the soup to cool a little and then puree in batches in a blender. Strain each batch to remove any fibers and return the saucepan to heat. Taste and adjust seasoning if necessary.
Serve hot.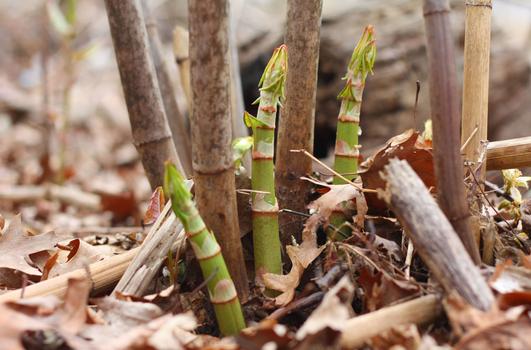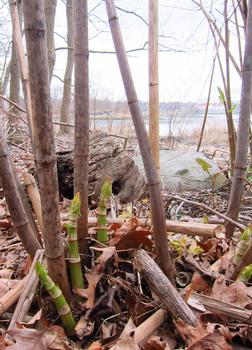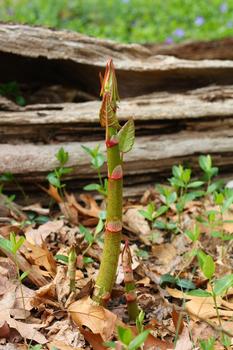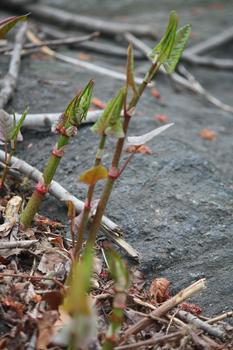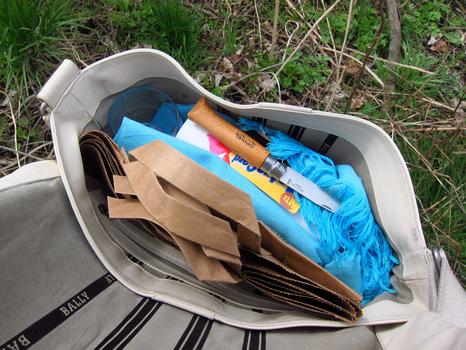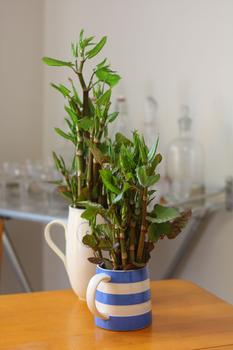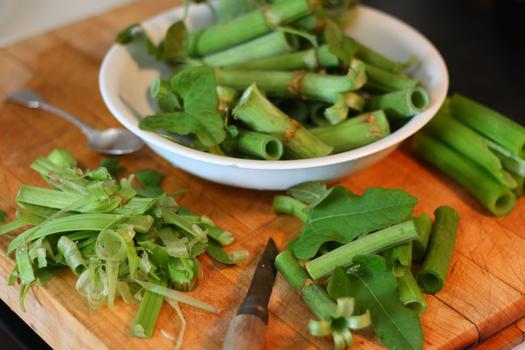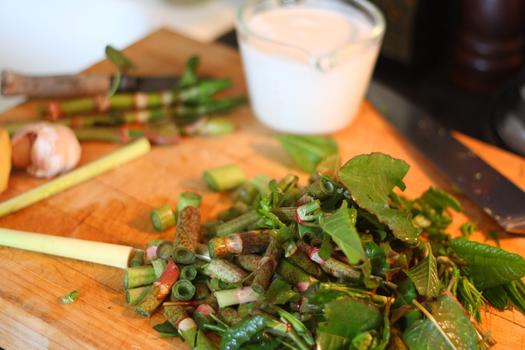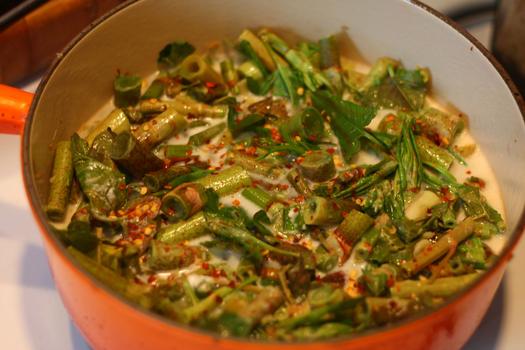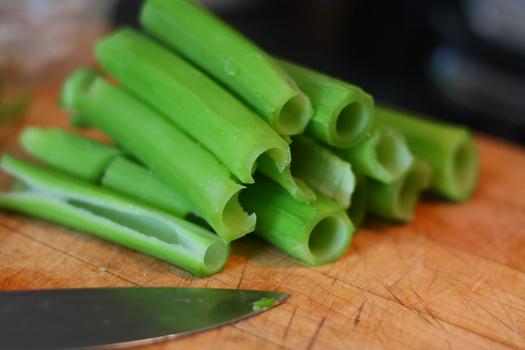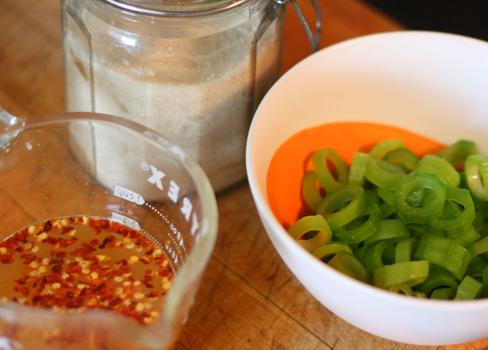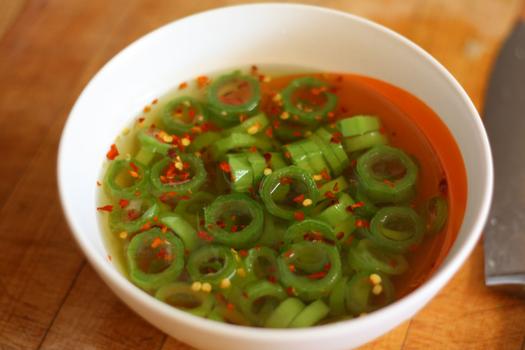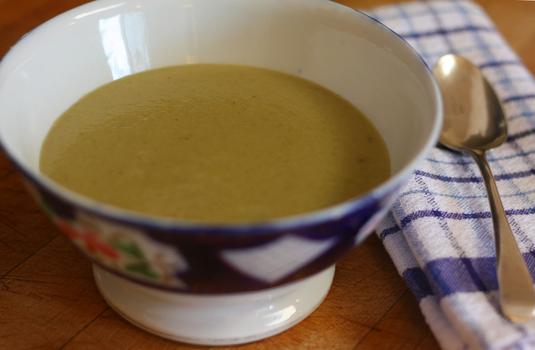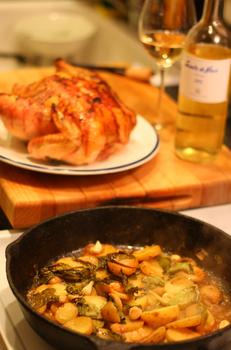 of