Why You Shouldn't Miss 'Diego Rivera: Murals for The Museum of Modern Art'
Full Disclosure: I once took a trip to Detroit primarily to visit the Rivera fresco permanently installed at the Detroit Institute of Art there so admittedly, I'm an enthusiast for this formidable Mexican artist. But with Rivera's art just a subway ride away, it seems foolish not to take the opportunity to see these lush images hanging on the walls at MoMA.
This timely show was curated by Leah Dickerman, who brought the politically-charged murals together for the first time since they were created in 1931.
"You can see in the images that he created that he is reversing the way that history is usually told," said Dickerman. "So instead of an image of a conquistador subjugating the Aztecs, you see an Aztec warrior wearing a jaguar mask using an obsidian knife to plunge into the chest of a Spanish conquistador with the broken sword of Western Civilization sitting nearby."
Henri Matisse was the first artist honored with a retrospective at MoMA. Rivera was the second and Dickerman admits that he was a surprising choice.
"Diego Rivera was a 45-year-old guy," she said. "He was a Mexican and he was an open communist."
But the choice paid off. Rivera famously painted frescos on public buildings in Mexico and while he had figured out a way to create "portable frescos," the concrete panels still weighed hundreds of pounds. So MoMA brought Rivera up from Mexico by steamboat, and 6 weeks before the exhibition opened, the museum put him in a studio on the sixth floor of the original MoMA building at 57th Street and Fifth Avenue to create the work that would soon hang in the museum.
Dickerman said while he was there, Rivera kept the room cold because he didn't want his fresco mortar to dry too quickly and that he worked around the clock with three assistants to create the panels in time for the opening.
"It was an incredible social space," she said. "Everybody who's anybody comes to watch Rivera painting murals essentially before their eyes."
The show opened during the bleakest days of the Depression. And after Rivera finished the original commission, he kept painting.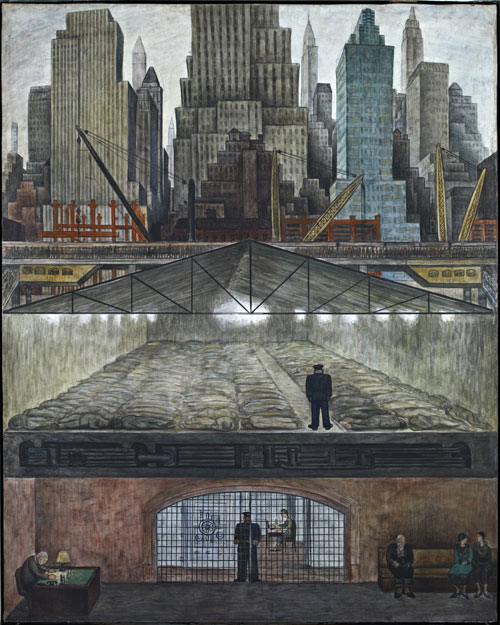 "Three weeks after the opening, he delivers three more panels, this time on New York subjects," she said. "Almost as if he's saying, 'You wanted Mexican subjects? Fine, I'll give them to you but I'm going to look at you guys, too.' And then there are these great monumental images of class, labor, technology and construction in Depression-era New York."
Dickerman says it was the fresco called, "Frozen Assets," (pictured right) that made her want to curate the current show.
"What you see on the top is the image of the most recent landmarks of modern building New York City," she said. "They're skyscrapers that have different positions across the city of New York. But he brings them together in a composite view – all are identifiable."
Dickerman continued: "It's New York being monumental and in the center of the composition is a steel-and-glass shed of sleeping men in a homeless shelter and we've identified the homeless shelter as the pier on East 25th Street – the Municipal Pier. And the bottom section of the composition is an image inspired by Rivera's visit to the Irving Trust Building, one of the banks in the Financial District that had just built a new vault … and if you look closely, there is the image of a man in the spats that New Yorkers would have recognized from political cartoons. It's an image of John D. Rockefeller, Jr."
She went on to say, "So it's got a scathing critique and the critique is very clearly that the monumentality of New York City depends on extreme class stratification, the dispossession of the city's poorest citizens and the saving of assets of its richest citizens and it has power, I think, today. How many pieces of art do you know that have the image of a homeless shelter at the center of them? And I think that kind of graphic power is Rivera's strength – that he can distill these very complex social relationships and create an image that once you've seen it, it's very hard to forget."
Hard to forget indeed. Rivera's critique of a city of contrasts would have fit right into our contemporary landscape and is certainly worth a visit to MoMA.
Check out a slideshow of works in "Murals for the Museum of Modern Art," which runs through May 14.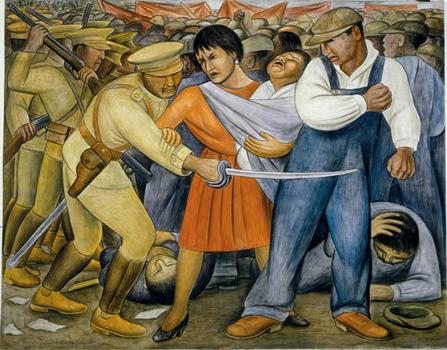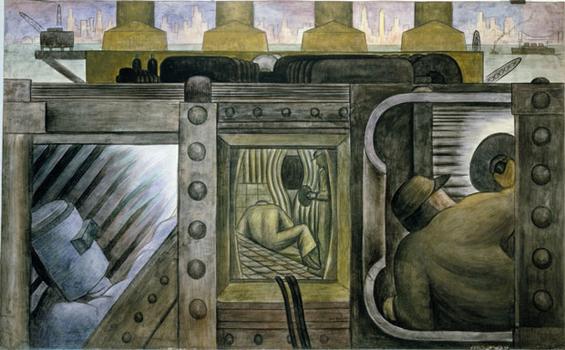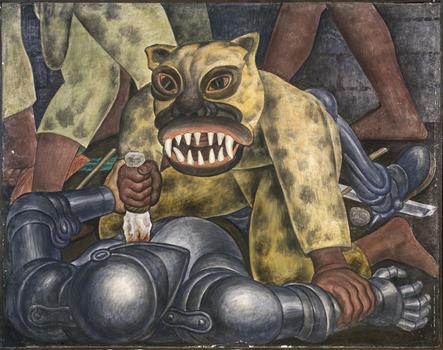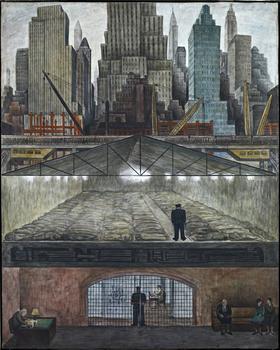 of