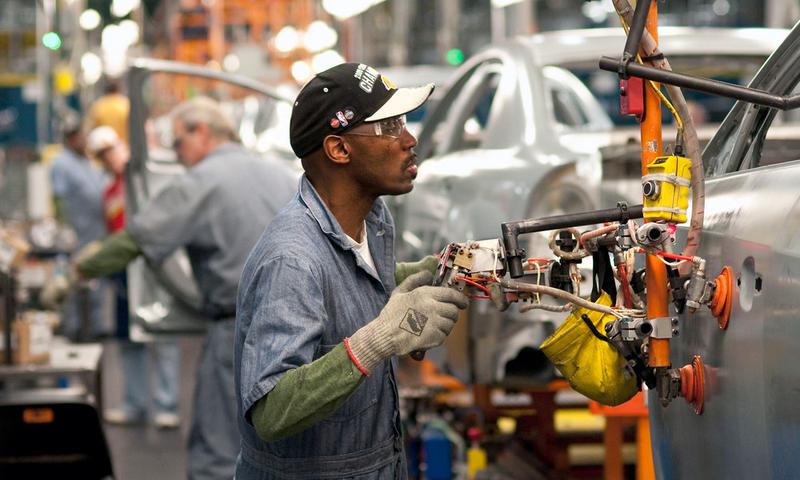 Today, General Motors announces its first quarter earnings. Celeste interviews the CEO and chairman of General Motors, Dan Akerson, about how the company has faired since it was restructured by the federal government in 2009.
Dan Akerson, chairman and CEO of General Motors: We bring brands. Arguably, value-oriented brands such as a Chevrolet, mid-range and now Cadillac. And we also bring technology, manufacturing expertise. As the way the Chinese market is structured, you cannot manufacture/sell cars in China unless you have a Chinese partner.
And so no matter what we think or what desires we may have had going in, you're going to have a partner. And Shanghai Auto is our partner. They happen to be the most successful and largest domestic manufacturer in China as well so we picked a good partner.
Celeste Headlee, host of The Takeaway: Do you see Apple as a cautionary tale? Are you worried about labor practices and whether or not you have enough oversight of what's going on at your manufacturing plant?
We have our management integrated at every level of management in our joint venture and I personally have visited many cities you haven't heard of an locations that I'm sure many of your listeners haven't heard of and we conform with GM standards for safety and health. We pay competitive prices that are not driven by a unique situation -- Apple, I would say is a unique company in the world. I would say Mercedes, or Volkswagen or Hyundai, they're all in China too so we're paying rates that are competitive with global competitors while Apple I would argue has fewer global competitors as we do.
Here's a question for you from Mark: He says, when will you stop making low-mileage SUVs?
Well, we are trying to improve on that today. Most of our SUVs will be hybrids in one form or another going forward in one form or another. That being said, there is a market that wants the big SUV. They want the big engine and they want power so we're going to meet the market where it wants to be met. Not what I might view as the right sized SUV but what our customers view.
How do you predict future trends in the auto industry: How do you go about knowing what people are going to want 2 or 3 or 4 years from now since it takes so long to develop a product? 
It's a good question because in a sense you have to guess where the market's going to be. And as Wayne Gretzky said, you can't skate towards where the puck is, you have to skate towards where you think it's going to be. And so when we come out with more dramatic designs in particular, or new engine types, or new propulsion, we are taking risk. And the Volt would be a good example. WE think many of the cars would be propelled by a variety of methods but the near-term one is electric. So we made a bet. It's a billion dollar bet.
You don't develop these cars very cheaply and it does take 3-5 years minimum to develop one so you have to kind of guess and sometimes by the sheer force of your influence or insight you can sometimes drag the market with you. I think that was truer when we had 50 percent market share. Not when we have in this country, on the order of 17-18%.
So your earnings figures come out today. You don't have to go into the exact numbers but let's try and break down what's going on. As I understand Opel and European operations are kind of dragging down GM's profits. How do you insulate the American operations, domestic operations, maybe what's happening from China from what's happening in Europe?
Well, as you know, we're a European company. There was a time not long ago when North America was a drag on our earnings. We restructured our North American earnings and they have been and will for the foreseeable future I think be quite strong, quite consistent. Last year at this time we were making money in Europe. If you reflect back to last summer and September, there was a lot of consternation in this country about was the debt limit going to be raised or was the US in essence going to have a technical default. Well, concurrent with that was a sovereign debt issue with Europe: Were they going to go bankrupt?
So if you reflect back to the 08-09 time in this country when you just had this day after day drumbeat about how bad things were, we're going off the rails, depression was on the horizon -- I think we as a country have successfully avoided that. It hasn't been a robust recovery, but it's been a mild recovery. In Europe, it's quite the opposite. Now for almost a year every day, if it isn't Greece, it's Italy, now it's Spain. These are countries that are looking at economic times that are not dissimilar to the 30s. So everything has really ramped down in Europe. So we're going to have to restructure yet again in a 2-3 period. And that's difficult for a company that is building massive amounts of production capability. Billions of dollars. To have this kind of up and down capability. But that's what we have in Europe.
When I look across the globe, some places you're doing better than others, some places you actually lose money. As I was recently quoted saying, this is a 4-alarm fire for us and we're doing everything we can to get it back to profitability. And that's going to take a couple of years I guess. 
Are you maybe regretting not selling the Opel line?
You know, I don't have the luxury to be able to look out the rearview mirror. I can only look out the front: What's in front of me and what I can do with what challenges that ahead for the company. So there are, in my personal and professional life I've made mistakes I don't dwell on them. You move on. Opel, I don't know. So we have a bad year or two. Five years from now maybe it's making a lot of money and North America is in trouble. I don't know. It's the hand I was dealt. It's the hand I'm going to play.