Knotweed: A Moveable Feast
Note to self: invite 66SquareFeet blogger Marie Viljoen to the station more often.
The writer, cook, gardener and forager brought a little picnic of goodies made from knotweed for this Friday's Last Chance Foods.
Viljoen entered the studio and started unpacking her tote bag. (Sadly, it wasn't emblazoned with a WNYC logo.)
She lifted up a thermos filled with sage-colored knotweed soup. She even brought small ceramic bowls. You wouldn't know that her recipe uses potato instead of cream. It was thick and smooth and creamy, and had a pleasant, bracing sour taste.
Out came a little jar of pickled knotweed, its hollow green circles floating in a bath of apple cider vinegar, sugar and chili pepper flakes. They were crunchy and sharp. I told her I could imagine eating these on a thick slice of bread smeared with peanut butter. (I used to eat peanut butter and sweet pickle sandwiches as a kid.) 
That revelation made Viljoen pause, but only for a moment. She's a very adventurous eater.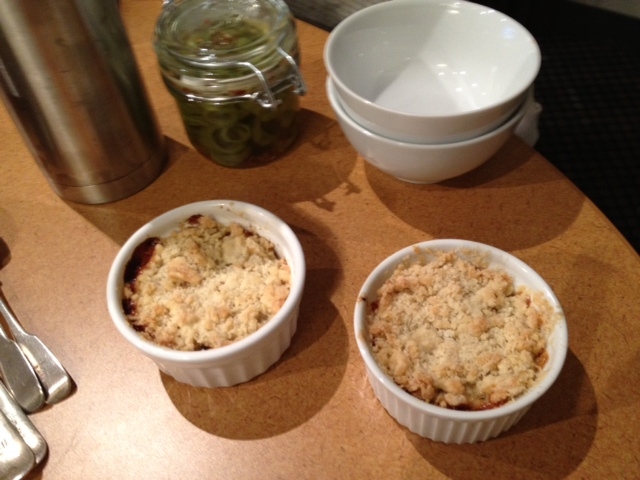 "As a teenager I read and cooked my way through the cookbooks of old school French chefs (Bocuse, Troisgros, Blanc). Raymond Blanc and Georges Blanc, Roger Verge, then Marcella Hazan, the River Cafe Cookbooks, Diana Kennedy's Mexican stuff, David Thompson's Thai," she told me. "But I cook all over the place as my desires shift." 
Viljoen wasn't done. She placed two ramekins of knotweed crumble on the table, along with two spoons. Dessert. 
Knotweed "collapses into creaminess" when exposed to moist heat, she said. She sautéed the knotweed and some peeled, cored and chopped apples in a little butter and sugar, poured the mixture into the ramekins and topped them with a crunchy crumb of flour, sugar and butter. This sweet dish was lacking the sour bite I was coming to love in knotweed. Viljoen conceded she may have added a little too much sugar.
This, by the way, did not stop me from eating a big hole in the center of the crumble. Three different dishes, showcasing knotweed's culinary versatility. We already know the fast-growing non-native plant's horticultural versatility.
Perhaps, if it invaded our kitchens more, it'd stop invading our parks and gardens.
Tune into Last Chance Foods on Friday to hear more about knotweed.