On bin Laden Anniversary, Romney and Giuliani Visit 9/11 First Responders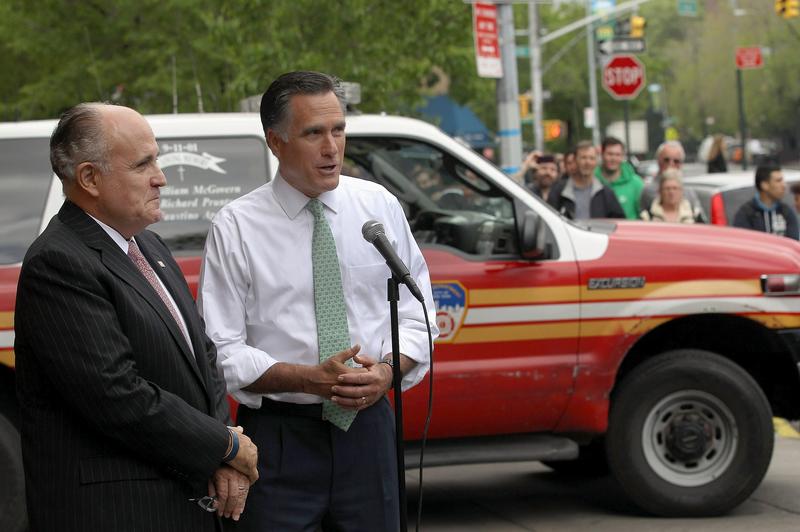 A year to the day after a team of Navy SEALs stormed Osama bin Laden's compound in Pakistan, Mitt Romney was visiting firefighters in New York.
On the anniversary of the al-Qaeda leader's death, Romney made a stop in lower Manhattan at Engine 24 and Ladder 5, a firehouse that lost 11 men on September 11, 2001.
Earlier in the day, Romney had breakfast with New York City Mayor Michael Bloomberg and attended the funeral service for journalist Mike Wallace. Tuesday afternoon, in front of Engine 24 and Ladder 5, Romney was introduced by former New York City Mayor Rudy Giuliani, who endorsed the former Massachusetts Governor last week.
"This firehouse has paid its fair share," Giuliani said, "and I'm really glad that Governor Romney selected this particular firehouse as a place to pay tribute to our firefighters, who, after all, were our first responders to this terrorist war against us."
"It's a war that continues that we have to still be vigilant about," Giuliani continued. "Governor Romney certainly understands that and has from the very beginning been a leader in the effort to make certain that America remains safe."
It's unclear what Giuliani meant by Romney having been a leader in keeping America safe. Romney has experience as an executive, to be sure – he's been the head of a corporation, a state, an Olympics. But he's never held a national office. Cozy relationship with Israeli Prime Minister Benjamin Netanyahu aside, on issues of foreign affairs and national security, Mitt Romney hasn't had to hold the reins before.
So on the anniversary of what was his rival's biggest military and foreign policy accomplishment as president, an occasion where Romney has to say something, honoring 9/11 first responders is the safe, smart thing to do.
"This is a place of significance for the people of New York, but also for the people of this country," Romney told a crowd gathered in front of the firehouse. Moments earlier, he had been eating pizza with some firefighters. Giuliani joked that they'd given Romney advice on how to run his campaign.
Romney kept it mostly positive today, giving credit to President Obama for authorizing last year's successful mission.
"We respect and admire the many people who were part of that," Romney said, "from the President who authorized that attack; to the intelligence community that worked on it for so many years to identify where he was; and, of course, to members of the armed services, particularly Seal Team 6, that took the extraordinary risk of going into Pakistan and removing one of the world's worst characters."
Asked whether he would have authorized the mission if he had been president at the time, Romney said, "Of course," adding, "Had I been president of the United States, I would have made same decision as the president made to remove him."
Romney clarified that his criticism of then-Senator Barack Obama on the 2008 campaign trail, who declared willingness to go into Pakistan if it meant finding Osama bin Laden, was directed not at such a plan, but at telling the world about it.
"Many people believe, as I did, that it was naïve on the part of the President, at that time the candidate, to say he'd go into Pakistan," Romney explained. "It was a very fragile, flammable time in Pakistan, and I thought it was a mistake for him as candidate for President of the United States to announce that he would go in."
Both Romney and Giuliani lambasted President Obama for bringing attention to the assassination on the campaign trail.
"I think politicizing it and trying to draw a distinction between himself and myself was an inappropriate use of a very important event that brought America together," Romney said.
As the press conference drew to a close, a heckler across the street started chanting, "Mitt Romney, you're a f****** racist!" On the same day and in the same city as Occupy Wall Street's May Day mass protest, it was the only sign of anti-Romneyism at the event.
The chanting continued as Mitt Romney said goodbye to Giuliani, left the firehouse and got in a motorcade that sped up Sixth Avenue.