Occupy Activists Fan Out Across to Mark May Day
Hundreds of activists with a variety of causes spread out over the city Tuesday on International Workers Day, or May Day, with Occupy Wall Street members leading a charge against financial institutions.
Police in riot gear lined the front of Bank of America on West 42nd Street, facing several dozen Occupy activists marching behind police barricades.
Occupy activists had said they planned to bring business to a standstill on May Day, but the crowds protesting in the rain Tuesday morning were modest. Organizers had called for protesters to block one or more bridges or tunnels, but there was no evidence of success by midday.
There were at least 34 arrests reported as of Tuesday evening.
Michael Pellagatti, 24, was among the protesters who gathered at Bryant Park. The unemployed student has been involved with Occupy Wall Street since its genesis last September.
"The march down to Wall Street is symbolic," he said. "So if we ... can convey that people from all different races, all different backgrounds and creeds are coming together to say we've had enough of the corporate bail outs and the corporate influence that corporations have on our government, I think that's going to send a powerful message."
Tom Morello, the guitarist for Rage Against the Machine, was also present in Bryant Park and described the Occupy protests as a "genie in a bottle that won't get back in."
"It's not like we're a homogenous country that just high-fives at the Super Bowl," he said. "We're a country of have and have nots."
Another group picketed outside New York University to protest the university's expansion plans in Greenwich Village.
In Brooklyn, protesters began marching over the Williamsburg Bridge alongside a marching band playing The Doors' "Riders on the Storm." They arrived in Manhattan after noon on Tuesday and started marching past the Lower East Side.
"The 1 percent needs the 99 percent, and I just wish that more people would participate in the movement. That's what it needs," said Lisa Flax, 45, a nutritionist from Bushwick who was laid off, as she stood in Brooklyn at the mouth of the Williamsburg Bridge and prepared to join others in Washington Square Park.
Brian Douglas, 34, a member of Occupy Bushwick, said he regularly joins a group of more than a dozen protesters and was happily surprised by the turnout Tuesday.
"It really reinvigorates the whole movement knowing that there's people ready to show up," he said.
Protesters outside Sara D. Roosevelt Park in the Lower East Side dressed head-to-toe in black and carried some explicit anti-Wall Street and anti-NYPD signs. They chanted "anti-capitalism" in Spanish, and as they moved into the street, several were detained by police and taken away.
The NYPD reports, thus far, no protesters have been taken into custody.
On foot and bicycles, through streets and across bridges, Occupy activists plan to block urban arteries to slow the city's economic engine - from 8 a.m. to 8 p.m., according to pamphlets and organizers' word-of-mouth communications.
Some say they're willing to get arrested, staging surprise actions to make their point - that financial inequality is destroying our society.
David Martinez, 50, a shop steward for Teamsters local 814 at Sothebys, where he has worked for 20 years.
"We're out here because we're participating in the 99 pickets with OWS," he said. "We came out here to see if people wanted come out and support our members on the picket line."
The New York Police Department is bracing to respond to the protests, which come a day after a lawsuit was filed by five people who said their constitutional rights were violated when officers kept them inside an area surrounded by metal barricades for nearly two hours on Nov. 30 as they tried to participate in a demonstration.
The Occupy movement in New York has relied on demonstrations and marches around the city since Nov. 15, when police ousted hundreds of protesters from their base in Zuccotti Park near Wall Street, where they had camped since Sept. 17.
Paul Browne, the police department's chief spokesman, said recently that his department is "experienced at accommodating lawful protests and responding appropriately to anyone who engages in unlawful activity, and we're prepared to do both."
With the Associated Press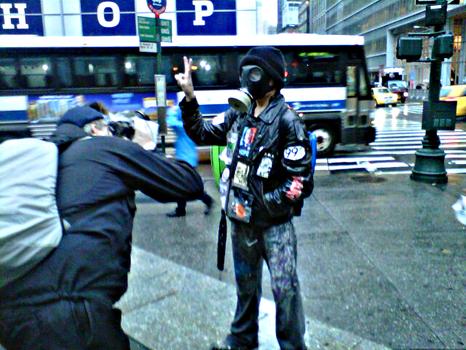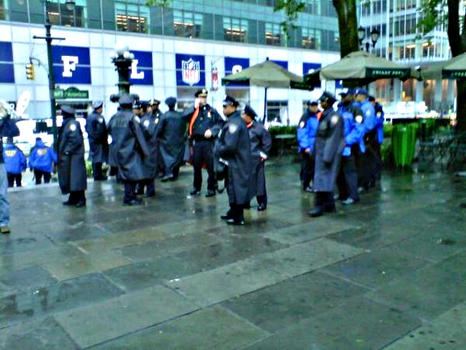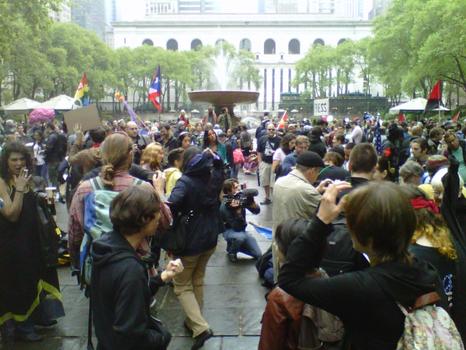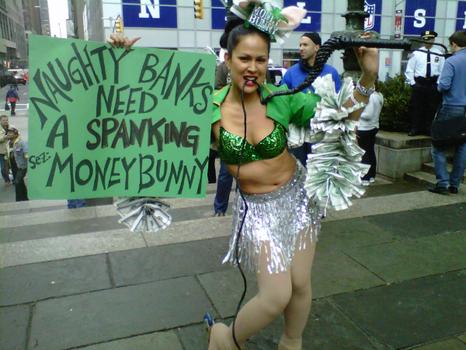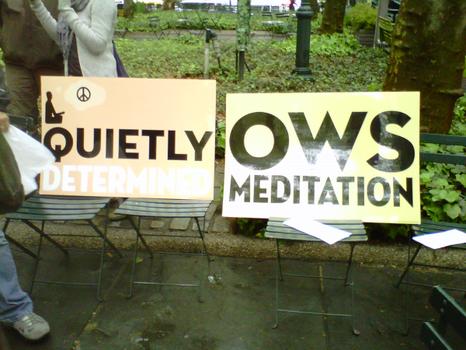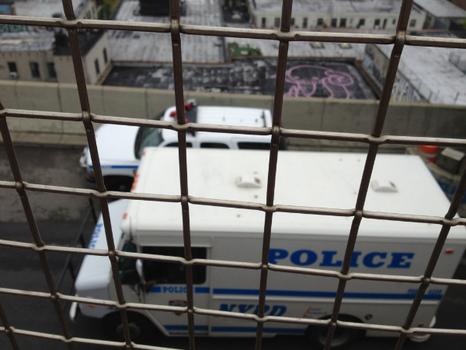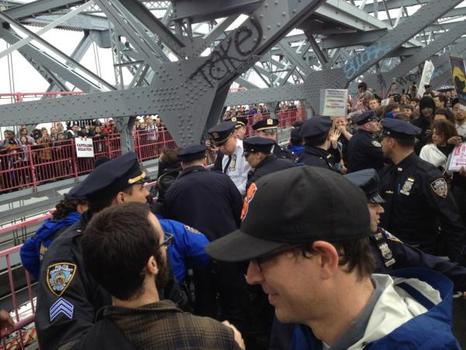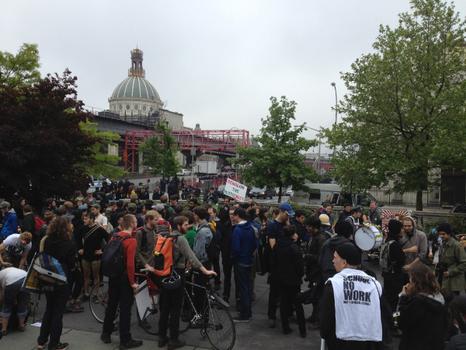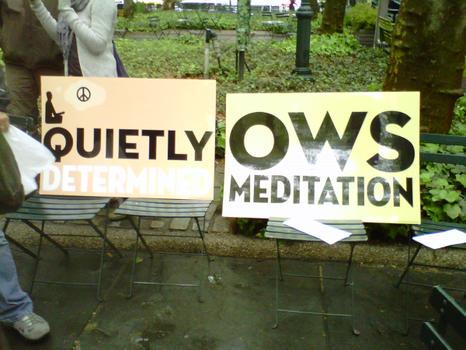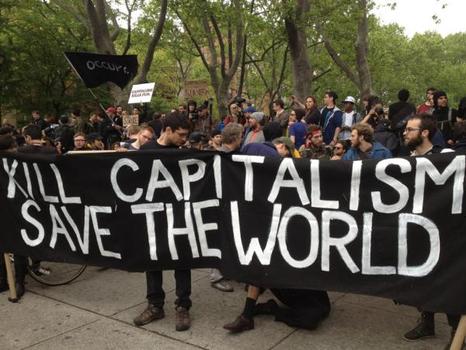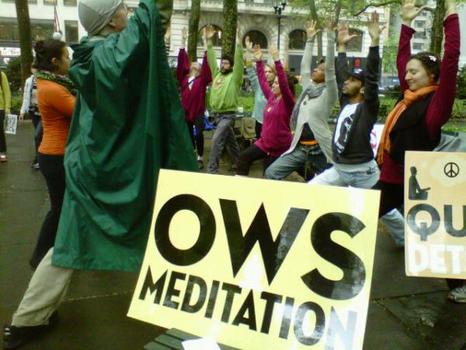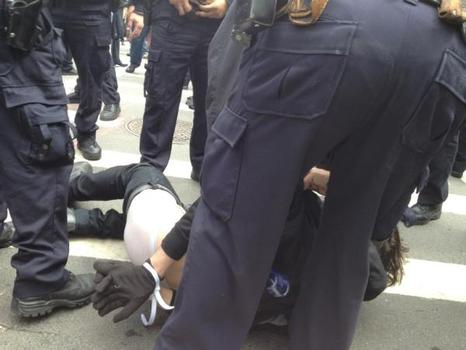 of