As Expected, City Council Passes Living Wage Bill by Wide Margin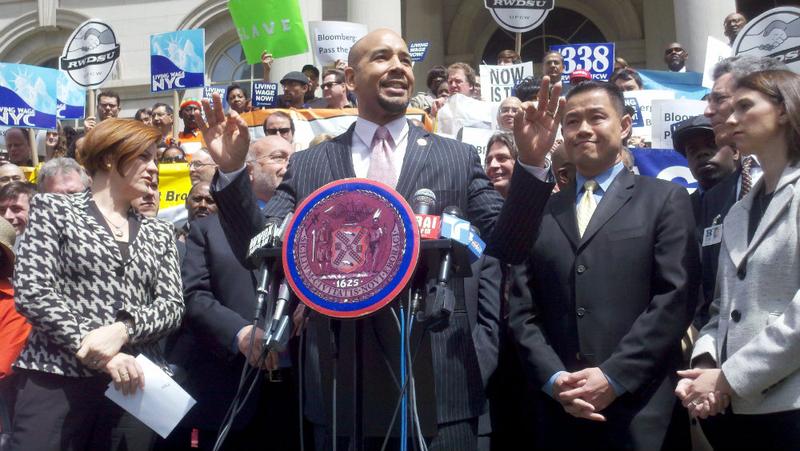 After months of citywide debate, amended bills and two lengthy legislative hearings, city council members officially passed the so-called living wage bill Monday by a 45 to 5 vote.
The legislation, called the Fair Wages for New Yorkers Act, would require that businesses that receive at least $1 million in city subsidies pay their workers $10 an hour plus benefits, or $11.50 an hour without benefits.

The road to the bill's passage ended with one final bit of drama, when City Council Speaker Christine Quinn made a dramatic exit from a rally to celebrate the legislation and refused to speak. A single member of the crowd made a reference Mayor Michael Bloomberg as "Pharaoh Bloomberg," which touched a nerve with Quinn, who has close ties to the mayor.

"That's not appropriate," she said. "You stand here talking about democracy and wanting people to listen. But in a democracy people have the right to have different views. And they do not ― we do not have the right to then call them names."
Quinn then said she would not be able to "participate in name-calling" and briskly made her way back into City Hall. A befuddled group of supporters then continued the rally.
Quinn was heavily involved in negotiations over the bill, and initially introduced compromise legislation in January.
Back forth on the Fair Wages for New Yorkers Act will continue beyond Monday. The mayor said he intends to veto the legislation, just as he did with the prevailing wage bill last week. He has said the wage bills create a harmful business climate by forcing some employers, and not others, to pay certain workers higher wages.
Speaker Quinn, meanwhile, has said she looks forward to the City Council overriding those vetoes, as it has done with all 15 vetoes that the mayor has sent to City Hall since Quinn has been Speaker of the Council.
Listen to a portion of Speaker Quinn's post-rally remarks.