Look | Cherry Blossom Cosplay at the Brooklyn Botanic Garden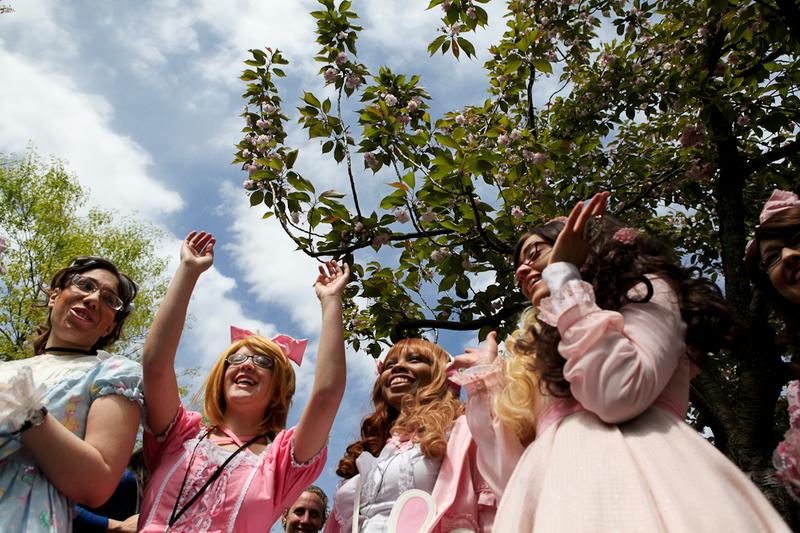 What the annual Cherry Blossom festival at the Brooklyn Botanic Garden lacked in flowers, it made up for in colorful characters. The cherry blossoms bloomed two weeks ago, but that didn't stop hundreds of Japanese subculture fans from dressing like manga and comic book heroes, and gothic Little Bo Peeps.
Dozens of girls came dressed in the Lolita fashion style (think: more Victorian era, than Nabakov).
Mia Lerda, 36, from Bensonhurst, Brooklyn, said this is a key event for Cosplay (costume-play) fans and came with a couple of friends wearing a Lolita-style dress she got on e-Bay.

"They're some rules," she said. "You can't have your skirt too short. You have to show some modesty. You have to have at least one petticoat, if not two, to showcase the older A-line skirt or dress ensemble. You have to have a high collar, and you have to cover your arms."

Lerda and dozens of other girls in similar dresses took part in a fashion show at the Cherry Blossom Esplanade.

The cherry blossoms peaked last week, but the grass was still littered with the pink leaves.

The costumes and events continue on Sunday.