Last Chance Foods: Grazing on Fiddlehead Ferns
The bright green spirals of ostrich fern fiddleheads are a beacon of spring. Delicate and grass-like in flavor, fiddleheads are one of the season's most fleeting vegetables.
Registered dietitian Tamara Duker Freuman admitted that ferns kind of creep her out.
"It's not the ferns themselves," she clarified, "it's those little black spores underneath some of the fern leaves." 
Nonetheless, Freuman (pictured below) got over her fear in order to enjoy fiddleheads, which she feels are a welcome spring addition after a long winter of kale and root vegetables.
"They're very springy and fresh and grassy tasting," she said. "They add a really nice dimension to a sauté of spring vegetables."
While Freuman willingly advocated for fiddleheads, Tyler Gray, the co-founder of Mikuni Wild Harvest, had a confession.
"I mean, [fiddlehead ferns] look cool on the plate but they kind of taste like dirt," he said with a chuckle. "That's not something that, you know, the owner of a wild, foraged foods company should be saying. But, you know what? We all have our own opinions."  
One way to ensure fiddlehead ferns are tasty, said Freuman, is to sauté them in butter and fresh thyme. Barring that, however, she noted that the ferns are worth eating because they are good sources of vitamin C and vitamin A.
"They've got a surprisingly high amount of protein," she added. "You don't think of vegetables as a good source of protein, but a very meager half-cup serving has four-and-a-half grams, whereas in a comparable green vegetable you'd expect to see less than one gram."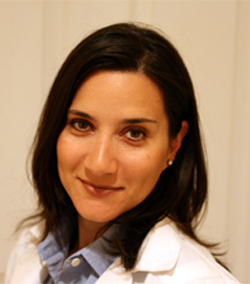 Fiddlehead ferns are also high in iron, Freuman pointed out.
"For vegetarians who aren't getting iron from meat, to find a vegetable that's high in iron is nothing to sneeze at," she said.
When cooking up fiddleheads, though, Gray added one note of caution: there are two different kinds of edible fiddleheads — ostrich and bracken — and bracken ferns are slightly toxic.
Ostrich fiddleheads are the single green spirals most commonly seen in the Northeast and at grocery stores. Those are not toxic.
Bracken fiddleheads (pictured below) have multiple tendrils and are commonly described as looking like a curled eagle's talon. Those are more prevalent along the West Coast.
"There's a mild toxin in the bracken fern ... I know that you can't eat too much of them," Gray said.
The toxin does cook out, though, so it's important when eating bracken fiddleheads to cook them thoroughly. 
Freuman, who has only ever seen non-toxic ostrich fiddleheads in grocery stores, shared her easy, no-measurements recipe for sautéed fiddleheads. That's below.
Sauté of Fiddleheads, Snap Peas, Ramps & Shiitakes
by Tamara Duker Freuman 
Fiddleheads
Shiitakes 
1-2 tsps butter
Fresh thyme
1-2 tsp olive oil
Sugar snap peas
Ramps
Salt to taste
Blanch fiddleheads in a pot of boiling water until bright green and tender but still firm.  Set aside.
Sauté sliced shiitakes in 1-2 tsps of butter with fresh thyme and a sprinkle of salt until cooked.  
Set those aside and, in the same pan with 1-2 tsp olive oil, saute the sugar snap peas and ramps together until the snap peas are bright green and the ramps are soft and wilty.  
Add the blanched fiddleheads to the pan, season with salt to taste, and cook for 1-2 minutes more.  Remove from heat, mix in the mushrooms, and serve.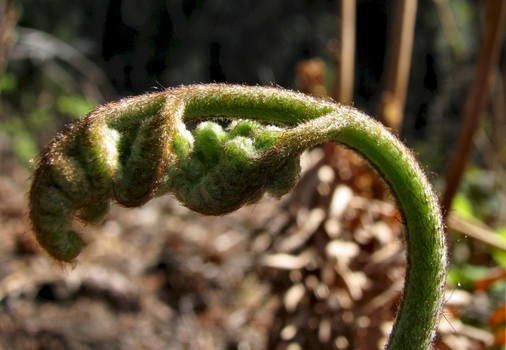 Photo credit: Bracken fiddlehead ferns must be thoroughly cooked to neutralize their slight toxicity. (Pictoscribe/flickr))