Rangers, Devils Advance in Playoffs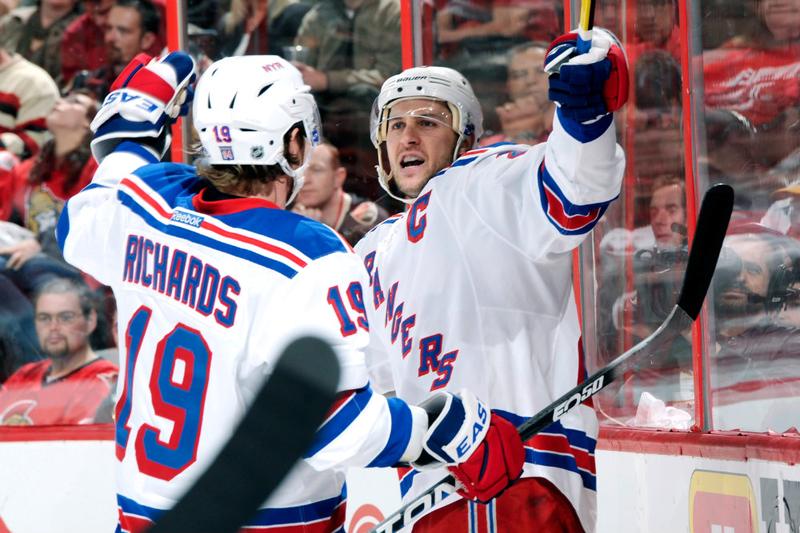 The NY Rangers eliminated the Ottawa Senators from the playoffs with a 2-1 victory in Game 7 on Thursday night at Madison Square Garden. The NJ Devils also advanced after beating the Florida Panthers in Game 7, 3-2, in double overtime play.
Rangers defensemen Marc Staal and Dan Girardi scored 4:18 apart in the second period, while goalie Henrik Lundqvist made 26 saves.
Staal broke the scoreless deadlock, and Girardi gave the Rangers a 2-0 lead with his first career NHL playoff goal. Lundqvist allowed Daniel Alfredsson's power-play goal in the second but stood tall the rest of the way to send the Rangers into an Eastern Conference second-round matchup with the seventh-seeded Washington Capitals.
The Rangers hadn't hosted a Game 7 since their Stanley Cup victory over Vancouver in 1994, but they stayed perfect at home in deciding games - winning their fourth. New York is 4-5 overall in Game 7, and the Senators dropped to 0-5.
Lundqvist withstood tons of pressure from the Senators, who spent most of the closing 5 minutes in the Rangers' end.
The NJ Devils match against the Panthers was a nail biter that went into double overtime play.
The Devils led, with Adam Henrique scoring in the first period and Stephen Gionta scoring in the second. But the Panthers' Stephen Weiss and Marcel Goc scored third-period goals in a frantic Florida rally that tied the match and sent the game into 20 minutes of overtime play. Neither side scored and the match went into second 20 minutes of overtime play.
Adam Henrique scored the game-winning goal less than 4 minutes into second overtime play. He picked up a loose puck in the right circle, skated toward the slot and beat Jose Theodore with a low shot. The Devils mobbed Henrique, as Theodore knelt on the ice in disbelief.
Martin Brodeur made 43 saves for the Devils in a game that ended on April 27 - the 20th anniversary of Brodeur's first playoff appearance for New Jersey.
The Devils face the Philadelphia Flyers in the Eastern Conference second-round. The Rangers face the seventh-seeded Washington Capitals in the East's second-round.
With the Associated Press