Speedy Romeo Succeeding at Breakneck Speed
In three months, it feels like Speedy Romeo, on the border of Clinton Hill and Bedford-Stuyvesant in Brooklyn, has galloped from start up to neighborhood fixture.
I've been there two times, and it's been packed.  The first time, on a late Sunday afternoon, it was filled with parents and kids.  There were at least three swaddled-infant sightings.
It's good to start the little ones early on pizza. After all, that, and Chicken McNuggets, will be the only thing they'll deign to eat for years.
On my latest visit on Wednesday night, there was a raucous party of 25 people going on in the back.
Co-owner Todd Feldman says he's pleased with how things are going.
"We have lots of repeat customers, lost of people from the neighborhood," he said.
I'm fascinated by the place because the corner it occupies, Classon and Greene Avenues, is suddenly filled with choices for interesting food. There's Pilar Cuban Eatery and Nero Doro, a café-and-wine bar, across the street. Around the corner, down Greene, there's the taqueria Salva Vida.
"Justin [co-owner and chef Justin Bazdarich, formerly with Jean-Georges Vongerichten's restaurants] has lived in Fort Greene for the last ten years, and he saw the shift toward Bed-Stuy," Todd told me. "People there who wanted good, quality food had to come up to Fort Greene — to DeKalb Avenue," to places like Roman's and General Greene (Trap Landry, Salva Vida's chef, cooks there, too) and iCi.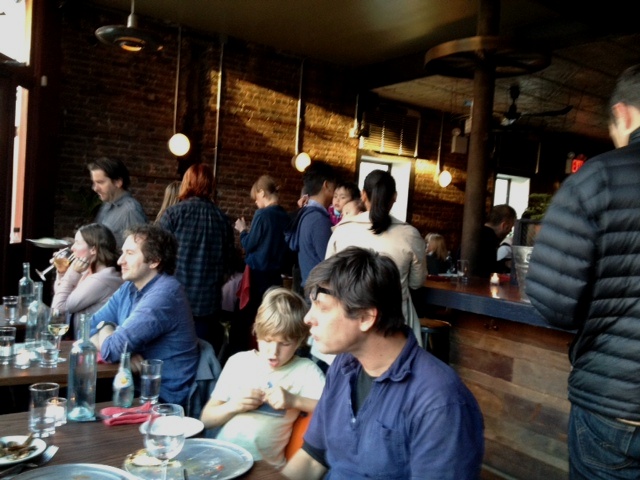 I'm also intrigued by its back story. It's in a former auto parts store. Big, painted Champion, Monroe and Turtle Wax logos are still visible on the side of the building. Justin and Todd also kept an old, rusty "LIQUORS" sign.  
The name of the restaurant sounds like it may be associated with the auto industry. But it's the name of a world-champion harness racer that Justin's family used to own. A big, glossy portrait of the chestnut steed hangs on a wall in the open kitchen between the wood-fired grill and the wood-fired oven, where the restaurant churns out thin-crust pizzas.  
Try the Speedy Romeo, pictured above. It's a pizza of grilled dough that has room-temp ricotta, tomato, basil, lemon and chili. I also had the Saint Louie, topped with provel, St. Louis' version of Velveeta ©. It's a combo of provolone, cheddar, and mozzarella. I wasn't thrilled, but other online reviews rave about it.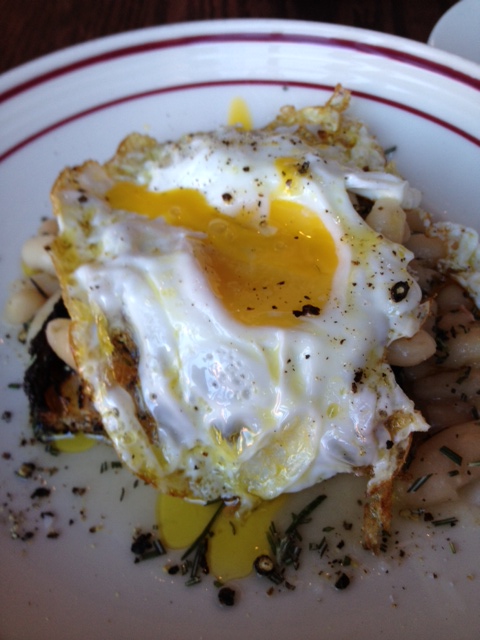 No, the foods here that I really love are the non-pizza items. The Caesar salad -- a neatly-stacked pile of crispy romaine leaves drizzled with a lemony dressing that really bites -- is the best I've ever had. The wood oven-fried egg on top of baked white beans and crostini was creamy and delicious. So was the whole branzino, rubbed with lemon, olive oil, parsley and other herbs, and grilled.
(Photo Credit: At left, the Speedy Romeo Caesar Salad. Photo by Amy Eddings)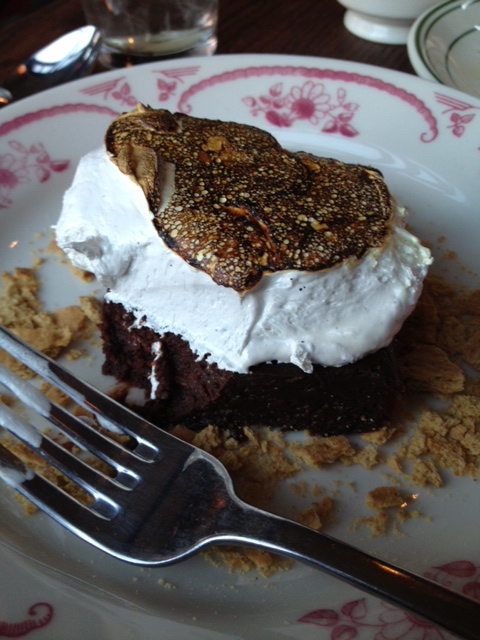 Dessert? I had the Speedy Romeo version of a s'more (inspired, I imagine, by the flames leaping between the grates of the grill), a dense, chocolate cake with a poof of marshmallow that's "branded" with a smoking hot iron instrument of some sort, and surrounded by a graham cracker crumble.  A heavy end to my meal that night, but yummy.
(Photo credit: At right, the Speedy Romeo version of a s'more. Photo by Amy Eddings)
Better bet is the lemon tart. Or the olive oil cake, which I didn't try.
Darn. I'll have to go back.