Reporter's Notebook: A Day in the Life of an OWS Protest
After the relative quiet of winter, organizers with the Occupy Wall Street movement say they are planning a reemergence this spring marked by a series of events scheduled to coincide with May Day, the labor movement's International Workers Day.
It's unclear how many protesters will participate on May 1, or if the movement will regain the momentum it had before the eviction of Zuccotti Park last fall. Its coffers have dwindled.  It no longer has a home base. And its messaging – and messengers – has been sporadic and disparate.

But smaller bands of organizers continue to gather around the city – on the steps of Federal Hall, in the corners of Union Square, and in office spaces that they rent or squat in.  They've held protests on everything from labor to student debt.
On a recent day, in the week leading up to May 1, WNYC tagged along with OWS protesters to see how the movement had evolved. Organizers coordinate many of their activities online, so the route was based on where activities were planned for the day and the walk it took to get between them. It went from south to north – and picked up some unplanned activity along the way.

11:00 a.m. : Wall and Nassau Streets, Steps of Federal Hall, OWS Adapts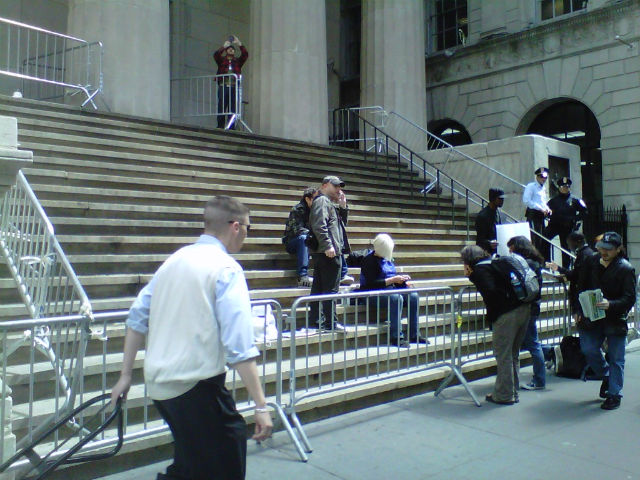 Aaron Black, 40, a protester, said that since the encampment was disbanded at Zuccotti Park last fall, many thought "that this thing was dead."

But throughout the winter, he said he's been meeting with people in a Lower Manhattan office where planning continues to take place – and, he says, the movement lives on. In fact, he insists the movement is morphing into something bigger.

"It's about building coalitions with people and showing up and letting people know that you're angry," Black said. "You know at any given time these groups can show up and make a little noise, make a lot of noise."

It's mid-morning at the corner of Wall and Nassau streets. Two protesters sit in a penned in area on the steps of Federal Hall, one of the new gathering spots used in lieu of Zuccotti Park.  NYPD barricades surround the perimeter.

Black, who lives in Brooklyn and has worked as a photographer, paces as he talks on his cell phone.

"Things should get bigger after May Day," Black tells his friend as he explains a photo project he's creating for a permitted march planned for May 1 from Union Square to Wall Street.

On this morning, he's waiting for OWS protesters who have joined with others – protesters from a group called Act Up - in a march along Broadway to City Hall.

"I'm really excited that they are participating," said Black referring to the Act Up protesters, some of whom donned Robin Hood costumes and chained themselves together blocking traffic in the Wall Street area, in protest of policies that curtail housing assistance to people with HIV.

 "Occupy Wall Street was an action idea that belongs to everybody, not just a couple hundred people in the park," he said.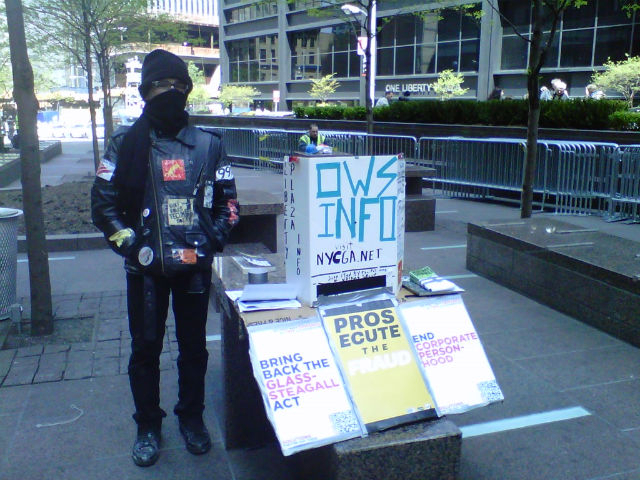 11:48 a.m. Zuccotti Park - The Last Man Standing

Meanwhile, at Zuccotti Park, the only sign of the Occupy movement is a makeshift information stand manned by a 27-year-old artist Christopher Guerra.

Wearing black from head to toe, Guerra has a black scarf wrapped around his face so only his eyes are visible. His black framed glasses are rimmed with a layer of paint splotches.

Guerra is with a group called the OWS Black Knights, which provides added security to the movement.

"We're like the FBI. We do investigations on cops and infiltrators," Guerra said. "Our goal is to make sure the movement stays strong."

They erected the information booth during the winter so out-of-town protesters could find where to go. Guerra said being out there everyday, before 6 a.m. has helped him gain some street credit among fellow protesters.

"They look up to me as sort of a hero or something, which I'm not used to yet," said Guerra.

On one the edge of the park, security guards in neon vests stand with their backs toward Guerra. Officers from the NYPD Counterterrorism unit glance over and turn back towards the street.
12:11 p.m. John Street South of Broadway – Hardhats Demand Work Stoppage
Walking north on Broadway, sirens begin to wail and two plain clothes police officers run down John Street toward an active construction site.

The street is filled with construction workers who are using their lunch break to protest what they say is a non-union construction site.  

Tensions rise as the workers shout, "Go home rats, Go home rats!" 
This is just a few blocks from Zuccotti Park, but these protesters aren't occupiers. They just sound like them. And that's what the occupiers want - more people on the street.
A man who only identifies himself as "union" echoes the sentiments of many OWS protesters.

"Rich elites are building these buildings, taking money away from middle class people and just basically paying slave labor to build their buildings, keeping all the money themselves," he roars.

Detective Rick Lee, dubbed the "hipster cop" during the OWS protests last fall for his thick framed glasses and preppy dress, attempts to find who's in charge of the protesters.

"Who's the leader? Who's in charge here?" asks Lee.
 
"We're all in charge," the men shout and begin another round of union chants.

Levy Messinetti, 51, a carpenter with local union 608, talks with Lee. He says the police tell him they are shutting the site down, for now.

"It's good for today, but let's see what happens," says Messinetti, "We'll be back to see if it's shut down. Back everyday."

4:30 p.m. Union Square – Students Protest Mounting Debt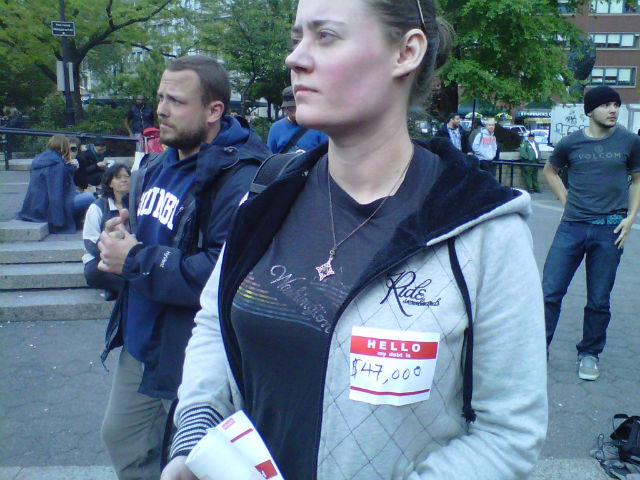 Jennifer Slattery, 29, stands amidst a crowd of more than 100 student protesters.  She wears a nametag that reads, "Hello My debt is: $47,000."

The upcoming May Day is an "S.O.S," according to Slattery, "because we are economically drowning."

Slattery, an art school graduate, grew up in Rockaway Beach, but now she lives in Buffalo because it's cheaper.  She works small jobs, saves money and comes to New York for a month here and there to support the movement.

She added, "Being in debt effects you more than what you can buy and what you can't buy. It's something that wakes you up in the middle of the night and you can't breathe."

4:45 p.m. Students Leave Union Square – March to Cooper Union

The marchers leave Union Square in a procession, complete with a marching band, as they head south on Broadway flanked by police officers helping to direct and divert traffic.

The group winds it's way to the courtyard in front of Cooper Union, where the students have already been protesting the administration's decision to begin charging tuition for graduate students for the first time.

Jesse Kreuzer, an alum, calls for a mic check from atop the five-story statue of Peter Cooper, which he climbed without use of a ladder to cheers from the audience of protesters gathering below.

He waves a sign that reads, "No Tuition, It's our Mission." Students hang out the windows of the Cooper Union.  

After about an hour, a woman is taken into custody. The courtyard is taped off.  Police are not letting people enter or leave the building at the courtyard entrance.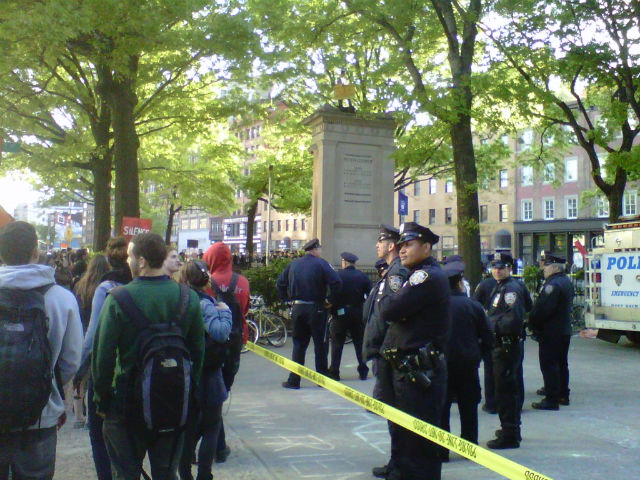 A hostage negotiator tries to talk Kreuzer down from the statue. Students call for the President of Cooper Union to come down.  
"The students united will never be defeated!" protesters chant.

Kreuzer eventually comes down from the statue when an officer in a cherry picker reaches the top.  He's taken in handcuffs away from the scene.

"It's like a concert," someone from the crowd says, laughing, "same time tomorrow?"
Photos by Brigid Bergin