Job Recruitment Plan Sketched Out for Nets New Home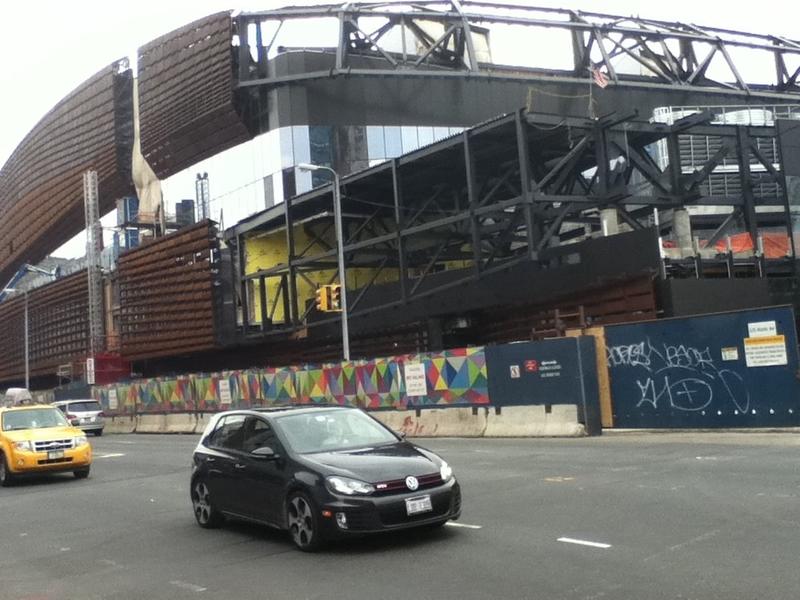 It might not be the fast-track to the front-office, but a part-time job taking tickets, selling popcorn or even scrubbing the bathroom floor at the Barclays Center sounds good to unemployed Brooklyn resident Kevin Webb.
"I've put in applications to McDonald's, Burger King, Appleby's, but jobs are hard to get," said the 32-year-old Webb. "I'm not choosy ― I'm hungry."
Recruiting will begin next week for some 2,000 positions available at the still under construction Barclays Center in Brooklyn — which is set to open this fall as the new home of the Brooklyn Nets.
Jobs were among the central promises of the new arena and the adjacent high-rise neighborhood slated to be built next to it. On Thursday, while workers pounded, welded and drilled, Mayor Michael Bloomberg and Bruce Ratner, CEO of developer Forest City Ratner, painted with broad brush-strokes the arena's employment forecast and recruitment strategy.
Ratner wouldn't say how many of the 2,000 positions will be minimum-wage, but without being specific, he suggested they won't all be bottom-rung.
"It's highly likely [the jobs] will be unionized, and they will negotiate a wage," Ratner said. "So, it'll be above a living wage, I'm sure. I know."
Bloomberg added "But that's not the government forcing them to [raise wages]. And if we had forced them to do it, we'd have had to give them more of a subsidy to get this thing going."
The city's subsidy to the project is $200 million, Bloomberg said.
Next week, officials from the Barclays Center and some of its contractors will begin meeting with local Brooklyn leaders to lay out worker recruitment plans. Those plans will focus on the areas immediately around the arena, and especially on residents of public housing. Job fairs are expected to begin in June.
The quality of the work, not just the quantity of it, however, continues to be an issue, particularly as the mayor and the City Council spar over a pair of bills designed to boost the wages of some low-income workers.
Bloomberg vetoed one of the City Council wage bills on Wednesday, and pledged to veto the other, as soon as it passes, which could happen as early as next week.
But for Luis Figueroa, who was standing outside Barclays Center, any work he could find would be welcome. Figueroa, 53, lives in East New York and hasn't worked in seven years. He's on disability and can only work a limited number of hours, anyway, in order to retain the federal benefit.
"I'd like to work with people ― maybe take the tickets, sell the tickets, locate people to their seats," Figueroa said. "It wouldn't bother me, if it's minimum-wage. A job's a job."