Are Bedbugs Biting the Dust?
The bedbug tide may be turning.
After years of large increases in bedbug-related complaints and violations by the city agency in charge of rental housing, some numbers are declining or leveling off.
For the first time since 2004, the Department of Housing, Preservation and Development has seen the number of violations go down, not up. HPD, which oversees rental housing, issued 4,481 code violations last year, a 7 percent drop from the year before. The number of complaints to the city's 311 line has continued to climb, but the rate of increase is slowing down.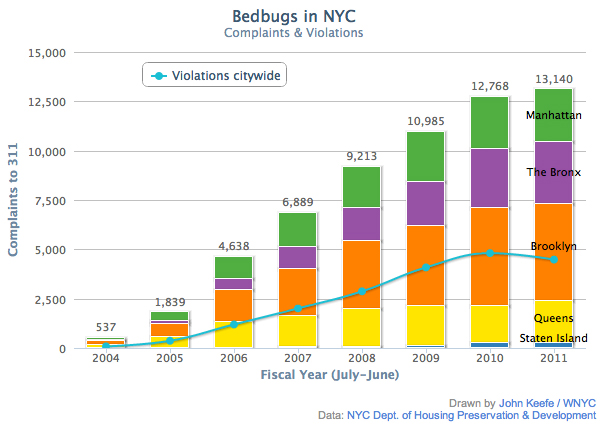 An HPD spokesman said it's too soon to definitively conclude bedbugs are retreating, but people also appear to doing more to limit the bugs' spread, and landlords seem be calling in exterminators more aggressively.
Complaints and violations are only one way of measuring the prevalence of bedbugs. HPD's statistics don't reflect infestations in retail, coops, condos, private homes, offices, hospitals, government buildings, schools, movie theaters or any commercial space.
Several measures went into effect in 2011 to combat the problem, including:
Owners must now inspect, and if necessary treat, any unit where bed bugs are found,as well as those units are above, below and adjacent to it.
Where bed bugs persist, or occur in multiple apartments in the same building, the Health Department now requires property owners to notify all tenants  and develop a building-wide Pest Management Plan.
Owners who are repeat offenders must provide the city with an "Affidavit of Correction" by a licensed exterminator.
Owners who fail to provide these documents may end up with a lien on their property, which was not possible before.
A 2009 City Health Department survey found 404,000 adults reporting bedbugs, or 6.7 percent of the adult population.