Cooper Union to Charge Grad Students Tuition
For 110 years, Cooper Union has offered free education to all its students. That is going to change for the incoming class of graduate students next year when they will be charged tuition for the first time.
Undergraduate students will not have to foot a tuition bill, at least for now, to attend the prestigious arts, architecture and engineering school tuition-free.
How much graduate students will have to pay still remains to be decided.
Cooper Union President Jamshed Bharucha defended the decision, saying the school's more than $16 million deficit needed to be addressed. "You have to make sure first and foremost than an institution is on solid financial ground. Our founder, Peter Cooper, would have insisted on that," he said. "It is absolutely essential for us to maintain the academic strength and quality for generations in the future, and that means we need a stable financial model."
Senior Sarah Crowe may not be impacted by the tuition announcement, but she's still troubled by the decision.
"I can afford to have a terrible job, pay rent and make art because I don't have student debt," she explained. "I only applied to Cooper because the art world is pay to play. I think [tuition] is a really stupid decision because the rest of the U.S. is going to start recognizing we can't keep charging 18-year-old kids $120,000 and expect them to pay it back."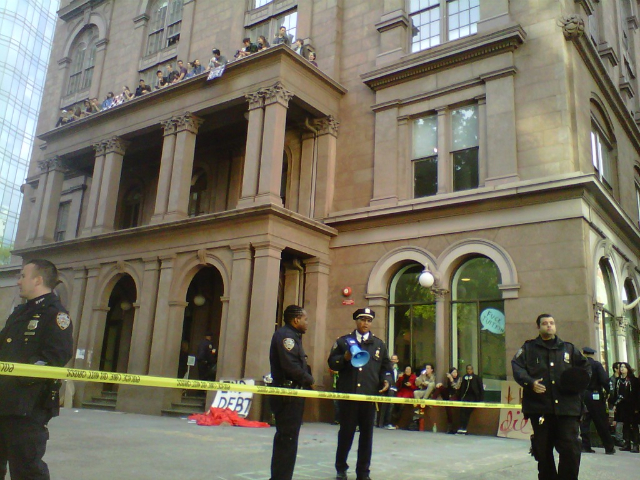 Some students rallied early Wednesday evening against the new "hybrid framework."
David Weir, a literature and writing teacher at Cooper Union for 25 years, was disappointed by the plan, but understood that it was a necessary step. "It's not that I think it's the right thing," he explained. "I think we're just running out of choices."
He said plans to institute more fee-based graduate programs was almost the reverse of the way other institutions do things. "If you go to NYU, the undergraduate programs pay for the graduate programs, not the other way around, so its kind of an iffy experiment," he said.
The East Village institution also plans expand its graduate and other programs to help increase revenue as it struggles to reach financial stability.
(Photo: Police have taped off the courtyard in front of the old Cooper Union building where students and protesters had gathered. Brigid Bergin/WNYC)
Kathleen Horan contributed reporting