Children's Safety Concerns Revived in Wake of Patz Search
The recent search for the missing school boy Etan Patz, who disappeared 33 years ago after walking alone to the bus stop, has reignited an age old debate: at what age should parents give their kids more freedom?
"I'm one of the ones who's a little over protective in sense; I will drive my kids to high school if I have to" said Mario Rodriguez as he waited to pick up his 10-year-old son from P.S. 39 in Park Slope, Brooklyn. Even though they live a block and a half away, he said he's still too worried to let his 5th grader walk home alone.
"I often feel that being in the city my kids don't get enough freedom," admitted Pheobe Lichty, the mother of two girls, ages 5 and 7. She said that even though she can be over-protective at times, she's terrified after hearing news about child abductions, which make parents "cling a little closer."
According to the National Center for Missing and Exploited Children, hundreds of thousands of children are reporting missing each year, but only about 115 are victims of a "stereotypical" kidnapping, which includes a child being kidnapped by someone they do not know.
NYPD Commissioner Ray Kelly said there are about 12 cases similar to Etan Patz currently open. In general, he said, the city is a much safer place, with crime rates are at historic lows.
In spite of these statistics, Lenore Skenazy, blogger and author of the book Free Range Kids, said many parents still can't let go of their fear.
"Either you let it rule your life and end up kidnapping your child in your own in way — keeping them indoors, constantly hovered over, no childhood and no freedom. Or you have to accept the fact that the world is a fallen place and there is some danger."
Skenazy said she discovered firsthand the high level of parental vigilance out there after she received hate mail for allowing her 9-year-old son ride the subway by himself.
"How would you feel if he had been murdered or if he never came home," she said people asked her.
"What's strange to me," Skenazy said, "is that's the question we're supposed to ask first — when we think of letting our children do anything. We are supposed to immediately go to a story like Eton's instead of a story like our own growing up."
Many factors affect a parent's decision to give their kids more freedom.
Melissa Williams, a Brooklyn mother of two, said she decided to allow her older daughter Caroline some unsupervised time after some her friends were given more independence.
"I don't know if that was a good enough reason but we also just felt like she was responsible enough," she explained. "When she turned eight, I also began to run out to the store for 10 minutes or whatever and I just tell her not to pick up the phone in case someone calls and there's not a parent home."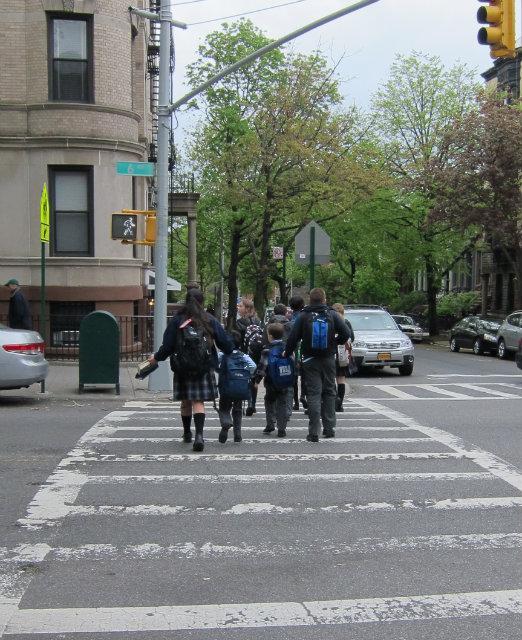 Parents who feel like they need to keep a tight watch on their kids should focus on training them for the next stage of trust, advises author and New York City-based family therapist Meri Wallace. She said teaching children to cross the street or not talk to strangers can help, but the decision to separate is never easy.
"We have to look around and assess situations and talk to other parents and use really good judgment and let our children go slowly," she said.
While parents struggle letting go, their kids often have a clearer idea of how and when that should happen, like 7-year-old Christopher Williams.  He explained he'll be ready some solo flying in three years.
"Because you're old enough to be outside," he justified. He doesn't plan to go too far though, "just across the street."