Long Issues Debate Challenge; Turner Accepts
Tuesday, April 24, 2012 - 11:10 AM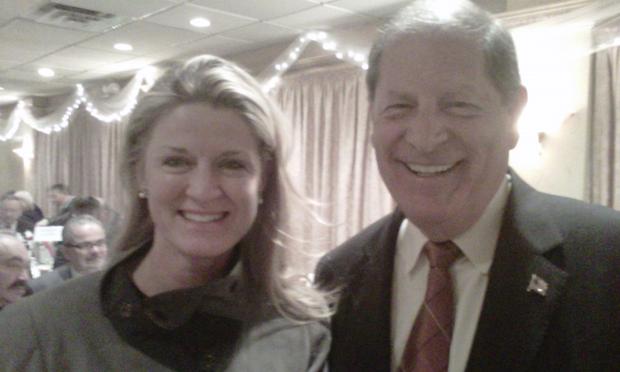 (Brigid Bergin/WNYC)
U.S. Senate candidate Wendy Long is challenging her two Republican primary opponents to a series of three debates before their June 26 primary. The winner of that primary will be on the ballot against U.S. Sen. Kirsten Gillibrand in November.
In a letter sent to Representative Bob Turner and Nassau County Comptroller George Maragos, Long suggested a series of debates held in various regions of the state, sponsored by local Republican organizations in conjunction with local or regional media outlets.
Reached by telephone Tuesday morning Turner said, "That sounds reasonable." 
Tunrer had not yet seen the letter from the Long campaign, but when asked if he would make time in his schedule responded, "I'm going to Washington today. I have a campaign schedule. I have a district schedule. But I think that can work. Debates are a good thing. We'll work around the schedules."
George Maragos released a statement this afternoon saying he also welcomes the chance to debate Turner and Long, but called Long's challenge "premature."
"She does not appear to have made any arrangements with any of the media outlets or the League of Women Voters to host the debates," Maragos said in a statement.
Long is already on the ballot as the Conservative party candidate. Her letter stressed that this is one of the shortest primary schedules on New York electoral history. The full text is below.
Dear George and Bob:

This is one of the shortest primary schedules in modern New York electoral history.  It's important to hold a series of debates across the Empire State, so that Republican primary voters can make an educated decision as to which one of us they prefer to face the U.S. Senate's number one liberal, Senator Gillibrand, on the GOP line in the November election.

I suggest, that starting the first week of May, we hold a series of 3 debates leading up to the June 26 primary. Local Republican organizations and/or local or regional media outlets could sponsor these debates. It is my belief this would be a great opportunity to showcase where each of us stand on the issues as well as the Conservative -Republican principles we hold in common.

Obviously, time is of the essence, so I hope that you will respond to this challenge quickly, so that we can start to identify suitable dates.  I am sharing copies of this letter with Chairman Cox and all 62 Republican County Chairs so that they may join us in the planning of what will be an exciting and informative series of debates.

Yours sincerely,

Wendy Long 
More in:
Brigid Bergin is the City Hall and politics reporter for WNYC.