Nets Fall in Final NJ Home Game
The Philadelphia 76ers spoiled the Nets' final game in New Jersey with a 105-87 victory Monday night. For New Jersey fans it was a bittersweet game. In the fall, the NJ Nets will be re-billed the Brooklyn Nets and play in the yet to be completed Barclays Center.
Outside Newark's Prudential Center the mood was wistful. "I'm not bitter," said Tom Winner of Ridgewood. "It's more like a protracted end, like watching a loved one pass away or your dog die of cancer. There's a relief that it's over."
Not everyone shared that sentiment. Governor Chris Christie said "good-bye " and "good riddance" to the team before they played their last game.
He thinks other NBA teams might be interested in moving into the Nets' soon-to-be vacated space.
The lead up to the game was short on sentimentality from the organization, with a brief mention of cheering the starting lineups "one last time for your New Jersey Nets."  Nets center Brook Lopez thanked the crowd for coming, but made no mention of the move to Brooklyn.  He even provoked a few awkward chuckles when he said "we look forward to seeing all of you in the stands next year." Adding salt to the wounds of New Jersey fans: the music of Jay Z, a part owner of the team, was played over the speakers during warm-ups.

The tour of Nets history picked up as the game progressed. During timeouts, the JumboTron played video messages from Nets greats Vince Carter, Kenyon Martin and Buck Williams to "the Nets family."
At halftime, Nets legends appeared for a ceremony, along with a video message from beloved former point guard Jason Kidd. But still, the halftime event was presented as a celebration of 35 years of Nets basketball and the 10th anniversary of the 2002 Eastern Conference championship, with no explicit mention of the impending move eight miles east.
Many Jersey fans had advice to the people of Brooklyn inheriting the team.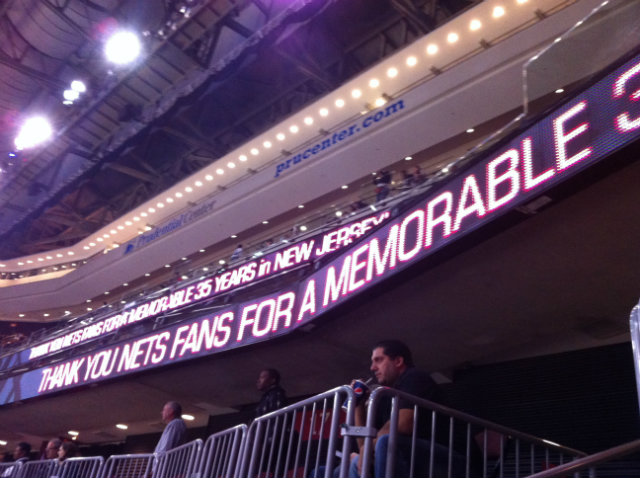 Ned Winner, a lifelong fan attending with his brother Tom, said, "any time this team starts getting momentum, something tragic happens. So you've gotta stick with them — it's going to be tough."
Rashida Mohammed of Newark has a simple recipe: "go to the games, watch them play, you'll get there."
(Photo: A thank you message to fans didn't reference the Brooklyn move. Jody Avirgan/WNYC)