Last Chance Foods: A Peppy Bite of Watercress
Out in the woods, leafy green watercress is appearing next to bubbling springs and shallow ponds. The peppery leaves, which are a favorite with foragers, add a sharp tang to salads and sandwiches. When seeking out wild watercress, though, it's important to make sure that the plant is growing in or near safe, clean water. Also, be cautious to avoid water hemlock, which can grow nearby.
Foraging brings a distinct satisfaction of self-reliance, but for those who prefer not to risk the hazards of trekking into the woods to gather wild edibles, there's always hydroponically grown watercress. Perry Hack, of Two Guys From Woodbridge, said the semi-aquatic plant is particularly suited to hydroponic growing conditions.
"It either grows wild in streams, rivers, ponds, or it's most suitable hydroponically," he said. "You couldn't really grow it outside without having a lot of access to water." Hack grows three varieties of watercress: Upland, baby green and baby red. He sells Upland watercress with the roots attached to maintain freshness. 
"When you grow hydroponically... you're actually giving the plant exactly what they need so they concentrate more on leaf growth," explained Hack, pointing out the plant's small root bundle. 
He adds that growing plants in the soil presents challenges for maintaining nutrient levels. "Plants need nitrogen, potassium, calcium, magnesium, and you're never going to get all that in the soil unless you add it," Hack said. "Growing hydroponically, when I walk into the greenhouse, I can immediately see, like, okay, that needs more potassium, and I can fix it. So [the plants] are actually very nutrient dense."
For the Upland cress and other lettuces with intact roots, Hack said to store the greens in a regular plastic bag, loosely tied, in the refrigerator. The bag will maintain some humidity and keep the plant from drying out as quickly. Baby watercress is cut and packed in plastic clamshell containers, and can be stored as is. 
On a separate note, Hack offered a word of advice on the one green not to store in the refrigerator: "Basil is the only thing we tell me people not to put in the refrigerator [because] it'll die. You just put it in a vase of water and keep it on the counter in your kitchen."
And if you're looking for a place to grow watercress, Hack said, the bathroom may be your answer. Hack explained that it is possible to grow it in a bathtub at home, but notes that it requires both light and oxygen. "So there would have to have some kind of defuser or bubbler."  
Regardless of whether the watercress is home grown, hydroponically cultivated or foraged from a nearby stream, Hack said enjoying it is easy. "My favorite thing," he shared, "is to have a mixed salad with watercress, shaved parmesan, just a little olive oil and just some lemon juice, salt and pepper."
For those looking for more elaborate adventures with watercress, Hack sent a recipe for crispy soft shell crab from ABC Kitchen. The restaurant garnishes the dish with red watercress from Two Guys From Woodbridge.
ABC Kitchen's Crispy Soft Shell Crab with Sweet and Spicy Sauce
For the Sweet and Spicy Sauce
first set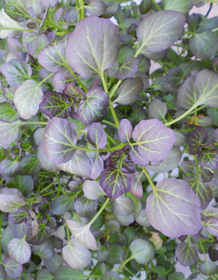 3 Tbsp. Garlic, minced
3 Tbsp. Ginger, minced
4 Tbsp. Extra Virgin Olive Oil
4 tsp Kosher Salt
second set
1 ¼ cup  Honey
1 cup + 1 Tbsp  White Wine Vinegar
third set
¾ cup Red Finger Chili, chopped
2 tsp Market Chili Flakes
1 cup hot sauce base, no butter
Method for the Sweet and Spicy Sauce:
Combine 1st set of ingredients in a sauté pan. Cook until tender but no color. 
Add second set and bring to a boil. Once it boils, take away from the heat and add 3rd set. 
Reserve for later use. 
Method for the Hot Sauce Base: 
3 oz. Orange Scotch Bonnet or Habanero chilies (about 10)
1 Orange Bell Pepper, halved, seeded, coarsely, chopped
4 1x3" strips of orange zest

4 Tbsp. Elderflower Syrup (not St.Germain liqueur), divided
2 Tbsp. Kosher Salt, divided, plus more for seasoning
1 piece

Garlic Clove, smashed
1 cup Champagne Vinegar
Black pepper, freshly ground
Method for the Hot Sauce Butter:
Wearing gloves, halve and seed chilies. Puree chilies, pepper, zest, 2 tbsp., liqueur, 1 tbsp. salt and garlic in a blender. Transfer to a bowl, cover with plastic wrap and let ferment at room temperature for 12 hours. Puree chili mixture in a blender with vinegar, remaining 2 Tbsp. liqueur, and remaining 1 Tbsp. salt until smooth. Set a fine-mesh strainer over a small saucepan.  Strain mixture, pressing on solids. Reserve to use for sweet and spicy chili sauce. 
For the Soft Shells
All Purpose Flour 
Egg whites, seasoned with salt and black pepper
4 each  Soft Shell Crab
20 pieces Basil
Method for the Soft Shells: 
Place the crabs in the egg white mixture allowing the excess egg white to drain before placing in the flour. Lightly coat in flour and drop in the fryer until nice and golden at 375°F oil. Fry 20 pieces of picked basil leaves then place on a tray lined with a good amount of paper towel to help soak the excess oil. Season crab with salt and pepper. 
For the Dish
Red Watercress
Basil
Soft Shell
Sweet and Spicy Sauce 
Method for the Dish:
Evenly spread the sauce onto the middle of the plate. Place a small handful of watercress (enough to form a bed for the crab). Place the crab on top of the watercress and top with crispy basil. Each crab can be plated individually or all together on a larger plate or platter. 
Enjoy.