Beep Seeks Boosters to Keep Ferry Tourists on Staten Island
Argentine tourists Florencia Colacioppo and Noelia Pfeiffer are visiting New York City for nine days. In that time, they plan to see Central Park, the Brooklyn Bridge, Chinatown, Chelsea and visit museums.
They also plan a visit to Staten Island, but like many of the other two million tourists who travel on the ferry each year, they'll only be in the borough long enough to turn around and head straight back to Manhattan.
"We want to see the city and the Statue of Liberty and we know it's a free ferry to go there," Colacioppo said.
"We want to know Manhattan," Pfeiffer added.
Borough President James P. Molinaro said getting the word out about what Staten Island has to offer has been a longstanding issue. And as the city prepares to swell with tourists this summer, Molinaro is once again calling on volunteers to staff the tourist kiosk at the ferry terminal.
The ferry carries an estimated 19.2 million riders per year, or about 47,400 riders on an average weekday and 17,500 riders on the weekend.
The kiosk opened in 2010 at a cost of $420,000, but it's closed most of the time because there aren't enough volunteers to work the desk. Miolinaro said he can't afford to pay workers to staff the kiosk full-time.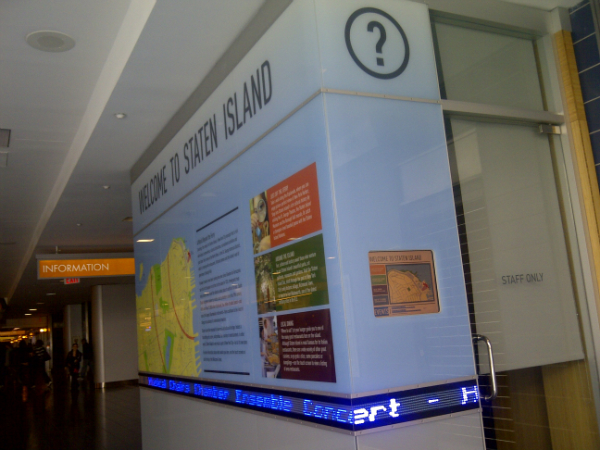 Since it's been open, 12,000 people have visited the kiosk to ask about local attractions, he said.
(Photo: The Staten Island tourism kiosk sits vacant. Tracie Hunte/WNYC)
"Eighty percent of the time the kiosk is closed, because I don't have volunteers behind there," Molinaro said. "If I had them continuously behind there for each boat that's coming out, it would greatly improve it."
 
Molinaro said reaching tourists before they even get to the ferry would be better. The kiosk is a way for tourists to learn about places like the Snug Harbor Cultural Center, Fort Wadsworth, one of the oldest military sites in the country and Richmond Town, New York City's only historic village.

Tom and Diana Campbell from Cincinnati, Ohio, agree.

They said they would be more open to visiting the island if they knew more about the attractions beforehand.

"I can't recall ever seeing any advertisement about what's to be seen," Tom Campbell said. "I'm sure it's rich with history and things to do and see, but I've just never been aware of it."
Jim O'Grady contributed reporting.