The Takeaway
In 2016 Election, Evangelicals Focus on 'Religious Liberty'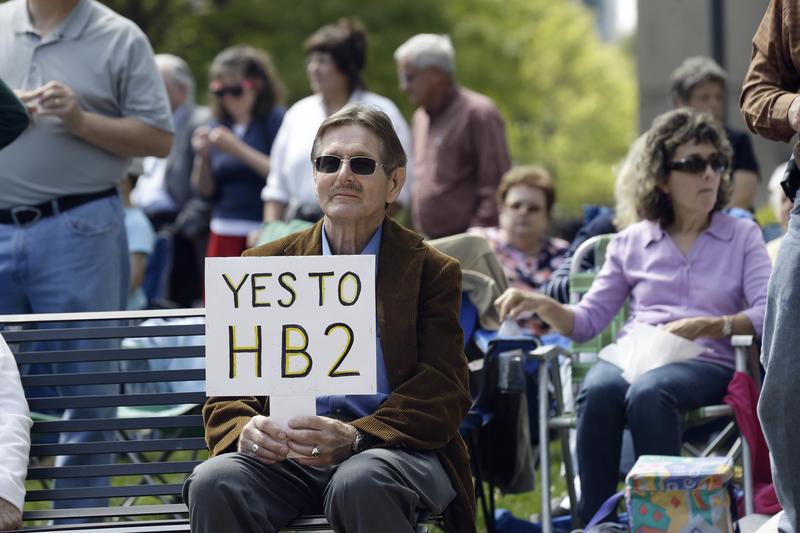 Click on the 'Listen' button above to hear this segment.
About an hour outside of Charlotte, North Carolina, just off Highway 74, you'll find the small town of Shelby, North Carolina. With a population just over 20,000, Shelby is like many other communities in the American South.
"It's a really nice place to live," says Rit Varriale, pastor at Elizabeth Baptist Church in Shelby. "The community gets along very well in many ways."
Shelby, once home to Appalachian folk singers like Earl Scruggs and Don Gibson, sits in Cleveland County — a place identified by the American Communities Project as an "Evangelical Hub." About 45 percent of the population in Cleveland County, which is about 76 percent white, is tied to Evangelical churches like Elizabeth Baptist. As the 2016 election, The Takeaway has been talking with voters in each community type (see map below) to get a sense of the issues affecting people where they live.
In many ways, Elizabeth Baptist Church tells the story of American Evangelicals in the run up to the 2016 election. Earlier this year, lawmakers in the state capital of Raleigh passed the controversial HB2 ordinance — commonly referred to as the "bathroom bill" — which prohibits transgender people from using public restrooms that correspond with their gender identities.
After getting out of the military in 1996, Varriale, 45, decided to pursue the ministry. Originally from upstate New York, he moved to Shelby almost 12 years ago for reasons of both faith and family.
"Here at Elizabeth, we have a really good blend of young people — the fastest growing demographic in our congregation is actually married 20-somethings," he says. "We've got a very strong children's ministry, and we also have a very vibrant senior adult ministry. For a person to walk into our congregation, I think one of the things that they'd identify right away is a true sense of family."
Related: What It's Like to Be Transgender in North Carolina
But in 2016, Evangelicals like Varriale, along with many in his congregation, feel that laws like North Carolina's controversial HB2 ordinance are necessary to protect "religious liberty," especially as the community becomes less religious. According to the Association of Religion Data Archives from Pennsylvania State University, the number of people claiming no religion in Cleveland County grew from 18.7 percent in 2000 to 38.4 percent in 2010.
"That's a pretty significant change," Varriale says. "Still, the overwhelming composition of our community is that Evangelical component, but it's something to pay attention to. And I think a lot of the senior adults that are willing to discuss this and articulate their thoughts, they attribute the significant increase in irreligious individuals to Christians in the past recent decades not really standing up for the things that they believe in."
Older adults at Elizabeth Baptist feel they've sacrificed traditions that the community once held dear, like prayer in public schools. But Varriale also says the sentiment stretches across generations.
"What we can attribute the increase in young people coming to the church and really being involved and interested in what's going on, there's no doubt that it's attributed to that sort of encroachment on religious liberty that we're seeing in the larger culture," he says. "It's particularly 20-somethings that have children, and I think what's driving that, in conversation with them what I'm hearing is, 'What kind of world will my children have? What kind of nation will my children be in, and if they have children, my grandchildren? What kind of nation and environment are we going to leave for them?'"
On the state and local level, Varriale says there have been "successful efforts to let the voice of the people be heard," like with HB2 — the state's 2016 law that put new restrictions on bathroom use and has been called the most anti-LGBT legislation passed in the U.S. It was passed, in many ways, as a backlash to the Supreme Court ruling that allowed same-sex couples to marry in all 50 states.
"The court's overreach and the aggressiveness of the LGBT agenda is the best thing that's happened to Evangelicalism and the conservative sections of Christianity," Varriale says. "What the Christian community is saying — the conservative portions of the Christian community — is that our voice needs to be heard as well. There needs to be a place at the table for conservative Christianity."
Though he doesn't believe Evangelicals can or should force others to adopt Christian traditions, Varriale says that America's changing culture is forcing a new value system on Christians.
"For Evangelicals, being able to express one's religious beliefs is paramount," he says. "There's a notion that's prevalent in our culture today that the free exercise of religion refers to or is intended to mean what people do when they're in their worship services. But from an Evangelical perspective, the free exercise of religion is really taking place outside of your worship service."
He continues: "Your worship service is where you grow in the faith with people who are likeminded, and then you take everything you've learned and everything you've been committing yourself to and believing in during the worship service, and you take that outside to the community, to your workplace, to your place of leisure. So for Evangelicals, the issue of religious freedom is an essential issue."
Overall, Varriale says it's time Evangelicals stand up in a "principled and uncompromising matter" for the issues they hold dear.
"At what point do you finally stand up and say, 'No, I'm not going to force my beliefs on you, but neither should you have the right to force your beliefs on me?'" he says.