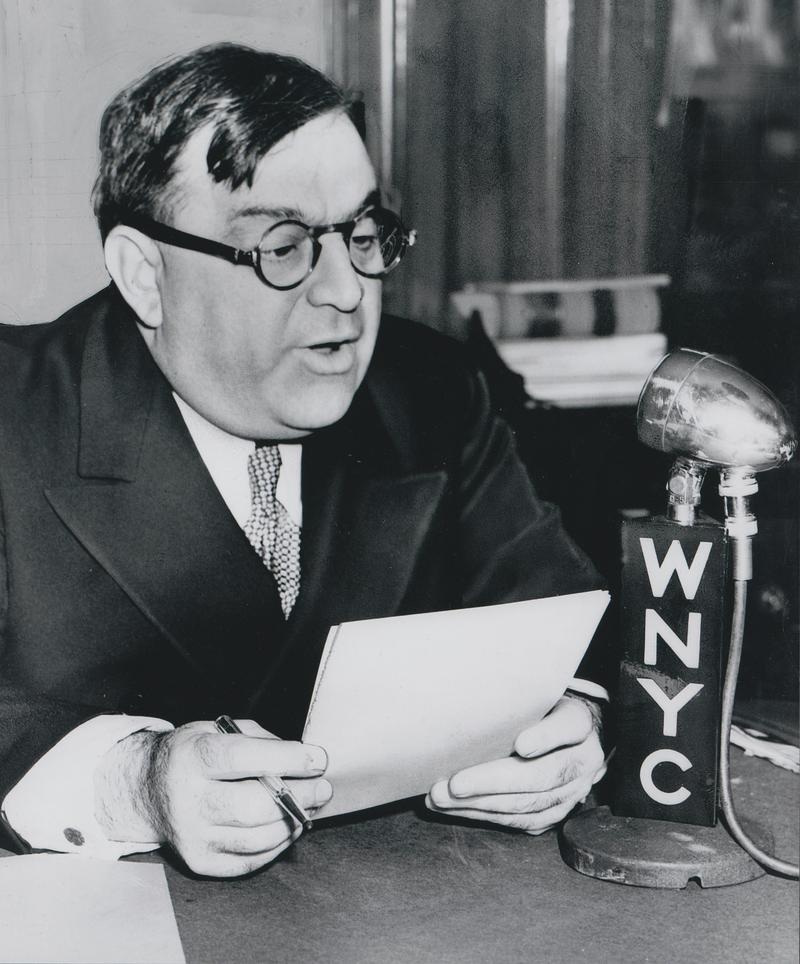 Summary
This episode is from the WNYC archives. It may contain language which is no longer politically or socially appropriate.
War in Europe, Meat Shortage, Threatened Egg Dealers Strike, Rebuilding Bellevue Hospital. Rebuilding Downtown Brooklyn. Terminal Market.
Audio courtesy of the NYC Municipal Archives WNYC Collection
WNYC archives id: 59180
Municipal archives id: LT2516
Transcript
FOR IMMEDIATE RELEASE SUNDAY, MARCH 18, 1945 CITY OF NEW YORK OFFICE OF THE MAYOR TEXT OF MAYOR F. H. LA GUARDIA'S SUNDAY BROADCAST TO THE PEOPLE OF NEW YORK FROM HIS OFFICE AT CITY HALL, MARCH 18, 1945, BROADCAST OVER WNYC AT 1:00 P.M. FOLLOWS: Patience and fortitude. WAR NEWS I believe I can best review the situation in Germany today by reading a few paragraphs from todays Review of the Week of the New York Times. It packs the whole story in very little space. 'Ten years ago last week Adolf Hitler set out on the road to World War II. Denouncing the Versailles Treaty, he ordered general conscription for military training. His road to war took him far; his jack-booted legions conquered more of Europe than any armies ever had before. Last week 'Heroes' Day' came to a Germany feeling war as it never had in a long history of wars. From one end to the other the cities of the Reich were blackened and torn by bombs. Within both frontiers - - even within the Rhine and the Oder, great rivers behind those frontiers — Allied armies were driving their columns of armor and guns and infantry. Each German front called for more troops; each sector of each front was in danger. The army which Hitler started building ten years ago was crumbling. Germany, which by some estimates has suffered more than 10,000,000 casualties in the war, was running out of soldiers, calling civilians to street barricades. For 'Heroes' Day' in March, 1945 the German people did not hear the voice of their Reichsfuehrer. There was a speech but it was broadcast by an underling. It confessed 'fate has now turned against us.' Unless there was 'resoluteness, steadfastness and fanaticism' Germany's enemies would achieve their goal: 'extermination of the German nation.' What home was there? 'What we have to do,' said the Reichsfuehrer, 'is clear to everyone: to resist and to strike our enemies until at last they tire and break.' Yet in his proclamation there was a hint that not all of Germany was prepared to follow him farther along his course. He said, 'Our fanaticism must be just as great in the destruction of those who try to oppose (our program).' Yet it was officially reported that a separate peace offer had been attempted. To many it seemed that the future of the Third Reich, which Hitler said would last a thousand years, could now be measured in weeks. Prime Minister Churchill said: 'The war in Europe (might well) end before the summer ends, or even sooner.' That is hopeful isn't it. However, we must not let up. We must carry on just as we have been doing before and work harder, produce more materials, supplies, munitions, tanks, airplanes and ships until it is really over. MEAT Well I don't believe that it will be necessary for me to convince anyone that meat is short. I have been telling you that for over a year and a half or maybe two years. Of course anyone who has kept himself informed knew that the supply would be greatly reduced. That means that the war is not over. President Roosevelt was very plain and clear and forthright the other day when he said that we had to just tighten up our belts. That is quite true, because we are going to feel shortages in various commodities of food. We must adjust ourselves to that and we must adjust ourselves to a new diet. For instance, one big heavy meal a day and then breakfast and a shorter meal. If a family is adjusted to the heavy dinner in the evening, it should eat a lighter lunch, or if the heavy meal is at lunch time, then a lighter supper. It just has to be done. THREATENED EGG STRIKE I see again that there was a threat by egg dealers to close their places of business. Well I do not think there will be any stoppage. I have been talking about eggs for a long time and I think the present system of grading is too involved and costly. I testified before the Senate Committee on Banking the other day and again urged, as I have been urging for the past three and one half years that eggs be sold by weight. If that happens, a great deal of the assortment would be eliminated and it would reduce the cost of handling by the wholesaler and jobber, and then, too, the consumer would get the advantage because he would just pay for what he gets. We have four or five grades now according to size. I did succeed in getting OPA to have a sort of dual system of weight and count, that is, so many ounces per dozen of the various grades but it is too complicated and involved for the consumer. It is so simple - Grade A and Grade B Eggs, then put them in a box, weigh the box of a dozen and pay for what you get. I hope they will do this. Now whether or not some dealers of eggs close their places of business and go on strike, I do not care. Everytime someone gets sore or everytime someone hires a hall in a hotel and gets a few merchants in, immediately there is a cry of 'We are going to stop doing business.' All right, go ahead and stop, this is a free country. Close your doors anytime you want to. This threat of a strike, every five minutes from various branches of food, is just becoming tiresome. The egg dealers who threatened to strike represent about 20% of the industry. Let me give you a little advice. You know we can get along without the jobber. Eggs may be easily and more economically distributed from firm to wholesaler, from wholesaler to retailer. If those in between want to strike, it is all right with me. If wholesalers also strike, we will open egg markets on the streets and squares of New York City. The people of the city are not going to starve and that goes from now on. These threats by distributors of food and retailers and wholesalers who every five minutes, when they are sore at something, say they are going to close are getting tiresome. I repeat, it is the privilege of any individual to go out of business just as it is the privilege of every individual to stay in business. We will cooperate with those who stay in business and obey the law, but let us have no more of these threats because I am going to pay no attention to them at all, and I will find the means of getting food to our city. On the other hand, OPA and WFA will have to be reasonable. There is no use making regulations that are impossible of enforcement, and there is no use seeking to compel a merchant to do business at a loss. The prices of eggs for consumers are as high as they ought to be and a little higher. In fact we pay double for eggs. People of the cities have paid their money in taxes to support the prices of eggs and then they pay the supported prices, so we got it twice. That ought to be stopped. So let us all work together because food is necessary. However, I want to tell the people of the City of New York that from now on they should not worry about threats of strike by any groups of dealers. AIRPORTS I had a great time this week, I was in Washington twice. I told you about appearing before the Senate Committee on Banking. On Friday I appeared before the Senate Committee on Commerce for Federal Aid to Airports. Yes, I know what you are going to say, "What are you worrying about, New York City is building its airport," Yes, let me tell you something, you know one airport is not enough, because a plane needs an airport to take off from and an airport on which to land. We are not building airports just to circle over our city. We are building airports to carry commerce and passengers to all parts of the country and to all parts of the world. HOSPITAL PLANS It is interesting and gratifying to see the work of years and years finally come to fruition. It is a great gratification. You know if an official looks forward and works hard on big things he becomes immune to the political cooties. All they do is seek to annoy. You just become immune to it and it doesn't harm you or hurt you in the least. Talking about big things, on other occasions I have told you about our great Medical Center on the upper west side. You will recall that in agreement with the Medical School of Columbia University and with the Presbyterian Hospital we started the Florence Nightingale Hospital three years ago but we were stopped because of the war. We will resume as soon as we get material and labor. That is going to be a great Cancer Research Institute in connection with Columbia University Medical School. Also up there we will have our great Contagious Disease Research Laboratory as well as the Contagious Disease and Practical Disease Hospital. I have told you all about that. In the studies I have made going around to hospitals, I have noticed and have learned there are hundreds of cases of cancer that are now considered incurable. PROPOSED CUSTODIAL CANCER HOSPITAL These patients just cannot be taken to a hospital for active disease and, therefore, they are either sent to some Home to suffer or they stay home and suffer. I have arranged with Memorial Hospital, we have a tentative agreement to be approved by the Board of Estimate, for the construction of a Custodial Cancer Hospital adjacent to Memorial Hospital. The Memorial Hospital is one of the great cancer research institutions of the world. They will give the City the land and we will build a hospital. In that way patients will have care and also all of the benefits that science can give them. BELLEVUE HOSPITAL REDEVELOPMENT But that is not all, that is not all, we are going to have another great medical center. Yes sir, we are going to rebuild Bellevue Hospital entirely. We have been making a study as to the need for renovation, rehabilitation and expansion. The report indicates that it would be cheaper to build an entirely new hospital. Bellevue Hospital redevelopment comprises a complete reconstruction of all patients' facilities with the exception of the Tuberculosis and Diagnostic Pavilions. These are new you remember, we built them during my time. The redevelopment also contemplates, of course, the retention of the recently completed administration building and the psychopathic hospital. The new project also includes a new out-patient department building and a new nurses' residence and training school. The application for authorization to proceed with final plans will be before the Board of Estimate on Wednesday. That will be one of the greatest hospitals in the entire world and the cost will be in the neighborhood of twelve million, five hundred thousand dollars ($12,500,000). NEW YORK UNIVERSITY MEDICAL SCHOOL & HOSPITAL But that is not all. New York University College of Medicine is now preparing a preliminary prospectus for the development of an entirely new medical school, university hospital of 450 beds and a hall of residence for students, internes and graduate nurses. The preliminary plans are being developed on the basis of a site extending from East 30th Street, directly north of Bellevue Hospital, to East 33rd Street, between First Avenue and East River Drive. They are now as you know west of Bellevue and that is to be changed and New York University plans to go north of Bellevue Hospital. The University Hospital will be planned in such a way as to provide complete flexibility in the clinical distribution of patients as well as adjustments to economic conditions, especially as related to expansion of the Health Insurance Plan. The present proposal indicates a total of 470 beds of which approximately 206 will be assigned for semi-private care, 132 for low cost private care, and 152 for general ward care. The ward services in this institution, of course, would not in any way duplicate those provided by Bellevue, but would consist primarily of patients whom the staff of Bellevue or the University desire for special research purpose. Such patients, of course, would not necessarily come from the local community but from all parts of the City. Bellevue would have at least 3200 or 3400 beds, all, of course for free patients. The University Hospital would also make provisions for a comprehensive diagnostic and treatment clinic which likewise would be based primarily on the needs of persons belonging to the Health Insurance Plan. Again, such a clinic would not suplicate the out-patient department of Bellevue. The primary purpose of the University Hospital is to complete the Medical Center Group at Bellevue by providing the type of hospital facilities and constitution clinics which are now not available in Bellevue Hospital to persons of the middle income group. The Association of the University and Bellevue Hospital and the redevelopment of Bellevue, together with the New Medical School development, will attract and retain medical men of the highest caliber and make it possible for them to spend the greater portion of their time, if not their entire time, at this center, which, of course, is the optimum desired for such a group and through which the greatest benefits are given to the greatest number of patients. FORENSIC MEDICINE INSTITUTE We are also going to have a Forensic Medicine Institute. This is in accordance with an agreement with New York University Medical School. The University will give the City the land and we will construct the Institute. In addition to that the existing lower East Side Health and Teaching Center at 25th Street and First Avenue is now jointly operated by the New York City Department of Health and New York University Medical College, Department of Preventive Medicine. It is proposed to continue this association but to concentrate the greater amount of research and public health teaching in a new and enlarged department of preventive medicine in the Medical School Building. In this location the Department would also function closely with the Consultation clinic of the University Hospital and would give clinical training in public health to its students and staff in the various clinics of the Lower East Side Health Center. Don't you see that, with another complete medical center and the completion of all of our plans, New York City will be the greatest, the most important and the most advanced medical center in the entire world. I want to appeal to friends of New York University to get busy and to lend all of their help and efforts and energy to this great program. It is necessary that we proceed rapidly because I am very anxious to have all of the agreements with the City signed, sealed and delivered and the plans ready to go as soon as the war is over and labor and material are available. So, friends of New York University, take an interest in this great development. CONFERENCE WITH DR. CHASE I had a very pleasant conference with Dr. Woodburn Chase, Chancellor of New York University and he is very enthusiastic about it. I understand that the whole Board of Trustees of the University giving their special attention to this great development. PLANNING COMMISSION That is not alI. You know, of course, that the City Planning Commission is in for a lot of knocks all of the time and especially when something constructive and scientific is proposed. Of course, peanut politicians never did understand and cannot understand the purpose of a Planning Commission. Bills have even been introduced to abolish the Planning Commission. BROOKLYN CIVIC CENTER Well they have been working on many, many things and these things are coming to fruition. Among their many projects was the Master Plan for Brooklyn and the Great Civic Center of Brooklyn. It in the result of the painstaking study and the scientific approach and technical knowledge of the City Planning Commission which has brought this great project to a point where it can be seriously considered. I have, on other occasions, told you about the Civic Center of Brooklyn. Most of the people of Brooklyn are familiar with the problems of the area and its redevelopment. As you know this is part of what has already been accomplished. The general perspective of downtown Brooklyn indicates an area from the Erie Basin to slightly north of the Williamsburg Bridge. Recent developments such as the westerly end of the Gowanus Parkway, Red Hook Housing Project, Ft. Green Houses, the Navy Yard extension, the approach of the Brooklyn Bridge, you are familiar with - - these projects are completed. Then there is the Brooklyn-Queens Connecting Expressway, running along Hicks Street through Furman Street under the Brooklyn and Manhattan Bridges, past the Navy Yard and Park Avenue, and on northward to the Kosciusko Bridge. This is great engineering job. It was initiated by the office of the Borough President of Brooklyn under President Cashmore and under the personal direction of Philip Farley, the able Borough Engineer and Earl Andrews as Consulting Engineer. The work along Furman Street is quite attractive and involves very many engineering difficulties. It consists of three levels: The first level over the street and over the docks is for one way traffic for both pleasure and commercial vehicles travelling north. The level above that is for one way traffic for the same kind of vehicles travelling south. There are three lanes in each level. The next level above is for a pedestrian promenade at the level of Brooklyn Heights. That all leads up to the Brooklyn Civic Center. On Wednesday, the Planning Commission will fix a date for a public hearing and also will have available a brochure of the entire Brooklyn improvement. It is very attractive. There will be some for distribution but only those who are particularly interested will be able to get them unless we go to a second edition. I think we will need a second, third and fourth edition of this very attractive and informative brochure. In the Civic Center we have contemplated the Supreme Court, a new construction with an estimated cost of about $9,350,000; a High School of Specialty Trades of $3,000,000; Board of Transportation Building of $3,800,000; Brooklyn Fire Department Headquarters, $444,000; Department of Public Works Bridge Repair Shop, $960,000; Welfare Center and Borough Official Building, $675,400. There are other public buildings that are in controversy. I am personally opposed to putting Raymond Street Jail or any jail in that Center. It does not belong there and, incidentally, we do not need a new jail in Brooklyn at this time. We have renovated and remodelled the Raymond Street jail. I have received report of the Grand Jury which was submitted to Hon. Nathan R. Sobel, County Judge of Kings County, in which they state that they found the building in a very sanitary and clean condition, with everything, all right. I do not believe in building jails, because after all are we not trying to go into a new world, are we not trying to improve economic conditions, are we not trying to make life better and happier? If we provide proper housing, if we have economic security, if we look after the health of the people, if we try to avoid chronic diseases, I am pretty sure that there will be a great reduction in crime. Therefore, I want to put the City's money in constructive things and jails can wait until later on. There may be a Domestic Relations Court and City and Municipal Courts. These must be decided. All of these buildings will cost approximately twenty to twenty-three million dollars. The Brooklyn Queens Connecting Highway that I told you about will cost about $15,120,000; the Adams Street Widening and the new approaches to the Brooklyn Bridge - - and it is this Adams Street Widening that has made the whole Civic Center possible and credit for this is due to Mr. Philip Farley who conceived the idea and prepared the preliminary plans has not been estimated but it will be costly. Then there is the Brooklyn Bridge Improvements, first and second stages, and the Ashland Place Widening, and the additions to Ft. Greene Park. All of these will be discussed at a public hearing, the date of which will be fixed by the Planning Commission. The Court House Building is most interesting. It is a monumental building designed by Gordon Lorimer of the Department of Public Works. It is a beautiful design of a monumental building with approaches from two grades of different elevations of the street and with parking facilities for a great deal of that area of Brooklyn. I want to congratulate Mr. Gordon Lorimer for his vision and for the very splendid plan that is being proposed. President John Cashmore of Brooklyn must be very happy. I want to say that he approached this very big and gigantic project for his Borough in a very cooperative and constructive manner. I am sure he will got a great deal of gratification when he sees this great improvement come into realization. We must not forget the fine work of the City Planning Commission, the Department of Public Works, Bob Moses and Commissioner Irving Huie. TERMINAL MARKET PROJECT But that is not all. I have been working for months and months, yes for three years, and for the lest eighteen months very intensively, with the Consulting Engineers on a great project. I have been telling you about a $40,000,000 project. Well I am ready to tell you what it is. It will not be a surprise since the boys over in Room 9, guessed it and hinted at it many times. Yes, that is it, the Great Terminal Market, which will be located at Vestry Street on the north, Greenwich Street on the east, Murray Street on the south, the River and the piers on the west. The big study that had to be made was its location. I think I can best cover that by reading the last recommendation of the Consulting Engineers, Madigan and Highland, who have completed their survey and study of location. It says: "What is needed is a new and well constructed modern produce center, planned in accordance with up-to-date principal of design, but retaining the advantage of the existing location. Present connections to transportation routes are highly favorable; many auxiliary service facilities, such as warehouses, refrigerating plants and cold storage space exist in the neighborhood; superior rapid transit service and a large pool of labor are available in the waterfront area. Moving the market to a new location would of necessity sacrifice these advantages. * * * Such doubts will be avoided and the proven benefits of the established location will be retained by keeping the market at its present site in lower Manhattan. Even before the first World War the market was overcrowded and the situation rapidly became desperate with the rise of the motor truck after 1920. Trucks at first tried to gear themselves in with the established system by delivering produce to the piers. This created hopeless traffic jams, with the result that such deliveries had to be banned. Trucks then began making all deliveries direct to Washington street stores (the street is only 30 feet wide). As the market grew and methods and practices in the trade changed, the old antiquated quarters and narrow streets became hopelessly inadequate to handle the load imposed on them. It was natural that New York's market should grow with New York, and there were good reasons for the market to grow where it did, but the attempt to handle this incoming business without any improvement in the physical facilities or arrangements had led to terrific waste, delays, inefficiency, and deterioration of produce, to say nothing if the opportunities presented for pilferage in the general confusion." I have mentioned inefficiency and waste. You would think wouldn't you that ought to make it easy, but it does not. It is strange in many of our systems of distribution in many industries that we find inefficiency and waste and that it is profitable to some of the people concerned. There are some people who thrive on inefficiency and waste. These groups are always so vocal and are always in the front ranks of opposing anything that creates efficiency and avoids waste. So we are prepared for that. There are people who as I say, make a business of just such a system. We cannot meet increased costs of production and increased costs of transportation and handling unless we have the most efficient method of handling this food without any inefficient or wasteful practises. I do not believe in that. No matter what it costs, if there is production, if there is work, it is worth its pay. I do not believe in paying anyone just to stand by, I do not believe in continuing any system of distribution that entails unnecessary handling and unnecessary costs. This market is of great importance not only to the City, but to the whole country. As you know the prices of food is really determined right here at this market and the U. S. Government and Agriculature have a great interest in it. Therefore, I am going to urge the Consulting Engineers to complete their preliminary study. We still must have a last conference with the railroads. Next week, Commissioner Huie, who has been in charge of this study and who has done all of the work, is conferring with the State Department of Markets. I want to have this number one, as soon as Federal funds are available and it looks now as if some Federal funds will be available even before final planning. So here we have this great Terminal Market right where it was. The City owns about 17 acres and the rest about 43 acres, will be acquired in such a way that the merchants will remain where they are. Many of the merchants own the property which will be acquired by the City. We will build it in stages, so that all will not be removed at one time. It will take two years to construct this great market. CURFEW I think I will talk about the curfew. I have been watching the situation very closely and I have done something unusual this time. I have caused my own personal survey to be made and I have come to the conclusion that unless we adjust the situation to meet local conditions that it will defeat its very own purpose. First, a great jam is created around 12 o'clock, with great difficulties of transportation, second, it is something, of course, which I, as Mayor, have no control and that is that it has created too much rapid drinking. In other words, people get to a place about 11:30 and want to do about two hours of drinking in 30 minutes. You can not absorb it so fast. In addition, it has created, as we have seen, a tendency for the unlawful sale of liquor. Now, those are all police problems with which I am concerned. In the first place, let it be said to the entire country that the established places and licensed places in New York City have complied, and have complied to the spirit and the letter of the Federal request, and they have done so at great cost to themselves. They have done so willingly, without any griping or grousing or complaining or whining. I want to extend my thanks to the hotels, restaurants, night clubs, theatres and all establishments that were involved in the curfew request. Now, there is no use prolonging the diagnosis, I think I have it diagnosed pretty well. So, in order to meet the situation and to carry out the real purpose of the curfew, I believe it is reasonable in New York City to extend one hour of tolerance. In other words, at 12 o'clock, there is an hour's time of adjustment in which patrons may pay their bills without a wild scramble for the doors and exits. Therefore, I would say that with this one hour of tolerance, if the places are actually closed one hour after midnight, that that is a full and reasonable and bona fide compliance with the request. There is another feature that I have observed; the days are longer now and under our system of working hours and office hours, it is almost impossible for the theaters to open much earlier than they are opening. Therefore they are out at 11 or 11:15 and it is not unreasonable for someone to want to have a little something to eat or something to drink before going home. The 12 o'clock being a definite, rigid 12 o'clock, simply will not work in with that. In addition to that, this one extra hour will give the Police several hundred police hours in which to get after the speakeasies, the clip joints, the dives, the dumps and the other gyp places, and we can use these several hundred police hours to greater advantage. Incidentally, here is a new suggestion: There are three parties to the crime of selling liquor or operating a speakeasy - - one is the operator himself who sells, and we nail him, another is the patron who goes there and here is the third, the landlord. Ah, you never thought of that, did you? We are going to nail you just the same as we do for housing any other unlawful or immoral activity. I understand that rents are pretty high for a bootlegger or racketeer. Therefore, we will do this, we will give you notice about it, and then if we catch them there again, or catch the same place operating, you just cannot disclaim notice can you, and you cannot complain if we change that there is a conspiracy to violate the law? I do not think that will be necessary because I think that reputable, decent law-abiding business men, owning property, will not knowingly rent any part of their premises to a clip joint or dive or speakeasy. So now we will allow 1 hour tolerance after midnight and expect the places to be closed at 1 A.M. You may put it on the teletype anytime you are ready now, Lew. Patience and Fortitude.