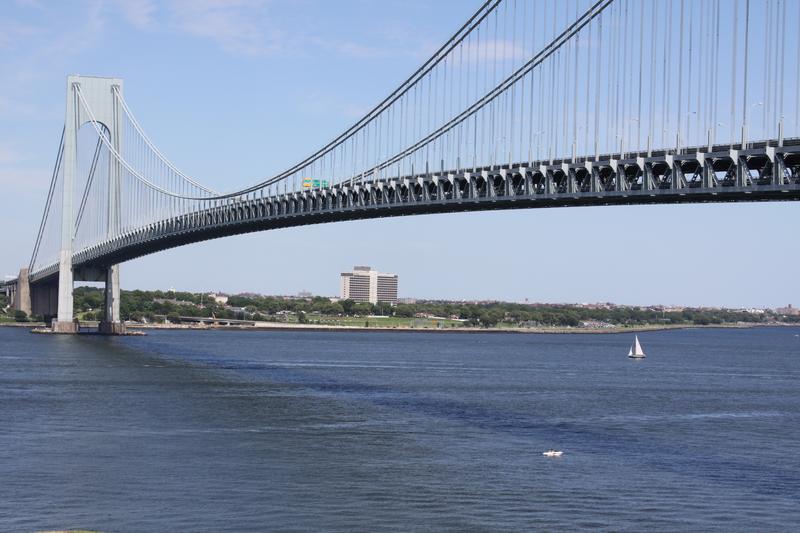 This episode is from the WNYC archives. It may contain language which is no longer politically or socially appropriate.
Begins with band playing. Host tries to get the crowd and speakers under control.

Star-Spangled Banner. Cardinal Spellman performs benediction.

Robert Moses, President of the Triborough Bridge and Tunnel Authority speaks briefly, introduces other commissioners.

Speakers:

15:32 Dr. Arthur Davidson, President of Wagner College;
20:08 Under Secretary of State of Foreign Affairs of Italy, Giuseppe Lucas (speaks in Italian about Verrazzano, repeated in English)
28:35 Mayor Wagner talks about the building of the bridge, reads a message from President Johnson.

Engineer cuing tape.

38:24 Harry Van Arsdale, President of the New York City Central Labor Council, thanks Moses and encourages an increase in employment for the laborers.
42:13 Roger Blough, President of the US Steel Corporation, mentions the technical specs of the bridge.
47:57 Peter Brannon remembers the workers who died while building the bridge.
51:14 Sloane Colt, head of New York Port Authority, talks about the recommendations for regional traffic relief made by Triborough and Port Authority 10 years before, uncompleted Lower Manhattan Expressway.
57:09 Rex Whitman, Federal Commissioner of Highways, talks about the highway networks in the area.
1:01 Abe Stark, Borough President of Brooklyn talks about the economic benefits the bridge will have on Brooklyn.
1:07 Albert V. Maniscalco, Borough President of Staten Island
1:13 Governor Rockefeller briefly mentions  Moses's ailing wife
1:15 Governor of New Jersey, Richard Hughes, thanks the Sanitation Band and introduces the Rabbi.

Everyone congratulates Moses.
Audio courtesy of the NYC Municipal Archives WNYC Collection
WNYC archives id: 5829
Municipal archives id: T448