FBI, NYPD Resume Search for Etan Patz, Missing Since '79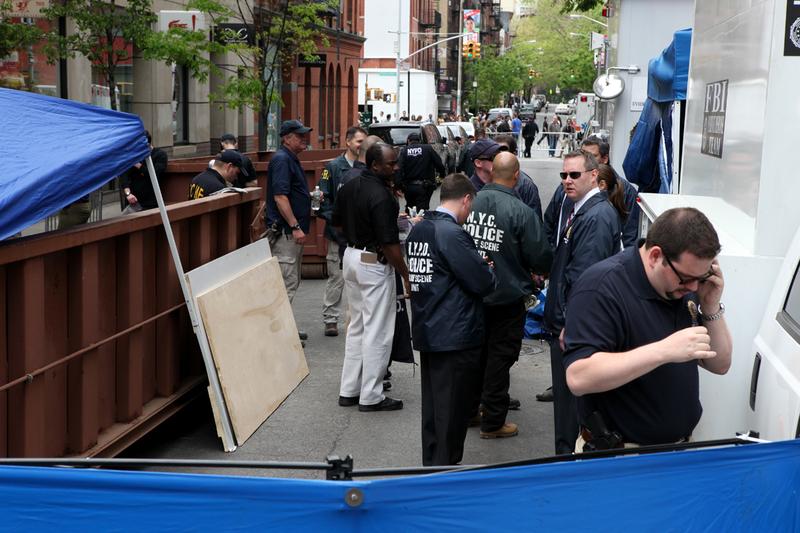 As many as 50 NYPD officers and FBI agents using jackhammers and saws began digging in a Soho basement Friday where a cadaver dog detected human remains in recent weeks, hoping to find evidence linked to the infamous 1979 disappearance of schoolboy Etan Patz.
The basement was the former workshop of a carpenter named Othniel Miller, who was friendly with the Patz family. Outside Miller's Brooklyn home Friday, his attorney fiercely defended him against wrongdoing.
"He is innocent," Michael Farkas said. "He is not involved in this terrible murder. And he is going to continue to help authorities find who is."
Farkas said Miller, 75, has been cooperating since Etan went missing, but this is the first time in three decades that Miller has retained a lawyer.
The FBI recently re-interviewed Miller and his remarks sparked investigators to re-examine the Prince Street space.
Neighbors on Quincy Street in Bedford-Stuyvesant, described Miller as a man who kept to himself and who doesn't leave his house much after suffering a stroke a few years ago.
"He's a quiet, easygoing person. Very calm. He don't make trouble," said Yvonne Granville, who lives across the street from Miller. 
Meanwhile, at Prince and Wooster Street, a red dumpster began filling up with evidence from the basement apartment on Friday. Bucket after  bucket of dirt landed in the tarp-covered dumpster.
Members of the FBI and NYPD formed a factory line, handing jagged chunks of concrete to the person next to them until it landed in its final destination. The debris, officials said, have already been examined for evidence and will be sent to a landfill in Staten Island where they will remain isolated.
Jackhammers and saws used for cutting through concrete were also being used, as well as conventional digging at the site.
The basement was searched during the time of Etan's disappearance, but not excavated, Browne said.
Focus Shifts to New Person of Interest
Investigators' attention is now focused on a
carpenter, known to be a Patz family friend,
who used to work in the basement of 127
Prince Street, the building that FBI agents
and NYPD officers are now excavating. 
But for years, the leading suspect in the
investigation of Etan Patz's disappearance
had been Jose Antonio Ramos, a convicted
child molester who is now serving time in a
Pennsylvania prison for sexually abusing
two boys during the 1980s. Ramos had
been a friend of Etan's babysitter and
reportedly admitted to being with Etan the
day he disappeared. But he adamantly
denied kidnapping or murdering the boy.
Ramos is due for release in November.
Ramos was never charged in Etan's death,
but the boy's parents sued him in civil court
for the wrongful death of their son.  In a
one-paragraph decision on April 19, 2004, 
Judge Barbara Kapnick of New York State
Supreme Court granted a judgment in the
parents' favor, mainly because Ramos
hadn't complied with an order to answer
questions under oath about Etan's
disappearance.
On Thursday, law enforcement officials removed shelving and mapped the area of an unused space in the basement of a building. Authorities will continue to search for evidence for the next five days, an NYPD spokesman said.
Evidence response teams are tearing up a basement floor at 127 Prince Street in SoHo where a cadaver dog detected human remains in recent weeks, according to a law enforcement official.
The renewed search was sparked by information gleaned from the case reopened by Manhattan District  Attorney Cy Vance two years ago, the FBI said. It is not clear what the new information is or its source.
"We're not going to be able to comment about what we're looking for, but we are here conducting a search in connection with an ongoing FBI investigation," FBI spokesman J. Peter Donald told WNYC.
A man who answered the buzzer at a Soho address where the Patz family is listed declined to comment on Thursday.
"We're not commenting today. Sorry," he said.
Etan disappeared after leaving his Soho home on his way to the bus stop on May 25, 1979, and was never seen again. He was declared legally dead in 2001.
Etan Patz was the first missing child to appear on a milk carton. President Ronald Reagan named May 25th National Missing Child Day in his honor.
Employees at some businesses n the closed area are being asked to show ID to get beyond police barricades.
Residents in the neighborhood where Etan vanished say it was a close knit group back then. Sandie Vega-Russo, 40, grew up with Etan and described him as "playful." She said the incident changed her, and she rarely lets her kids out of her sight.
Walking her dog down the streets she's lived on since 1974, Judy Reddy said on Thursday she remembers the night in 1979 she returned home with her daughter and passed the crime scene.
Her daughter was the same age as Etan, and afterward she forbid her from walking alone until she was 13-years old.
"I was like a hovering helicopter mom. It was awful," Reddy said. "Never let her out of my sight after that. I don't think any of the kids were allowed to go on their own."
Sean Sweeney, director of Soho Alliance, has lived in the area since 1976. He said he hasn't spoke to the Patz family about the incident in 30 years, but is relieved that progress on the case appears to have been made.
"I hope they find something that will give credence to the family's efforts for all these years," he said.
Daniel P. Tucker and Janet Babin contributed reporting.