TLC Approves Draft Plan for Five-Borough Street Hails
The Taxi and Limousine Commission has voted 7 to 2 to approve the rules governing outer borough livery street hails, 15 months after Mayor Michael Bloomberg announced his intention to expand taxi service throughout the city. It's the last hurdle before the city starts selling some 6,000 new medallions in June.
The vote to codify the most sweeping changes in taxi service in more than 70 years came after hours of emotional testimony at a packed Brooklyn Borough Hall on Thursday.
Some of the most impassioned pleas came from medallion owners. Ethan Gerber, executive director of the Greater New York Taxi Association, predicted without the exclusive right to street hails, yellow cab medallions will significantly drop in value.
"This Commission is poised to vote on the biggest taking of property ever undertaken by an administrative agency in New York City," he said, adding more than $5 billion of loans are on the line and could be jeopardized.
Vincent Sapone, managing director of the League of Mutual Taxi Owners, an owner-driver group, was met with loud applause when he told the TLC that livery drivers in the outer boroughs should have to sacrifice the way he did to afford a real medallion — not one that costs $1,500 dollars. "People want to make what we worked hard for — let them go on the same route that we went on."
The TLC estimates there are about 100,000 illegal street hails a day in the city. Livery drivers who accept those fares were labeled "gnats" and "hoodlums" by some as they testified. But Brooklyn livery driver Kane Mamadou, who's gotten five tickets for accepting these fares, said that part of his "American dream' is not having to break the law to make a living.
"This is an opportunity for the immigrant community to move up and have our future medallion, too," he said.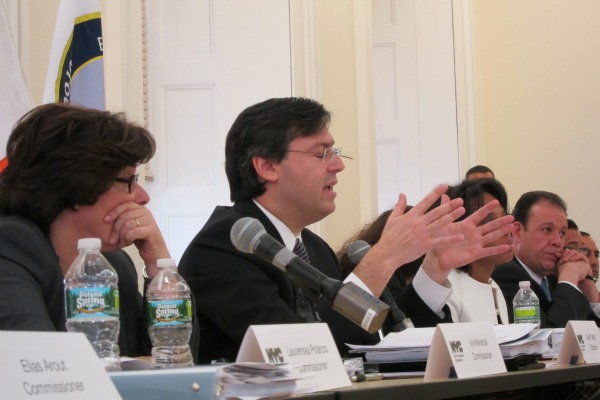 Commissioners made some changes to the rules before approving the plan — including stiffening penalties for drivers who don't observe the new boundaries.
After the vote was taken TLC Commissioner David Yassky, looking relieved, said "I think this will be, for the Bloomberg administration, one of its major legacies that we've expanded the city's terrific taxi service to all five boroughs."
(Photo: Commissioner Yassky and other commissioners listened to over 5 hours of testimony Thursday.Kathleen Horan/WNYC)
The first livery street hail vehicles with roof-lights, taxi meters and credit card machines are expected to hit the streets by the end of summer. A lawsuit by yellow fleet owners trying to block the sale of the livery permits was filed on Wednesday
Another lawsuit could affect the sale of the livery permits in June and the taxi medallion sale in July: the taxi accessibility suit, which is currently in the federal court of appeals. Oral arguments were heard as the commission met and voted.
Watch how the commissioners voted:
Jessie Wright-Mendoza contributed reporting