Drum Beats Bring Seniors Together
The TransNdanceNdrum Center is an otherwise unassuming blue house in Rosendale, NY. The exception is Tuesday evenings. That's when the building shakes with the sound of djembe drumming.
Curious pedestrians stop and peer through the center's windows as the all Women's Drum Circle gets into the beat. This group uses drumming styles from African, Caribbean and Native American traditions to foster a sense of community among its members.
One of the women who plays in the drum circle is 100-year-old Kesii Mackaye. She said it gives her a sense of freedom, and a different sense for how the elderly should be treated.
"Lots of times when people can't do certain physical things for themselves anymore they're relegated to nursing homes and places like that and there's a very narrow concept of how you treat people who get older and that should be eradicated," she explained.
The Women's Drum Circle launched an Elders Drum Project in 1998. The group wants to help improve the life of seniors at nursing homes through this type of drumming music therapy. They even chose the word "elder" over "senior" to signify a person valued for their wisdom and experience.
The Elders Drum Project holds its gatherings in local nursing homes, led by co-founder and facilitator, Fre Atlast — or just Fre to her fellow drummers. "In a nursing home everyone kind of stays to themselves. There's a way that people feel like they've come here to die and it's a depressing sad kind of state of affairs. But as they began to play music together, they began to not only work when we worked but they began to wake up," she said.
Atlast is an energetic 57-year-old woman who's been drumming since she was five years old. More than any other instrument, she finds the drum to be an equalizer. "You could be 2, you could be 102. If you have a heart beat you can drum."
Once a week Atlast helps elders at Rhinebeck's Baptist Home at Brookmead rediscover their heartbeat. A group of 25 seniors, all in wheelchairs, gather in Brookmead's sanctuary. The two story atrium is re-purposed for the drummers, with the mahogany pews all pushed towards the front pulpit leaving enough space for the drumming circle to convene in the back.
Drummers carefully grip mallets to play colorfully painted, upside-down five gallon plastic buckets. Some are even affixed together with heavy duty spring clamps to make makeshift drum kits. Fre stands in the center of the circle, leading the group by singing traditional American songs while playing a snare drum hung around her waist.
As the elders participate in the program, their arm strength increases, allowing some to graduate to djembe drums or a large custom made frame drum that can fit seven wheelchairs around it. The elders rhythms may be faint at first, but they pick up as their fragile arms and hands warm up.
Gingerly striking a paint gallon drum is 81-year-old Doris Swenson. She said she hasn't played a drum since she was in her high school marching band. A severe case of arthritis in her right hand prevents her from participating in most of the crafts projects offered at Brookmead. But to Swenson's delight, she can still grasp a mallet and strike a drum with her left hand. "I can't use this hand so," she explained, "oh yeah, I like rhythm, I like music."
Another boisterous participant in the circle, singing loudly and shouting out song suggestions is 86-year-old Catherine Paccion. When the drum circle first came to the nursing home, she recalled that other seniors were hesitant to participate. But Paccion let everyone know they had nothing to fear. "So I says 'Well, let me talk.' So, I talked and it brought out the people."
Ultimately, veteran drummer Mackaye said you have to stay true to yourself until the very last breath. And part of that, for her, is drumming, and the satisfaction it brings.
"I think it's a hunger in people in anything to come together and make sounds, and nobody is looking down their nose at you, you know, so we make that happen and we try to make it happen more often," she said.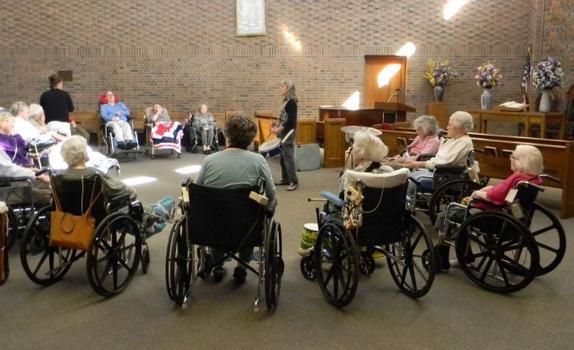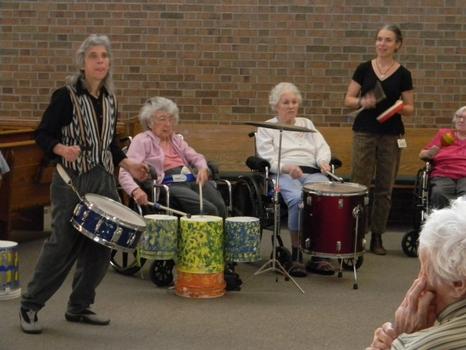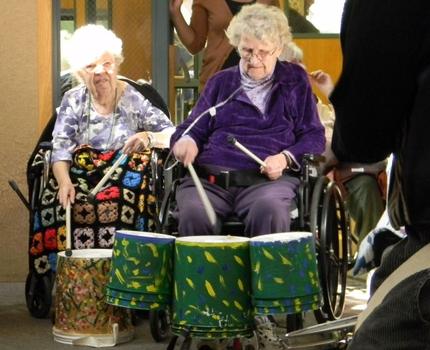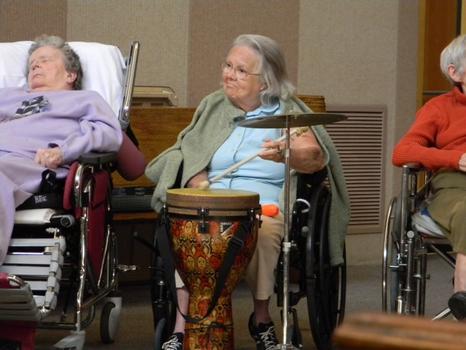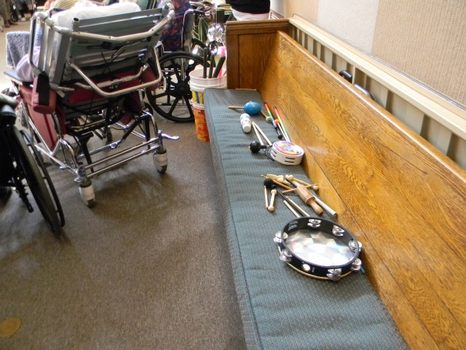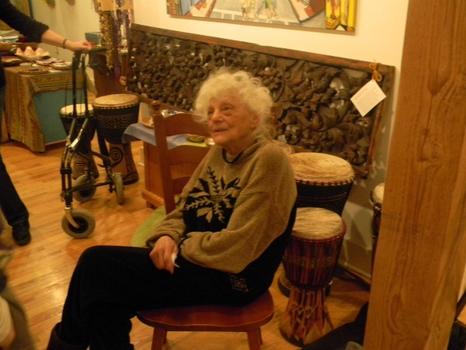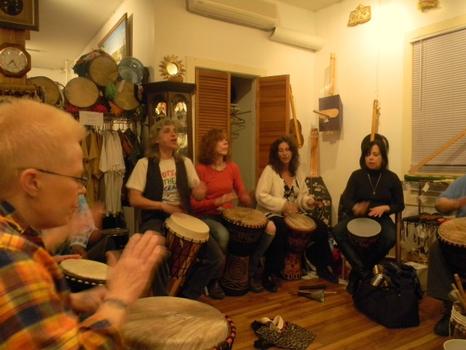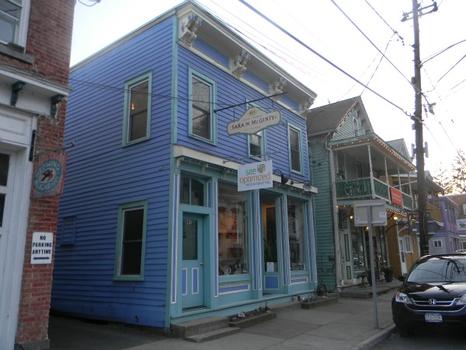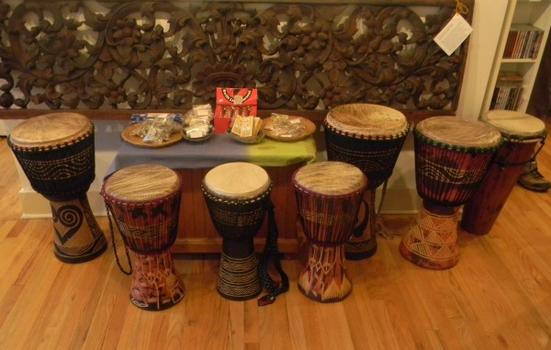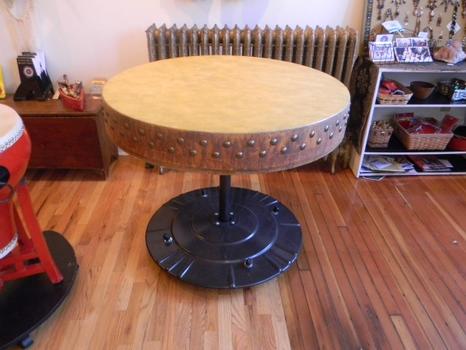 of