Niche Market | Woodwinds and Brass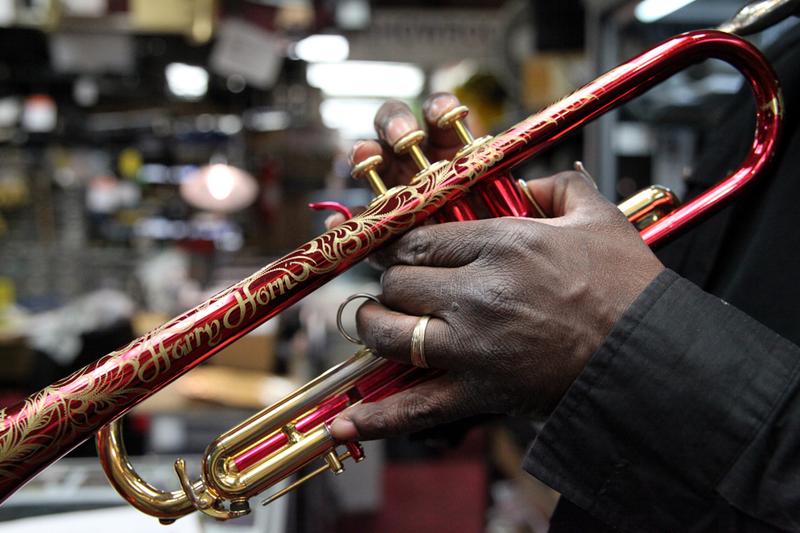 New York is a city of specialists from foodies to academics, laborers to shopkeepers. Every Wednesday, Niche Market will take a peek inside a different specialty store and showcase the city's purists who have made an art out of selling one commodity. Slideshow below.
New York Woodwind and Brass
168 West 48th Street
New York, NY 10036
In his dimly lit basement domain on 48th Street, wearing a hat graced with two menacing rattlesnake heads, Rod Baltimore hammers gently at a saxophone, while hundreds of wounded instruments hang from hooks on the wall eagerly awaiting repair. Putting down the hammer, his fingers flicker back and forth on the keys, and he cocks his head listening for the clear, drum-like sound that indicates the pads are closing in on the tone holes with perfect alignment.
"Here you go, my friend, give it a little toot-toot," Baltimore said, handing the vintage tenor sax to a jazz player contemplating purchase. While the music rings out, Baltimore hardly stops to smile before he picks up another instrument to mend.
His humble shop is littered with snapshots of jazz greats like Miles Davis, Sonny Rollins and Wynton Marsalis, who trusted their treasured instruments in Baltimore's worn, skilled hands. The 78-year-old Baltimore is one of the last music men standing on "Music Row" in midtown Manhattan, a strip that used to boast about 20 instrument shops catering to tune peddlers, but now hosts only two that specialize in woodwinds and brass: Sam Ash and Baltimore's store.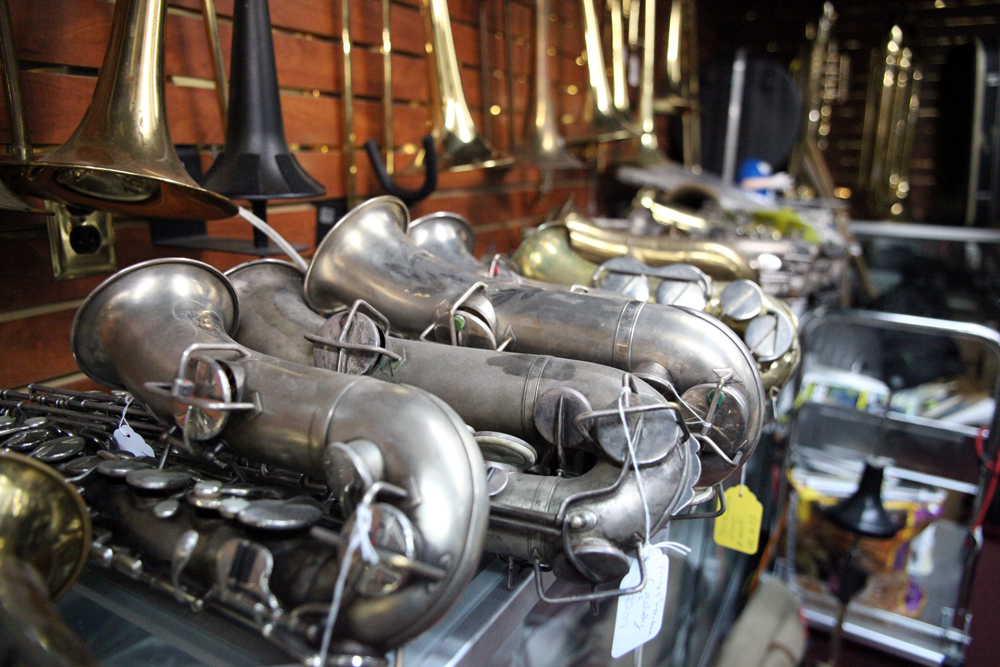 Baltimore was already a fixture on the block at the tender age of 12, when he started shining shoes outside a bar to pay for music lessons. When the weather turned cold, the sympathetic bar owner suggested he learn a trade, and sent him off to the Penzel Mueller instrument-making factory in Long Island City. That led to a fifteen-year apprenticeship that took him to factories in France and Germany, as well as New York. When he completed his training, there was no question about where he would work — with the pros on 48th Street.
New York Woodwind and Bass is not only crammed with instruments on every available surface, it's got a thick layer of dust infused with history of 20th century jazz. While his flattened thumbs tinker with a French horn's piston valves, this old-school craftsman nonchalantly relates stories about Stan Getz throwing his trumpet across the room in a drunken rage and flying him out to Calumet City, Ill., to fix it.
Getz wasn't the only musician to get attached to Baltimore. Many drop by the shop just to check in on him, like Val Lewis, a subway musician. "I like how he carries himself, age doesn't affect him," he said. "I like to see how he can bring back the dead also, the resurrection of the instruments."
The shop does repairs big and small — from pad replacements to a complete overhaul for beloved instruments that have literally been run over by cars or subway trains. Fees range from free to thousands of dollars. Most of the instruments are vintage, many of which Baltimore has picked up at pawn shops over the years. "Metal has a memory," said Carlo Kasteus, a saxophone repair specialist who learned the trade from Baltimore and now helps out at the shop. Often, he said, an instrument will improve with age. "It has all the resonance of the players who played it."
The shop also has a cornucopia of instruments and accessories for sale. Trumpeter Harry Horn comes by every few months to try out vintage mouthpieces, which he collects. "Some of them are wide open, some of them are shallow and closed, it gives you different tones and different textures when you play and it gives you a different feel on your lip, according to how the rim feels once it touches your lip when you're playing," he explained before belting out a smoky jazz phrase on his trumpet.
Susan Eberenz, a flute specialist who handles the customers while Baltimore is working on repairs, has been Baltimore's right hand for 26 years. She's got her own following, which includes Latin Jazz flutist Ariel Santiago, who was recently in the shop for a minor adjustment and a gush-fest on a flute Eberenz had sold him. "The mechanism is real, real soft, it's like butter. I love it. I'm telling you, I'm falling in love with this flute," Santiago said.
Reactions like that are why Baltimore maintains he'll never retire and why he made sure the store on Music Row will outlive him. "If I do go to the happy hunting ground, so to speak, if I go up to heaven or if I go down, I don't know where I'm going yet, the store goes to the employees, whoever's working at the time," he said.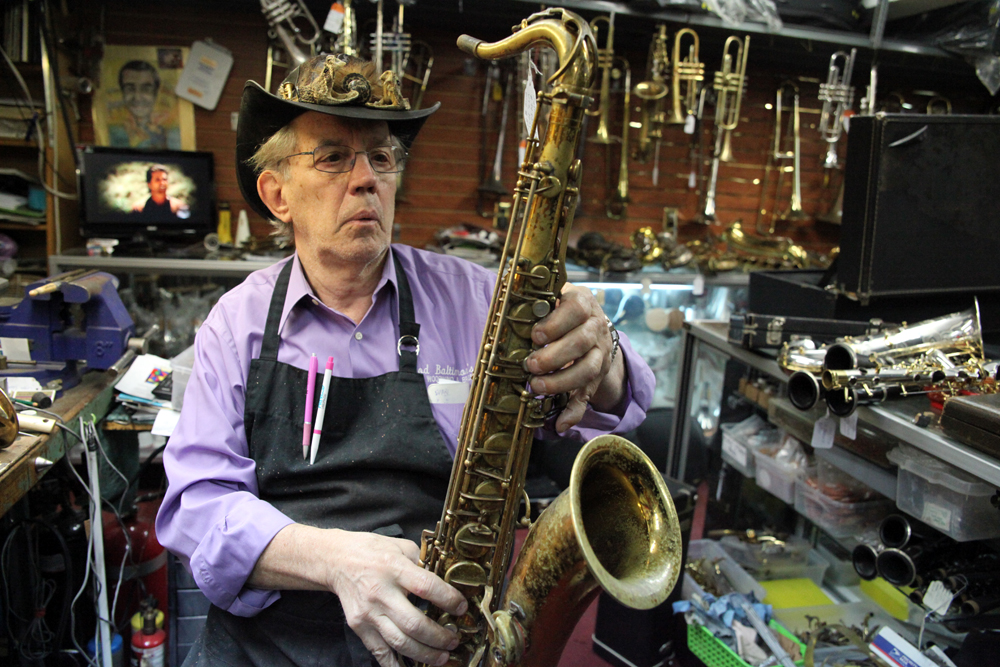 (Rod Baltimore, owner of New York Woodwind and Brass./Sarah Kate Kramer for WNYC)
Interview with Rod Baltimore, owner of New York Woodwind and Brass.
What instruments do you repair?
Flute, clarinet, sax, oboes, English horn, bassoon, trombones, big brass, tenors, altos, French horns, anything in woodwind and brass. I can do any kind of small or major job.
Who are your clients?
Sonny Rollins, Wynton Marsalis, Branford Marsalis, Johnny Campo, who plays in the shows, all the guys doing Broadway and off-Broadway. You name it, if he plays a woodwind or brass instrument, he's been in here.
How do you know when it's right, when an instrument is completely fixed?
Basically Carlo or I, we can just tell by feel. If something's wrong with a horn we don't even have to play it. All we have to do is put this light in there and it will tell you everything that's wrong with the horn. Then we play them when it's done.
What's the most important skill for an instrument repairman?
A lot of patience, a lot of patience. You can stay on a job for an hour, this one I've been working on for two days.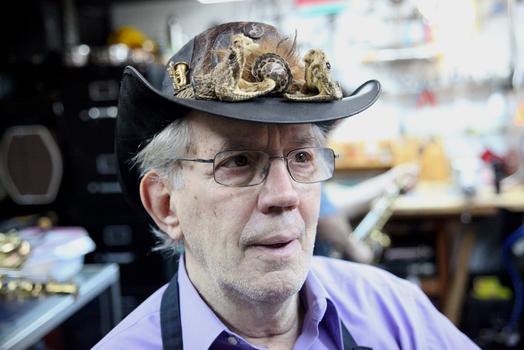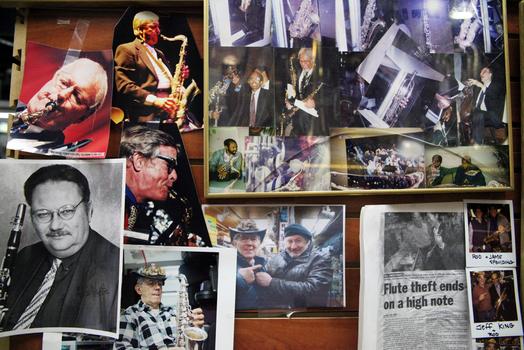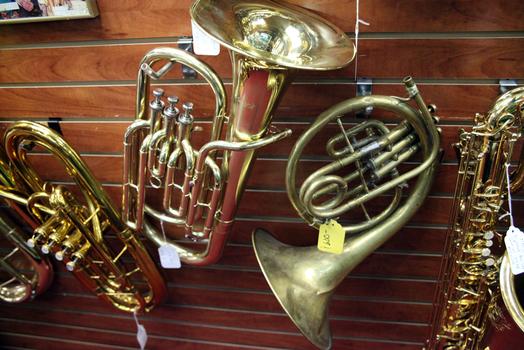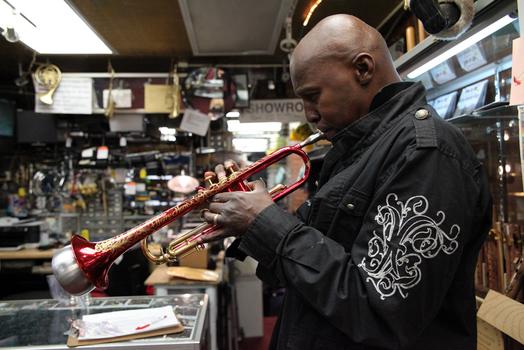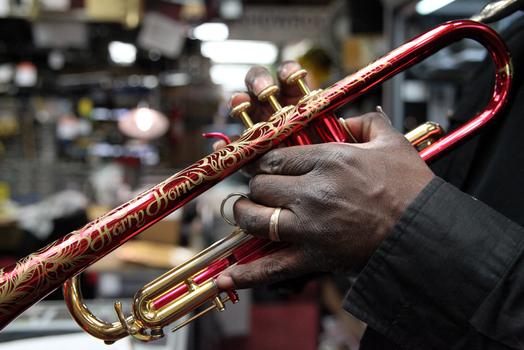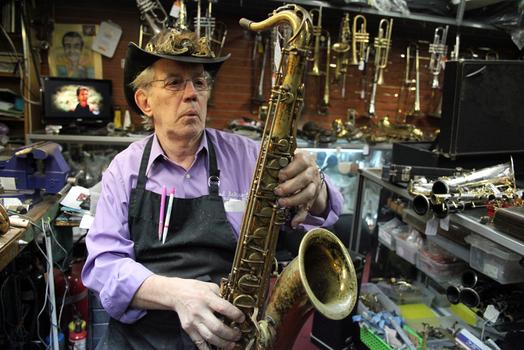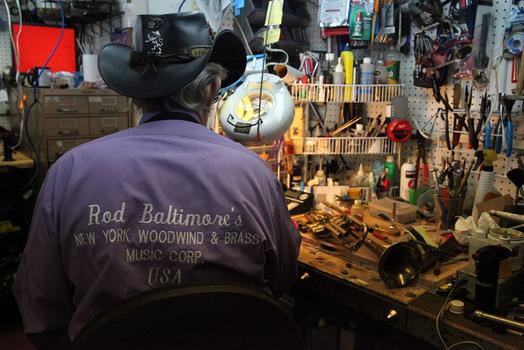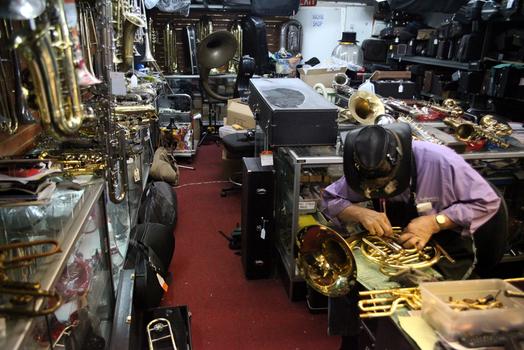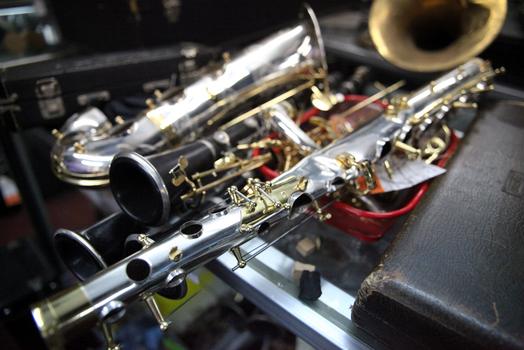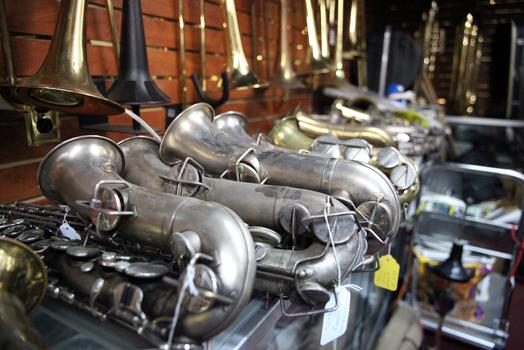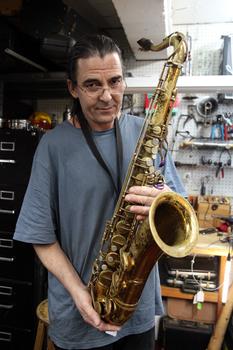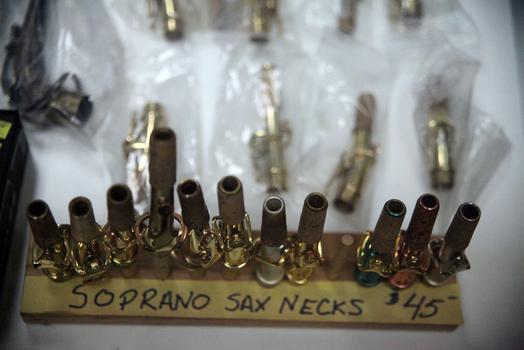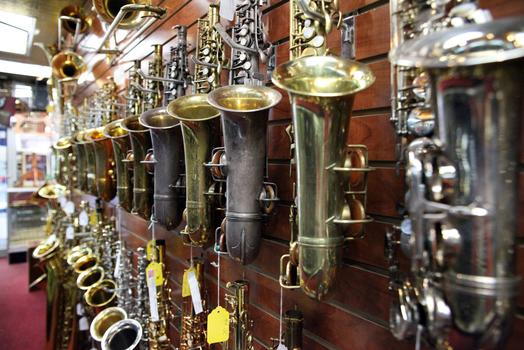 of