2013 Mayoral Dems Back Meng's Bid for the 6th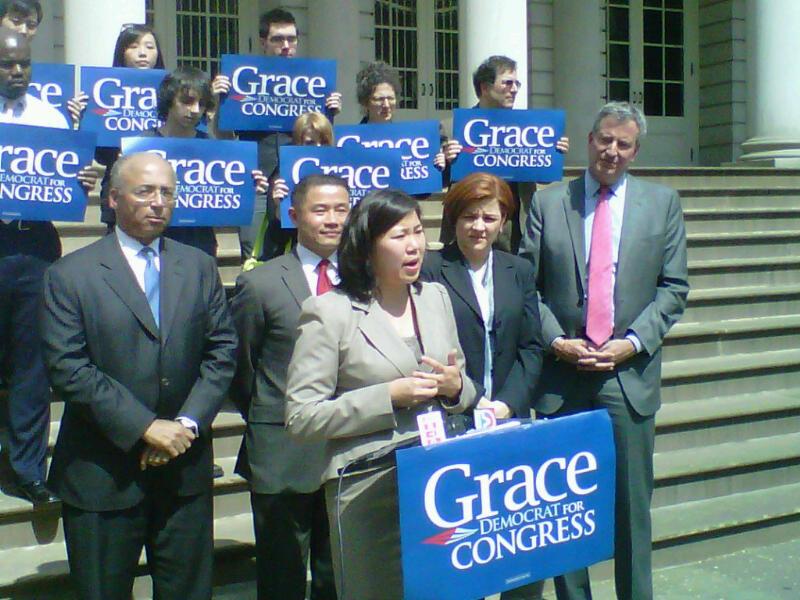 The field of anticipated 2013 mayoral candidates sweat it out on the steps of City Hall Monday to collectively endorse Assemblywoman Grace Meng for the NY-6 Congressional seat in Queens, one of three Democrats vying for the nomination in the primary on June 26.
It was an unusual act of solidarity for the mayoral rivals, acknowledged openly by multiple speakers. But it also reinforced their theme: That Meng could bring diverse groups together. At the same time, each endorsement seemed to touch on themes that will be important to their respective mayoral bids.
Among the mayoral candidates, Bill Thompson arrived first, followed by Comptroller John C. Liu, Public Advocate Bill De Blasio and finally Speaker Christine Quinn.  It was with her presence that the Meng organizers hustled to assemble reporters and their back drop of supporters, many of whom were mingling in the shade at the top of the City Hall steps.
The event did not lack for awkwardness. City Councilman Mark Weprin, also a member of Meng's campaign committee, served as master of ceremonies at the last minute, he noted, and was the first to acknowledge how unusual it was for these mayoral candidates to gather together – in agreement – on something.
"I just got this assignment, so who do I call on first?" joked Weprin, "This is bad." With a whisper from Meng, he invited Comptroller John Liu to the podium.
Liu praised Meng as his own Assembly member and a fierce community activist. "Whether it's national issues of immigration or local issues of education," he said, "Grace is in a unique position to deliver for the community." Speaking before the event, he cited the diversity and the changing demographics of the district, "Grace understands the needs far better than any of the other candidates," said Liu adding, "I wouldn't say they're bad candidates, but I think this is Grace's time."
Meng is likely to be opposed in the general election by City Council Member Dan Halloran, a Republican.
Quinn also stressed Meng's ability to bring people together, "And if there is one legislative body that needs that skill, that needs that grace, pun intended," said Quinn, "it is Congress." She also praised Meng for he work on behalf on marriage equality, fighting to increase the minimum wage and working to change the New York State tax code, "so that people who have more, pay more."
As a working mother with sharp analytical skills, according to Public Advocate Bill DiBlasio, Meng would understand the needs of the people in her district – from working families to immigrants. Similarly, Bill Thompson, former City Comptroller, and the only declared mayoral candidate, said Meng would be an advocate for working and middle class New Yorkers.
For her part, Meng played the part of the gracious unifier thanking all of the candidates for their support and adding, "they each in their own right have brought forth a vision for New York City and they have made it possible for working families to have a better quality of life."
She also stressed the diversity of her district and said that her background gives her a, "unique perspective on a lot of the issues, being a woman, being a woman of color, being a working mom."
Noticeably absent from the steps: Manhattan Borough President Scott Stringer A spokesman for the Meng campaign confirmed Stringer was invited. A spokeswoman for the Stringer campaign said he did not attend the event because he has not endorsed a candidate in the race yet.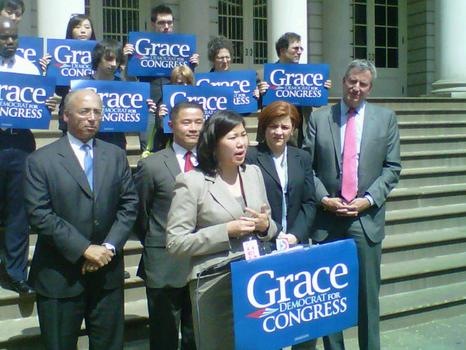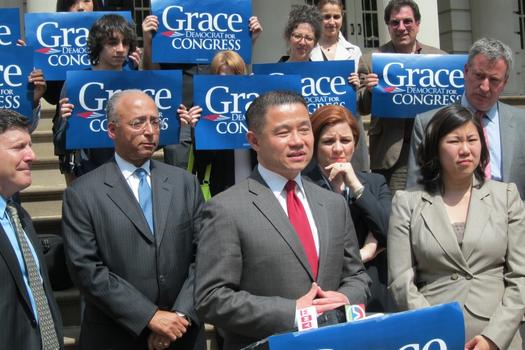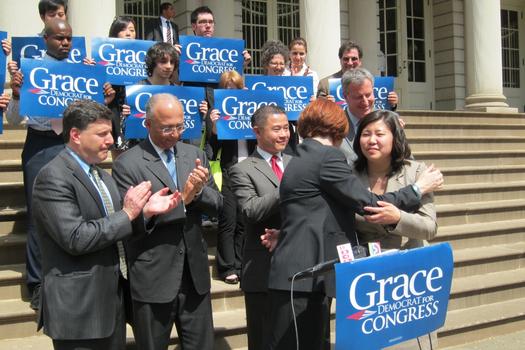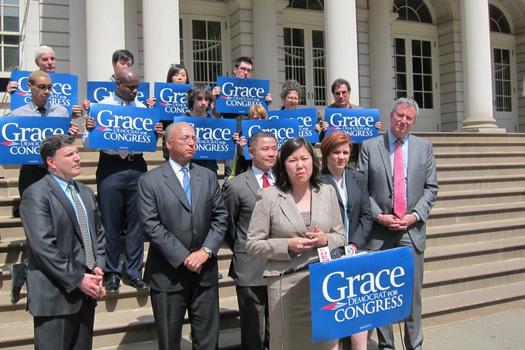 of