I saw Kraftwerk's Saturday night concert at the Museum of Modern Art. It was the fifth night of eight, and the featured album was Computer World (1981); I picked that night because that's my daughter Bella's favorite album of theirs. (Bella took the photos in the slide show below.)
The plan was for the band to play one whole album each night and then an assortment of hits.  From what I hear, Saturday night was typical: they started with four songs from Computer World: "Numbers"; "Pocket Calculator," their international hit, sung here in both English and German versions; "Computer World"; and my fave, "Computer Love," here given a serious dance beat.  Kraftwerk may have laid the groundwork for the hugely popular sound of contemporary dance music, but they've obviously been listening too, and several of the arrangements showed the impact of various electronica microgenres – even a hint of dubstep, with its penchant for dropping the bass and then bringing it back with a punch-to-the-gut flourish.
After the opening quartet of songs, though, Kraftwerk dispensed with the rest of Computer World (to the disappointment of no one, I'm guessing) and went straight to their nuclear option - "Autobahn."  This was greeted with a roar of delight and perhaps surprise: I was probably not the only one thinking that they might save "Autobahn" for their final song.  But Kraftwerk was not following any of the rules for making up a concert set.  In rapid succession, they played all of the other contenders for End Of Concert Send 'Em Home Happy Song: "Trans Europe Express" (but without its classic verse that shouts out to Iggy Pop and David Bowie), "The Model," "The Robots." 
3D glasses were handed out because each song was part of a larger "installation," where projections seemed to reach out to encompass the band behind their four matching desks.  I found it tiring after a while, and watched a couple of songs in plain old Reality.  But the need for the visuals was real; Kraftwerk stand in place throughout the show, and while they do play a good portion of the music live, there are none of the flashy moves of a rock frontman or electric guitarist.  So they might otherwise come perilously close to the world of the DJ set, which for me at least, gets old fast.  But Kraftwerk has always considered itself more than a band; they have listed their visual collaborators and engineers as band members, which is why they're viewed as a quartet when in fact only three of them play music.  (In the current lineup, Stefan Pfaffe, on the far right of the four desks, "plays" the videos.)
After running through the title tracks from Man-Machine and Tour De France, Kraftwerk ended with a set of songs from the 1986 album Electric Café, recently released under its originally intended title, Techno Pop.  This is apparently standard operating procedure for the band, but it still seemed a willful choice – and perhaps a pointed one, as the final song, "Musique Non Stop," simply repeats the words "music, non stop" in several languages.  As a statement of belief, it could hardly have been simpler or more appropriate. 
Bella's reaction, afterwards, was also simple: "that was awesome."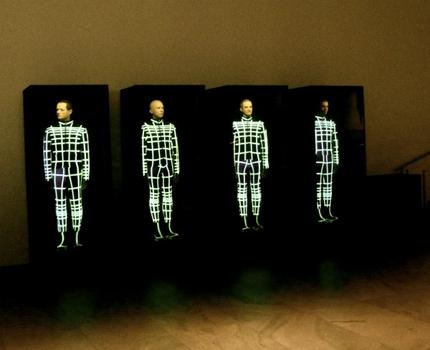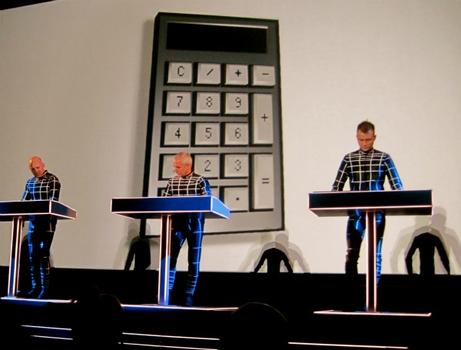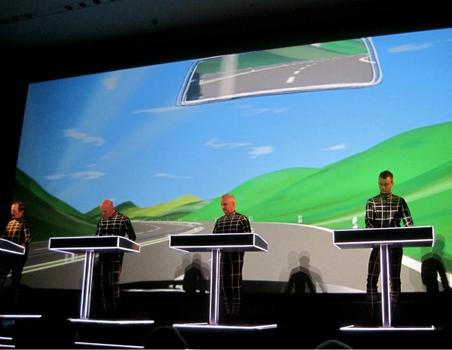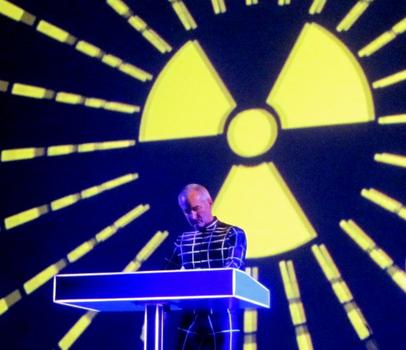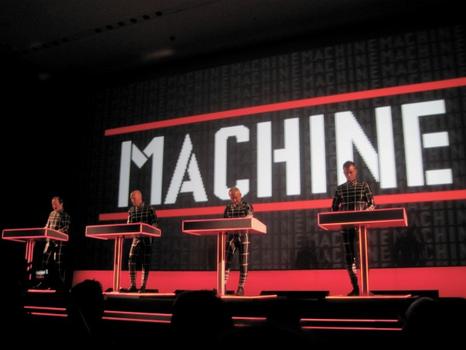 of