NY Medicaid Cuts Hit Home
Yolanda Phipps recently retired after 36 years working as a hospital lab technologist in the Bronx. But she still has a full-time job: taking care of her 93-year-old mother, Irene Serrano, who has advanced dementia, can barely move and can't feed herself or talk.
While Phipps tells the story of her mother — a proud factory worker who was the granddaughter of slaves and a fashion plate at First Sharon Baptist Church on Sundays — Serrano starts to choke a little and coughs.
Phipps pats her mother's chest. The coughing subsides.
"Sometimes the saliva doesn't go down her tube. She tries to cough it up, but she doesn't have the strength," Phipps said. "Sometimes the patting works, and sometimes we have a special tool to suction out the phlegm, and then she'll be ok."
Phipps' mother has had 24-hour care for the past five or six years. Even with the help, Phipps — who lives upstairs — is always on call, since home attendants have very limited certification and can't use suction or an asthma nebulizer or administer medications.
But after a recent visit from a social worker, Phipps received notice from the city,  which runs the state- and federally funded program, saying that her mother does not require round-the-clock care, and could get by with an overnight aide who's allowed to sleep and do minimal monitoring from 8 p.m. to 8 a.m.
Phipps will protest that decision at a hearing Monday with a state judge. She'll try to make the case that overnight sleep-in care isn't enough.
"You never know what's going to happen with her. At 2 o'clock in the morning, she may have an asthma attack," Phipps said. "She will make eye contact with you, and that's the only way you know what's going on. You always have to watch her, at all times."
New York's 'Generous' Medicaid Benefits Getting Cut
Almost 100,000 elderly and disabled New York City residents receive home care through Medicaid, but only a very small number receive care at the level Serrano does. Those ranks have declined by 25 percent in the last two years, from about 1,300 people to 1,000. City officials say the drop is due not to budgetary pressures but to state and federal orders to more stringently evaluate all cases.
The average Medicaid cost per long-term care patient is around $40,000 annually in New York, but for people like Serrano who get 24-hour care, the price is closer to $150,000 a year.
New York has developed a more generous Medicaid program than any other state. Close to 20 percent of national Medicaid spending on long-term care in 2009 occurred in New York. The state spent $9.7 billion on home health care and $7.6 billion on nursing homes, according to the Kaiser Family Foundation.
New York has been trying to rein in Medicaid spending for decades — especially since Andrew Cuomo became governor in 2011. Only about 6 percent of the state's five million Medicaid recipients receive long-term care, but services for them cost about one-fourth of the state's $53 billion tab in 2010.
Valerie Bogart, from Selfhelp Community Services, and other advocates have received many stories of people who have been getting downgraded home coverage.
"As a society, we're going to need to think about how we do long-term care," Bogart said. "For most people, care at home is less expensive than at a nursing home, but the fact is for this small group of outliers, care at home is more expensive."
She said certain conditions, like Alzheimer's and Parkinson's diseases, will always be expensive to cover, until there's a cure.
"This is true throughout healthcare," Bogart said. "Every insurance company dreads getting the person who has a brain tumor or who needs a heart transplant. But this is what insurance is: you have a lot of people who are cheaper, and then you have the outliers who cost a lot."
Long-Term Care Needs Expected to Grow
And as the population ages, the problem is expected to get worse. There are currently about 5.4 million Americans with Alzheimer's Disease, and that's expected to double or triple by 2050, according to the Alzheimer's Association. The local affiliate estimates by then one out of five New Yorkers will either have the illness or be caring for someone who does.
In the meantime, Robert Doar, Commissioner of the city's Human Resources Administration, said his agency's job is to make the difficult decisions, with a limited amount of resources.
"We're talking about government assistance that over time can be very costly to people really in need," Doar said. "The challenge is to get people the amount of assistance consistent with what they need – and sometimes that may conflict with what they prefer or want."
Doar said personal care services are declining, not because of Cuomo's push to reduce Medicaid spending, but because of a federal fraud prosecution, in which the city admitted to being too lax in awarding and monitoring home care.
"I wouldn't say there are budget pressures," Doar said. "The city was in litigation with the federal government, and we've been determined to make sure we make those [home care] decisions consistent with the rules and regulations."
Doar wouldn't speak about Irene Serrano's case or any others. But he defended how nurses and social workers determine what's medically necessary for people. And he said in addition to clients being offered lower levels of care, they also could receive higher levels of care, too.
"You could have someone who needs to have medical attention frequently during the course of the night, and they night be better served in a hospital or nursing home situation," Doar said. "There are situations where care in the home by a home attendant is not sufficient to care for the person appropriately."
Long-term care advocates say the city calls nursing homes a "higher level of care" as a pretext to justify shifting its most expensive beneficiaries onto a less costly track to live out their days.
State Medicaid Director Jason Helgerson said New York does everything it can to fulfill the U.S. Supreme Court's landmark 1999 Olmstead ruling, which says people have a right to live and receive treatment in the community, rather than institutions.
"It's our obligation to try to make sure people have access to home- and community-based care, when possible," Helgerson said.
But it's not an absolute right, and the Olmstead decision gives states an 'out': they can limit home-care services, based on financial resources. So, there's a nod toward Olmstead, but no all-encompassing guarantee the state will cover long-term, die-at-home services.
Keeping a Promise
Yolanda Phipps fears losing the coverage would mean either tethering her to her mother's bedside around-the-clock or ultimately putting her mother in an institution and taking her chances that she'd do better there than with a sleeping home attendant.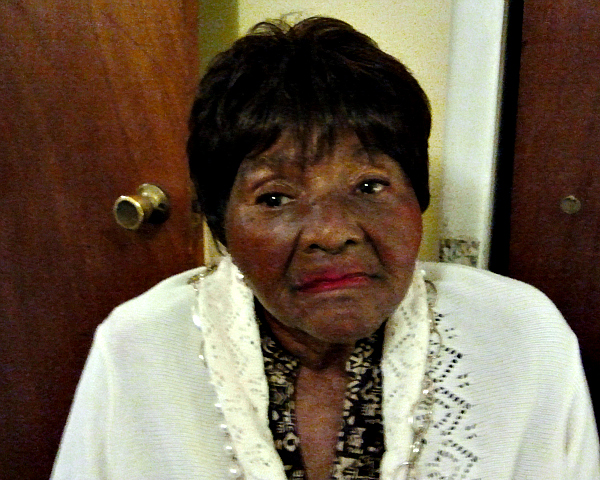 "Her words to me were, 'Please don't put me in a nursing home, please don't put me in a nursing home,'" Phipps said. "And I promised to her at that time, when she was aware, that I would never put her in a nursing home."
That's the argument Phipps will make next week before a state judge.
(Photo: Irene Serrano can't move without help, but her daughter and a home health aide dress her up to go to the doctor's office. Allison Wheeler for WNYC)
Even if she prevails, there could be other challenges ahead. An entirely new system is slated to arrive this summer, with Albany taking over long-term care from the city and entrusting it to private managed care companies.
Many of the details for this system are still being worked out. The state needs federal permission, and Washington has already pushed the roll-out back once.
Update: Shortly after this story ran, Yolanda Phipps met with a state judge and the city, to appeal her mother's proposed reduction in home health attendant coverage. This past weekend, Phipps learned that her mother can continue to receive around-the-clock home health aides. In a letter to Phipps, the city said the proposed reduction in services was a mistake, and should never have happened.