Hundreds Flock to State-Backed Job Fair Amid Rising Unemployment
Hundreds of job-seekers flocked to the Brooklyn job fair Thursday, one of eight state-sponsored fairs held simultaneously throughout New York as the unemployment rate in the city continues to climb.
The city's unemployment increased to 9.6 percent in February 2012, up from January's 9.3 percent. It's also a higher unemployment rate than the state's 8.5 percent and the federal 8.2 percent.
Dewon Wise, 29, has been unemployed for two years. He came at 9 a.m. to take his place in the line, and there were already about a hundred people in front of him to talk the 41 employers, such as Whole Foods, MTA, Brooklyn Navy Yard and Con Edison, at the fair. He felt optimistic.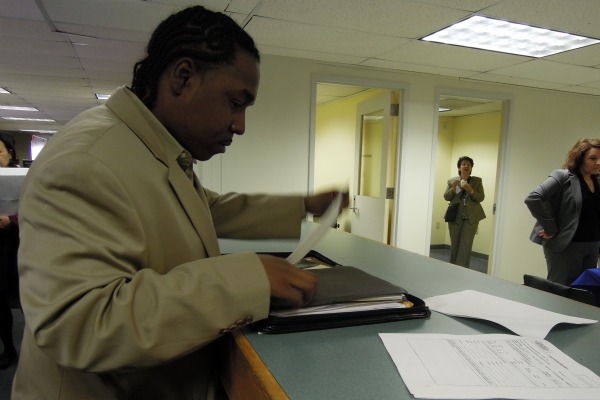 "Right now I'm filling out for a school bus position, school bus driver," Wise said. "This is with CVCH, and it looks like it's going to wo out."
Wise also planned to apply for a bus driver position with the MTA and a truck driver position with Whole Foods.
(Photo: Mr. Wise fills out a job application at a state-sponsored job fair. Mirela Iverac/WNYC)
By early Thursday afternoon 350 people attended the fair.
One of them, Kewana Rennie, 26, said she has been looking for work since January, when she left her barista position at Starbucks.
"Right now anything honestly," Rennie said of the jobs she was looking for at the fair. "If I can find something in retail or anything, I'll do it."
Similarly, Mark Yates, 45, said he was looking to find employment in any field. He lost his prep cook job after the restaurant he worked at for three years went out of business. He has been looking for a new job for two months.
"I want to get back into restaurant business, but right now I would take an entry level position just to have a steady income," Yates said.
Charles Herman contributed reporting.