City's Film, TV Crews Keep Busy Thanks to Pilot Season, Tax Credit
Twelve-foot high racks of wool suits and fur shawls line one wall of "Boardwalk Empire's" costume department, found in a hanger-like space on the lot of Steiner Studios at the Brooklyn Navy Yard. Nearby, a small team of seamstresses are hunched over tables, busy stitching clothes for the show's third season, currently in production.
"We dress absolutely every [actor and] extra that appears on the show, they all come in for a fitting," said John Dunn, the costume designer of HBO's hit drama. For a show that is set in Prohibition-era Atlantic City, maintaining actors' authenticity means a lot of work for the wardrobe department — and that means a lot of jobs.
"It's a big operation," said Dunn, of his staff. "When we're at full capacity, we're about 55 to 60 people."
"Boardwalk Empire" was one of a record 23 prime-time series filmed in New York City during the 2011-2012 season.
"The business in New York is growing by leaps and bounds," said Doug Steiner, chairman of Steiner Studios, a 20-acre film lot where "Boardwalk Empire," has been shot since its pilot. "We would like to eventually be a 50-acre lot, the size of whatever there is in L.A."
He's well on his way: Steiner added five acres to his lot and doubled the studio's number of soundstages to 10 in late March. Mayor Michael Bloomberg attended the ribbon-cutting ceremony, recalling how just over a decade ago the city struggled to attract film and TV projects.
"Now the city is such a popular and prosperous home to hundreds of films and television shows, we have to work hard to keep up with the demand for stages and production facilities," he said that day.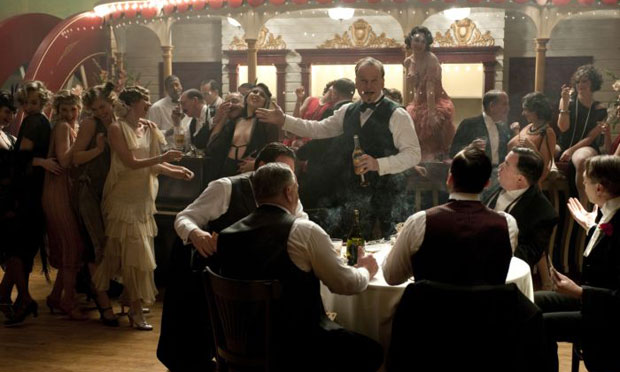 (Photo: Productions like "Boardwalk Empire" keep people busy both on and off screen. Macall B. Polay/HBO)
The industry's boom expands beyond studio lots as well. Crews for a typical hour-long TV drama might employ anywhere from 200 to 1,000 people — from carpenters to camera operators.
"The last 12 months have been the most extraordinary time for us," said Simon Broad, who runs ARRI CSC, a company that rents equipment to film crews. "Last year's revenue number was the highest we've ever seen and we've been in business in the New York area for over 50 years."
During that time, he supplied 20 television projects and 40 feature films.
Both Broad and Steiner credit a New York State tax incentive for the growth in their businesses. The program gives TV and film productions a credit for 30 percent of most New York-based production costs — excluding things like movie stars salaries. For every dollar of tax credits the state issues, film and TV projects typically spend $5 or $6 in the state, according to the Governor's Office for Motion Picture and Television Development.
But critics say it's tough to tell if taxpayers get their money's worth. They argue it's hard to accurately calculate the economic impact outside the film industry and to know how many projects would have shot in the city without the credit. After all, The Big Apple often becomes an additional character in stories set in the city – and it's hard to put a price on that.