Neighborhood Raises Concerns About Alcohol at Barclay's Center
About 100 Brooklyn residents concerned about crowds of beer-addled sports fans leaving the future Barclay's Center turned out in force at a community board meeting Tuesday night at the 78th precinct in the neighborhood. At issue is the arena's liquor license application.
At a joint meeting, members of Community Board 2 voted to approve the recommendation of the liquor license with several conditions, while Community Board 6 voted to table the request until later this month, pending a request that the applicant agree to set up a community liaison group to discuss unresolved issues.
Levy Restaurants, which will run concessions for the new arena, said there will be 57 different points of sale for alcohol within the arena, in addition to "hawkers" that will also be roaming the stands with beer and other refreshments. The company said all their staff receives alcohol training and if a guest is visibly intoxicated staff will respond appropriately.
In addition, employees with AEG Facilities, the building management company who will be overseeing indoor and outdoor security for the stadium said that former and current NYPD officers would help to keep order in the area.
The NYPD still has to figure out which precinct has jurisdiction in the area: the 7-7, the 7-8 or the 8-8.
But Prospect Heights and Boerum Hill neighbors at the meeting said they were still concerned that their quality of life could be in jeopardy by the sheer number of crowds visiting their communities. Others requested that the new home for the Nets basketball team stop selling alcohol earlier than the end of the 3rd quarter, as NBA rules dictate. Or, in the event of a concert, by 11 p.m.
But what appeared to be at issue as the nearly three hour meeting continued was "residual anger" by many in the room that the arena was even built at all.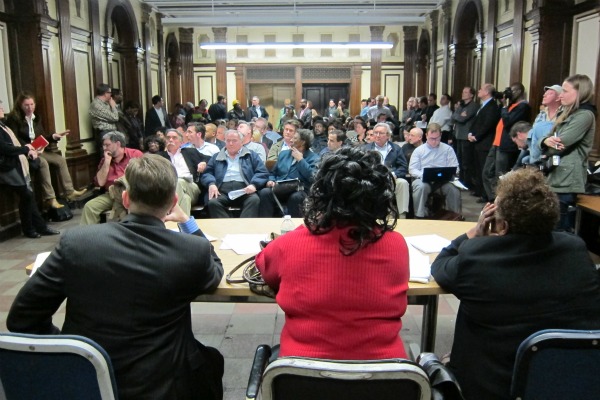 Peter Krashes, president of the Dean Street Block Association, told board members, "We have kids who have to go to school the next day and have an arena event happening on a Thursday — so you guys have a special obligation. We've got to be concerned how kids are going to sleep in their bedrooms and how safe our streets are going to be because the traffic and transportation plans depend upon cars going on local streets all through these neighborhoods.
(Photo: Many residents around Barclay's Center expressed concerns to Community Board members about the liquor license application. Kathleen Horan/WNYC)
David Anderson with AEG said his experience working at the United Center in Chicago would help with these concerns. He tired to calm some in the room by informing them that traffic and crowds would be directed away from residential areas.
Councilwoman Letitia James addressed the room near the end of the meeting and said she believed that approving the liquor application would be "acting in haste" until safety and transportation issues were addressed more specifically.
Restaurant owner David Vendley, 29, was one of the few who supported the Barclay Center's liquor license application.
"The arena is opening up regardless. If we were having a conversation about whether or not this neighborhood should have this arena, I might feel differently. But if this arena is going to be here, I feel that they should be granted a liquor license because it will allow it to succeed which will create jobs and create more foot traffic into Brooklyn businesses not even affiliated with this company," he said.
The application is expected to be sent to the State Liquor Authority by April 27 so it can be approved in time for the center's opening day on September 28.
The community board's recommendations are advisory in nature, and not binding.