How to Fight a Wildfire in New York City
Hundreds of area firefighters were deployed to fight fast-burning blazes that erupted in the New York region this week – using wildfire-fighting skills not often used in an urban environment.
When a building catches fire, there's an edge to how far it can go. But outdoors, there's often no break to stop the flames from spreading.
On Staten Island, more than 200 firefighters and 40 units were deployed to the former Fresh Kills landfill Monday. The FDNY and members of the Department of Sanitation teamed up to help break up compost and mulch piles – some as tall as 20 feet -- with front-end loaders so they could reach the source of the fire, officials said.
"We're at the mercy of the wind. It can spread the fire from pile to pile or in fields of brush," said Deputy Assistant Chief Michael Marrone, the Staten Island Borough Commander for the FDNY, "it just helps accelerate the fire."
Depending on the terrain, responders may use the standard hose, truck, hydrant setup to put out a wildfire.
But if the fire is in a remote area, those tools may be traded for hand tools like an axe, shovel, rake, or chainsaw to create a line clear of debris, according to Colonel Andrew Jacob, assistant director of the New York State Forest Rangers and the state's wildfire supervisor.
"The fuels are the leaves, the brush, the trees, the logs, the buildings, whatever can burn,"
Jacob said, "Fires burn uphill much faster than on flat land or burning downhill."
In Long Island, where a wildfire threatened homes near the Brookhaven National Laboratory in Suffolk County, firefighters turned to bulldozers to create a wider break in the fire line, according to Jacobs. He said a road, stream, even a wetland in some cases – can all serve as fire breaks.
Jacobs said the New York State Police also have a helicopter that flies a 250-gallon bucket that can drop water on areas that might be burning.
In New York state, all 134 of New York State's forest rangers are trained to fight wildfires. Jacobs said his rangers also train firefighters across the state teaching a 40-hour national wildfire course.
"The difference with a wildfire is that typically there is no break in fuel," said Jacobs, "So if a wood lot is 100 acres, it's a hundred acres of fuel that can burn. If it's a thousand acres, it's a thousand acres."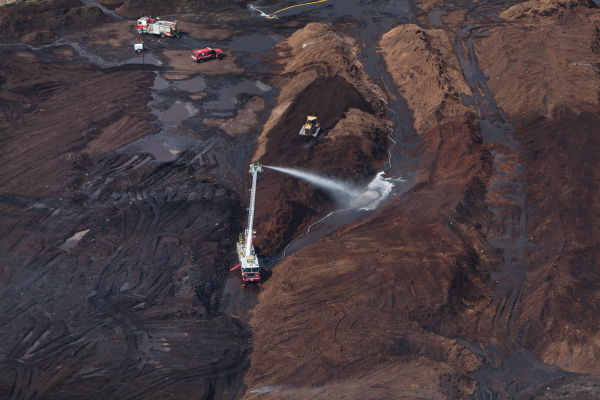 (Photo: Aerial view of the Staten Island fire. New York Times pool photo.)